About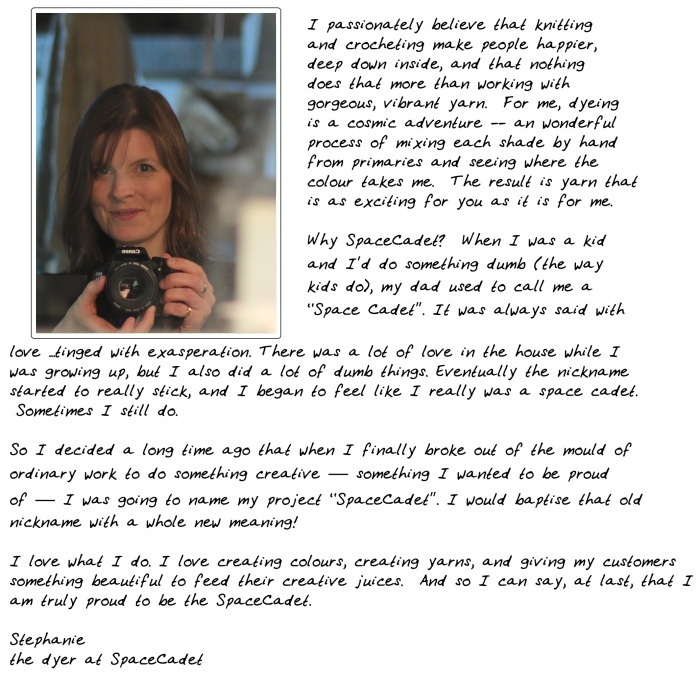 ---
The SpaceCadet
Stephanie Alford is the SpaceCadet. She has been fascinated by fiber ever since she first took spinning lessons at the age of 11. She taught herself to knit at 19, went back to spinning (and actually got the hang of it) ten years later and, along the way, picked up a bit of experience in weaving, a smidge of crochet, and a degree in Textiles and Clothing. But it was when she began dyeing that she felt she'd really found her calling. She has lived half her life in the US and the other half in the UK, which explains her spelling.
Stephanie lives in Pittsburgh, PA, with her husband and two daughters, and a stash so big it'd bring tears to your eyes.  She's SpaceCadetCreates on Ravelry, @SpaceCadetYarn on Twitter, and you can contact her here.
.
---
The Crew

Jade
Jade is positive, enthusiastic, and always ready to try something new …and with a smile on her face!  A knitter since 2006, she is just starting to venture into design with the really beautiful Ginkgo Crescent.  Quick, go favourite it!
Jill
It's Jill you're emailing when you contact us at info@spacecadetcreations.  She's quiet, calm and meticulous about details, we couldn't ask for a genuinely nicer person to answer your questions and manage the club subscriptions. Ask her anything about SpaceCadet and, if she doesn't know the answer off the top of her head, she'll find out!