What do "Dyed from Primaries" and "Mixed by Hand" mean?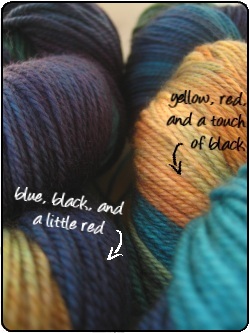 SpaceCadet yarn begins with a real love of exploring colour.  Every single shade you see on our yarns and fibers has been created entirely by hand, by mixing the basic primary colours to achieve the exact hue we're aiming for. Pretty much just like you learned in art class when you were a little kid!  At SpaceCadet Creations, we use no premixed dyes. And there's something really satisfying about creating our colours that way.
All hand-dyed yarns are individual but, when the every colour is hand-mixed, the results are truly unique. When you buy SpaceCadet yarn, you can be assured that yours is a very, very special yarn. Not just hand-dyed yarn, but colour mixed by hand.
And like anything that is created by hand, there is naturally more room for variation from one dyelot to the next. If you are using mixed dyelots for a larger project, we suggest alternating dyelots on different rows to minimize any colour variations. And, if you find you need more yarn, talk to us. We can make no guarantees that we can hit an exact match, but we'll try our best for you!
Ready to see all the colours we can create from primaries? Take a look!
---
Yarn Info
Looking at the SpaceCadetTM Creations website can be a little like opening a box of chocolates – everything looks so tempting, it's hard to know which one to try first!  So here's a quick guide to all the yarny goodness…
Laceweight Yarn
Luna Laceweight is stunningly light and soft, and takes on colour with a beautiful silky sheen. And sooooo smooshy!
2-ply blend of 20% Silk and 80% superfine Merino;
1300 yards/100g (that's almost 3/4ths of a mile!);
$37 per skein
Fingering Weight Yarn
Estelle is a heavier fingering weight with a touch of cashmere that makes it incredibly soft.
3-ply blend of 80% Superwash Merino, 10% Nylon, and 10% Cashmere;
430 yards/100g;
$28 per skein
Lucina is a stunningly sparkly (and super-soft) yarn you simply have to see!
2-ply of 75% Superwash Merino, 20% Nylon, and 5% Stellina;
430 yards/100g;
$28 per skein
Celeste is a super-soft and versatile light fingering yarn– the perfect go-to yarn for almost any project.
3-ply in 100% Superwash Merino;
a very generous 490 yards per 100g;
$24 per skein
Stella beautifully combines softness with strength.
A distinctive 2-ply of 80% Superwash Merino and 20% Nylon;
400 yards per 100g;
$24 per skein
DK Yarn
Astrid is beautifully smooshy, warm and soft — perfect for a project that calls for a yarn with a little more oomph
4-ply, DK (double knitting) weight yarn in 100% Superwash Merino;
230 yards per 100g
$20 per skein
The Department of Rocket Science
The Department of Rocket Science is a very special place at SpaceCadetTM Creations, where you can discover yarns and fibers in one-of-a-kind colourways and unusual yarn bases. Each one is unique, borne of experimentation and the creative process, and may never (or maybe can never!) be exactly repeated again.
All yardages are approximate.