I've been dyeing(!) to tell you about this…  and hinting about it on Twitter and Facebook…  and now, at last, it's February 1.  Today is the day!
This is knit-designer, and my lovely friend, Sara Bench.  And that fantastic cowl is Love Actually, her new pattern that was released on Knitty last week.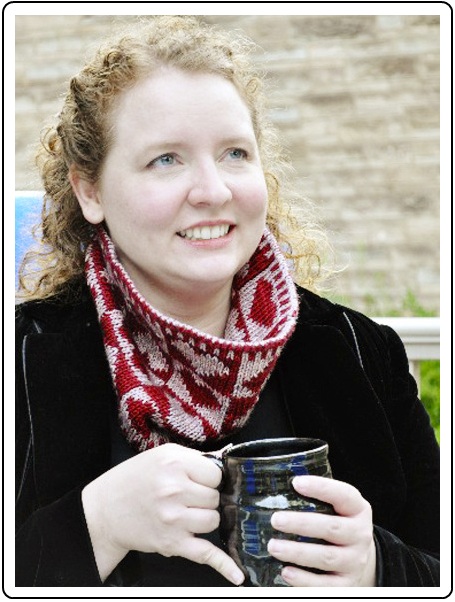 Isn't it gorgeous?  Double-knit, so it's thick and warm, and totally reversible — the hearts that you see on one side appear (with the colours reversed) on the other side.  How cool is that?
So I was thinking…  a pattern like that deserves celebrating!  And what better way to celebrate a knitting pattern than a Knitalong?
The Love Actually KAL
With Valentine's Day coming up, this is the perfect quick (yet interesting) knit to keep your fingers flying through those cold February days.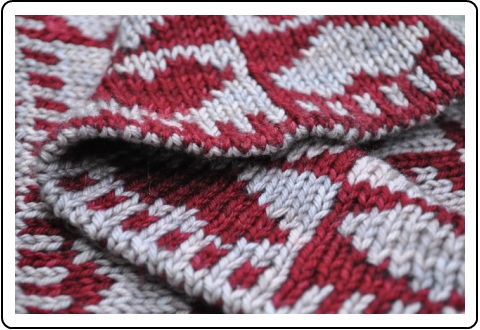 And here's the best bit: Sara is going to do the KAL with us, and guide us every step of the way.  So even if you're unsure about colourwork, or have never done double-knitting before, you can join with confidence.  Not only will you have all your fellow knitters there to help you, you'll also have the designer knitting right alongside you!
Oh! And there are giveaways!  Each week of the KAL, everyone who posts a picture of their progress will be entered in a random drawing to win some really great swag.  That's right — free stuff…  just for knitting!
C'mon!  Wouldn't you love to make one with us?!?
The Details
Here's everything you need to know:
The cast-on date is Valentine's Day, February 14, and the KAL will run through March 14.
To join the KAL, just click here and leave a message telling us you're in!  Please, no chit-chat in that thread, so that it's easy for us to keep track of who has joined — just give us your name and your Rav name, and we'll make sure we've got you in.
The KAL will be coordinated by Natalie (peacethrufiber).  If you've ever come to see us at a show, then you've met Natalie:  she's the one whose hands are always knitting — she knits while she chats, answers questions, helps you choose your yarn…  She's an amazing knitter!  So if you have any questions during the KAL, either about how it runs or about the knitting, she's another great resource to go to.
Click here and meet your fellow KALers!  Tell us about yourself…  who you're making your project for, what yarn you're going to use, what you're looking forward to about the pattern.  Don't forget to include where you're from and if you've ever done double knitting before.  And, hey, while we're at it, tell us what the world looks like outside your window right now (it's snowing here and looks ever so wintery!).
Make sure you tag your project on Ravelry with "LoveActuallyKAL" so all your fellow KALers can find it.
Spread the word!  Let others know about the Love Actually KAL by sharing it on Twitter, Facebook, and maybe posting about it on Ravelry.  The more we have in the KAL, the merrier it will be!
Tweet #LoveActuallyKAL
Grab your Love Actually pattern here.
Choose your yarn!  You'll need two skeins of DK yarn in two colours.  You can buy fresh yarn, choose from your stash or… or….
SpaceCadet's Love Actually KAL Kits
…Or you can choose the yarn we've dyed especially for this KAL, in the most perfect-for-Valentine's-Day colours.  And as a special thank you for joining the KAL, we're even knocking 10% off the price!
There's Tainted Love, a gorgeous grey and red combination, where the grey is gentle and the red is bold.  But look closely, there's a lot of depth of shade there — see how the colours move and change through both skeins?  These ain't no flat colourways!  And life in those colours are going to look amazing in Love Actually.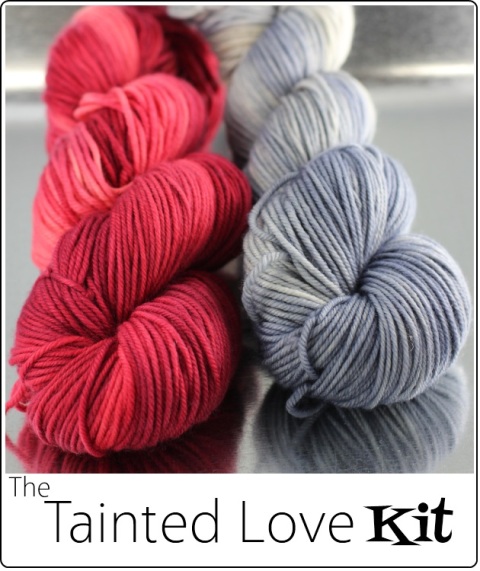 Or go for the Chocolate & Roses combination!  These are the colours from our popular Beguile colourway, pulled out into two separate skeins specifically for this KAL.  The first shade is the deep rich brown — Valentine chocolates, anyone?  And the second is a beautiful vibrant pink that would make the most perfect rose.  Together, they are simply stunning.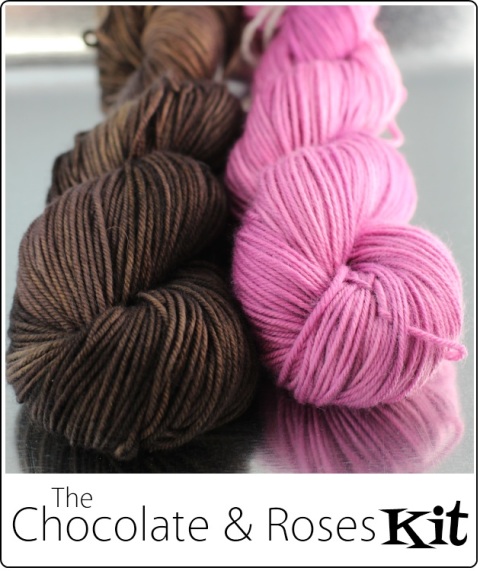 For now, I've dyed only 20 kits.  If they sell out, I may dye more, but time is short so there are no guarantees.  If these colours are calling to you, click here to grab yours — at 10% off and before they're all gone!