I have so much fun dyeing for the clubs that, every time I send out the parcels, I'm always itching to give you guys a sneak peek.  And I think most of the current Yarn Alliance members will have received their September parcels by now, so it's safe to share some photos.
But if you're in the Yarn Alliance and haven't received your parcel yet, look away now if you don't want spoilers!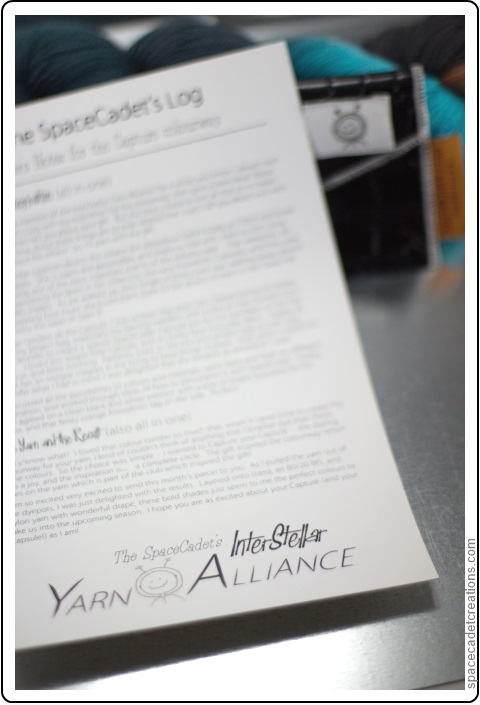 Ok, here we go…  Now, normally the process of dyeing club yarns starts with the inspiration for the colourway.  But this time, it came about completely differently — this time, it all started with the gift.
The Capsule (the latest addition to the KnowKnits range) was making a big splash at TNNA (read Knitty's review of it here) and I was immediately smitten.  I loved its mix of practical functionality with funky fabric and bold stitching.   And I knew straight away that I wanted to create a a special SpaceCadet Capsule just for the members of the Yarn Alliance.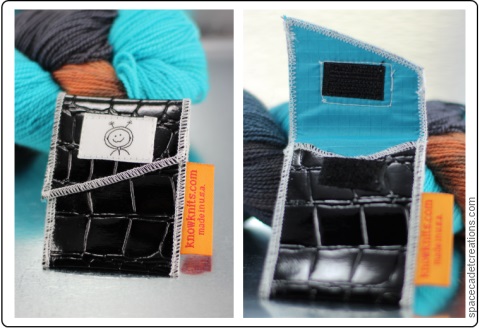 To my delight, Jennifer Lippman-Bruno, the owner of KnowKnits, was as excited at the possibility as I was!  We discussed colours and materials, and how to personalize the custom Capsule with SpaceCadet.  Finally, we decided on on a clean black and white exterior, with a pop of bright turquoise for the interior, and that feisty orange KnowKnits tag on the side.
And here's the thing…  Once those sweet little Capsules arrived, I realised I wanted to use those same colours for the yarn as well.  I mixed the dyes and tested the yarn…   Ker-pow!  The perfect mix of bold and exciting colour!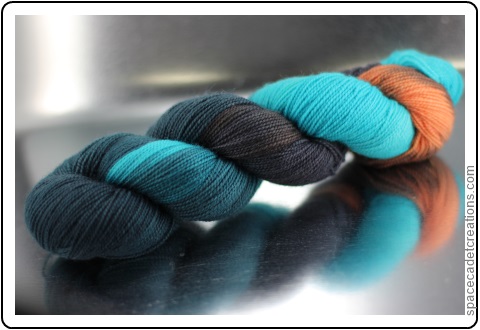 I can't wait to see what the members of the Yarn Alliance make with it!
---
The Yarn Alliance will close to new subscriptions and renewals on Mon Sept 16, and there are just a few spaces left.  If you've been considering joining, now is the time to grab your spot!  Click here to get all the details.