Warning: If you're a SpaceMonster who hasn't received the latest parcel and you don't want your surprise ruined, look away now!
…Ok, it's just us now?  The coast is clear?  I have been dying to share the latest SpaceMonster goodies with you and I don't think I can wait a moment longer.  Here, come take a look…
First, there's the yarn.  It's been bitterly cold here lately, so I chose Capella — the softest, warmest, most comforting yarn in the SpaceCadet fleet.  Its single-ply smooshiness is perfect for these fierce winter nights.  And onto I laid all the colours that make me feel cosy and comforted:  a vibrant pink that descends into maroon, a touch of midnight blue, and deep eggplant.  I wanted everything about this yarn to create a safe haven from the bitter wind and cruel cold outside.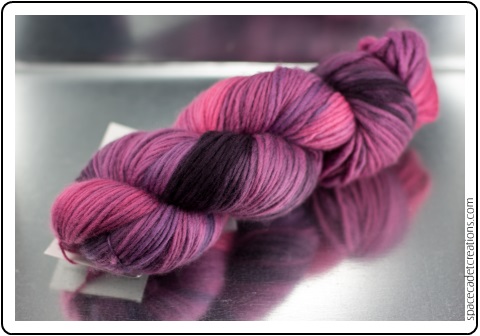 Do you like it?  I'm imagining it made into very soft mitts to protect your hands from winter's chill.  Or, my absolute favourite for single-ply yarns: a simple, conical, pointed hat.  I love pointed hats — so jolly!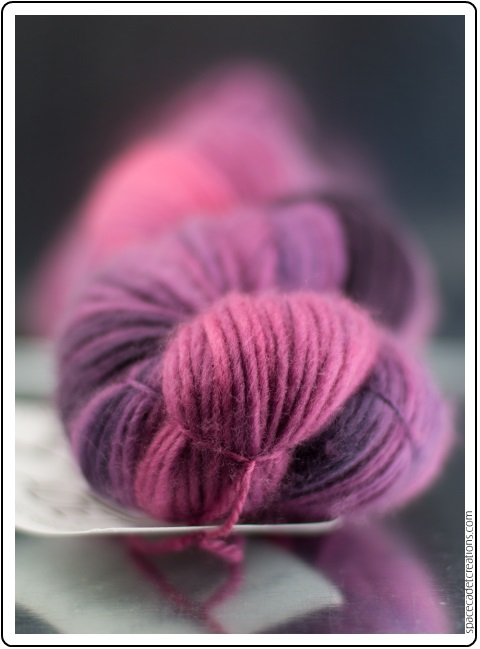 Now, because this is the third parcel in the current series, its time for the SpaceMonsters' gift and, boy, do we have a cracker!   Ever since my assistant Amy gave me one as a gift, I have been a big fan of Amanda Pawley's hand-thrown yarn bowls, so for this parcel, I asked Amanda if she could create something special just for the SpaceMonsters.  Here's a little peek…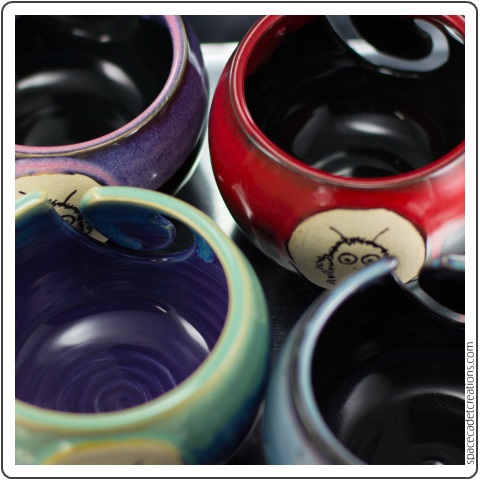 And here's another…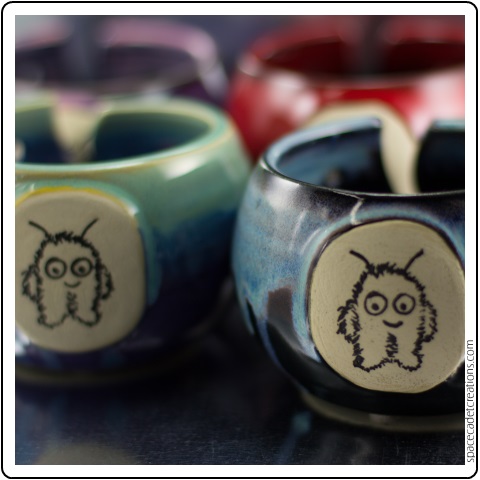 And here's the full set…

Aren't they fabulous?!?  Can you see why I COULDN'T WAIT to share them with you?!?  And now that they are arriving in the SpaceMonsters' mailboxes, we are getting the most wonderful emails, full of squeals and delight.  It's so exciting!  …Y'know, I think I kinda know how it feels to be Father Christmas right about now.
---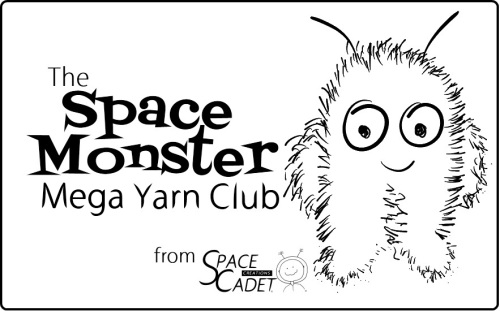 The SpaceMonster Mega Yarn Club is open right now for new subscriptions, starting with the February parcel, but it closes in just a few days.  It's a fabulous club for people who love to work with worsted and bulky yarns, and are ready for a hand-dyed adventure!
And if you're stuck for holiday gift ideas, a SpaceMonsters subscription is a pretty fab solution for the knitter or crocheter on your list.  Make sure we know it's a gift and we'll even send them a nice email at Christmas to let them know they're in the Club!
(Or listen, if you know someone who always buys you the wrong gift?  Yeah…   Maybe forward this little hint onto them — everyone needs a little help now and again.)
Ready to join the SpaceMonsters?  The SpaceMonsters Club is now closed for subscriptions and will reopen in June 2014.  Want to be the first to know when it does? Click here and join the mailing list!
6 months: $99                                        12 months: $194
Very Important: if you are giving this as a gift, please remember to include the recipient's postal and email addresses in the notes when you check out. We gotta have that to send the recipient their parcels!
---
Six month subscriptions include 3 parcels; twelve month subscriptions include 6 parcels.  Parcels will be sent out at the beginning of February, April, June, August, October, and December. Shipping within the United States is included in the price; extra charges apply for shipping outside the US.  The first parcel for new subscriptions is the Feb 2014 parcel (please note: it is not the parcel detailed above — that is the last parcel for members of the previous subscription series).  Normal subscription openings/renewals will be available in June and December of each year. Because of the nature of the club set-up, we can accept returns or exchanges of club shipments for faulty yarns only. By joining the club, you are agreeing to these terms and conditions.
Any other questions? Ask us! info (at) spacecadetcreations (dot) com