Little by little, I am starting to believe that Spring is on its way but, two weeks ago, our corner of the world was buried under a blanket of snow.  And I want to share with you the colourway that winter wonderland inspired!
(Spoiler Alert!: If you've been in the Yarn Alliance and haven't yet received your March parcel, close your eyes now to save the surprise)
"Winter's Fade, Spring's Rise," The Yarn Alliance Colourway for March 2015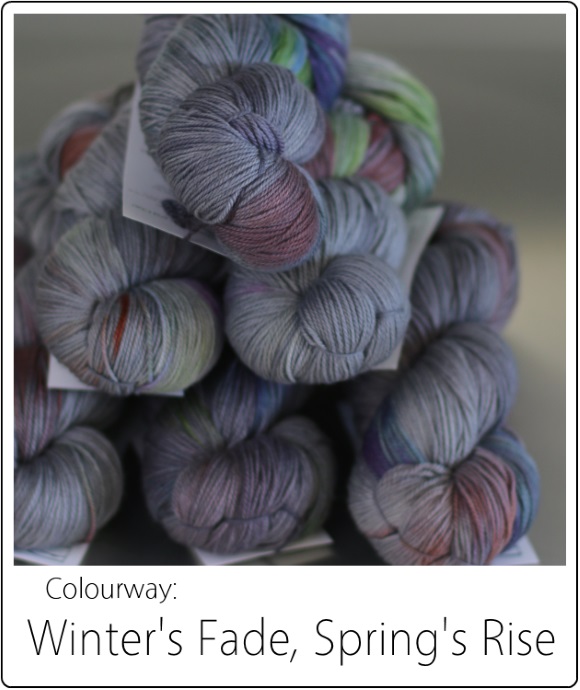 There is a big, bay window in the SpaceCadet studio, which looks out to where the road follows the horseshoe bend of a babbling creek as it travels through the woods, and I love to look through that window and watch the world go by as I'm busy dyeing. And last week, the view was particularly inspiring – there had been a heavy snow, flakes falling silent and slow, followed by an amazing iridescent mist. The world was transformed.
And though initially it seemed everything was just white, I came to realise that the blending of the snow and the leafless trees and the soft mist and the dark, cold water all came together to create a beautiful soft gray that washed across the landscape – darker and more intense in some places, softening and pale in others. And yet, this was no monochromatic gray, because it also included the gentle brown of the tree trunks, the blue of the sky, the deep green of an occasional lone fir tree, and, here and there, the soft lavender of the first few crocuses who knew, despite all the signs to the contrary, that Winter would indeed soon Fade, and Spring is on the Rise.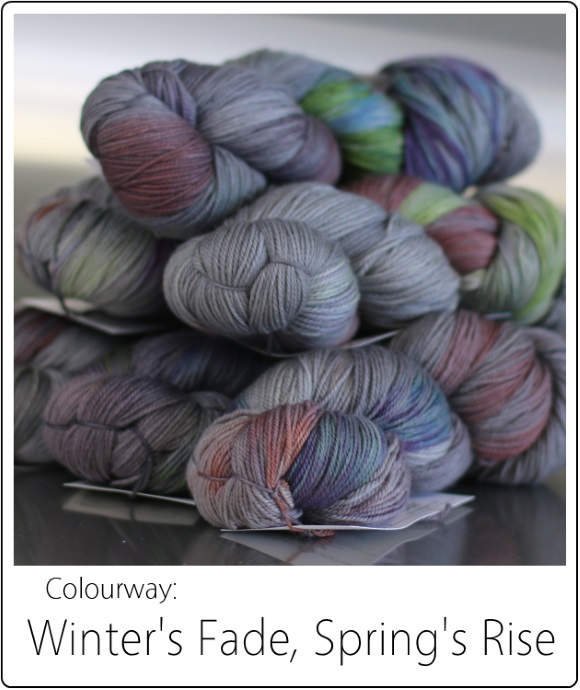 The Yarn that Won't Sell…
And we dyed it on Aurora, a stunning soft yarn spun from 70% superwash merino, 20% cashmere, and 10% nylon.  This is hands down one of my favourite SpaceCadet yarns — it's just so incredibly luxurious and soft — but can I let you in on a little secret?  I can't sell Aurora online.  Seriously.  We sell tons of it at shows because as soon as customers pick it up, they realise how amazing that extra cashmere feels, but that's something that can't really be conveyed through a computer screen.  And so this gorgeous yarn sits quietly on the shelf all year long, like the las kid picked for the kickball team  …until we go to shows, where it promptly sells like hotcakes.  So it makes me incredibly happy when I get to use it for the Yarn Alliance, because I know our club members are in for an truly unexpected treat!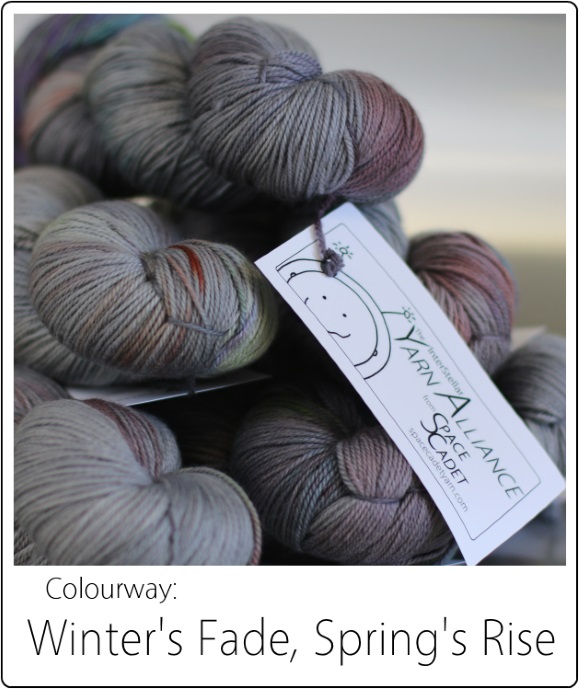 The Fabulous Yarn Alliance Gift
I'm so in love with these adorable little yarn snips put together for us by Sarah Wilson, The Sexy Knitter, because I am forever losing my scissors.  These are small enough to stash anywhere and give a super-quick, super-clean cut.  And who can resist the SpaceCadet's cheeky grin?
And just for fun, Sarah and I included a Sexy Knitter pattern that we both knew would be a great choice for this yarn and colourway.  The Mashrabiya Vest & Shawl takes a beautiful lace shawl design and adds the innovative option of armholes to create a wide variety of styling options; wear it open, pinned or tied shut, ends thrown over your shoulders, or even as a wrap blouse!  Knit up in the subtle colours of "Winter's Fade, Spring's Rise", the result would be a sublime and luxurious wrap for cool spring evenings.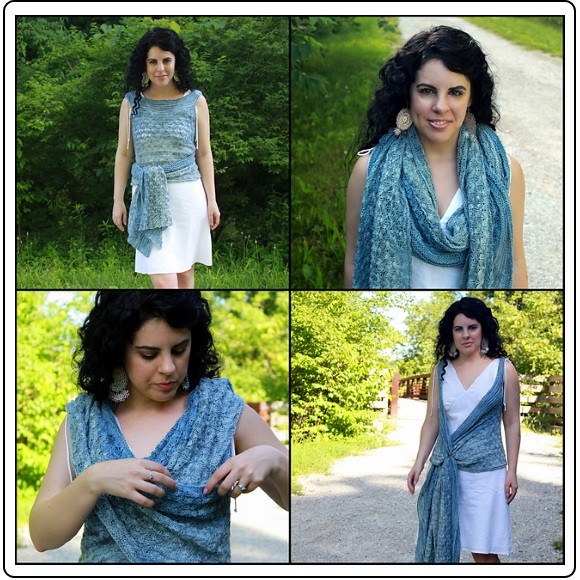 The Yarn Alliance is Open for Subscriptions
Like what you see here?  Want to join the fun?  The Yarn Alliance is currently open for subscriptions, so
click here
to grab your spot before it closes this Sunday, March 29th!