As the season fades into autumn, it's all about the turning of the leaves, naturally, but I am still holding onto summer — and I think one of the best things about this time of year is the clear skies.  I simply love sitting outside as the sunlight disappears and watching the stars appear overhead.  Can you see that inspiration in the latest SpaceMonsters' colourway?
Summer Nights — a Colourway Inspired by the Heavens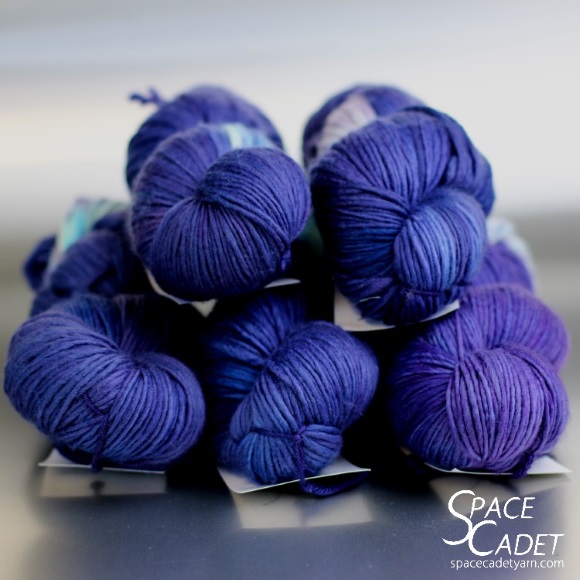 From the SpaceCadet's log:
I am not one for hot summer days — the sun is no friend to my skin and the heat makes me wilt. But I love warm summer evenings, when the sun has finally gone to bed and the world is beginning to cool off. I sit on my porch with my knitting and a cup of tea, leaning back to watch the stars come out.
They reveal themselves slowly, as the day's light thins and fades away. First, the planets — Venus and Jupiter have aligned for most of the summer, shining as a bright pair on the western horizon. And then the brightest stars — Vega and Altair — begin to show themselves in the east, before the sky finally falls into darkness revealing the whole host of stars in the heavens. Some look white, some blue, a few pinkish-purple and some even green. And the sky may be streaked with clouds or clear as crystal. Either way, it is truly a magical time, sitting out in the warmth and watching the Summer Night sky come out in all its glory.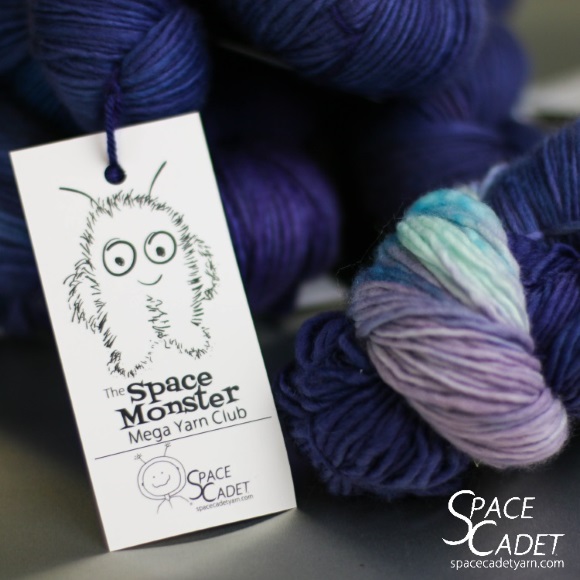 For this colourway, I chose
Capella, a wonderfully smooshy single-ply worsted
that brings a softness to any colour I introduce it to.  I wanted it to really capture the movement of the clouds, the eternalness of the stars.  And I think it's done that perfectly!
The response to Summer Nights has been overwhelming — so many emails, tweets, and Ravelry posts from club members who just love this colourway, and I can't say how much that means!  So I was delighted to send out the email yesterday to our club members with the link to order extra skeins.  I can't wait to see the amazing projects they create with this colourway!