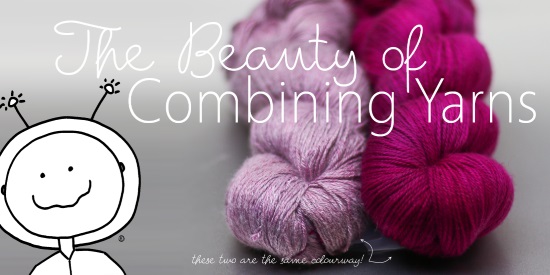 I am super excited by the response we've had as we prep for our summer KAL.  It's all about exploring the amazing effects that you can acheive by combining SpaceCadet Celeste and Maia yarns and so many people have embraced the idea — I'm just over the moon!  If you're in (or just thinking about it), here are all the details you need…
A Giveaway to Kick Things Off!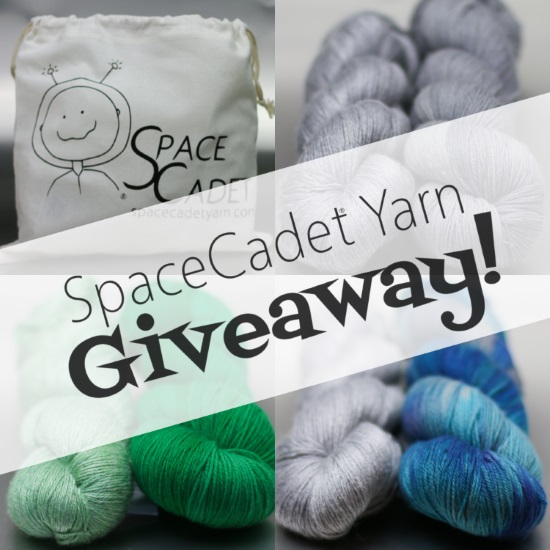 KALs are always the more fun with friends, so please won't you help me spread the word?  And you'll get a chance to win a $25 gift certificate and super-cute SpaceCadet project bag to use for the KAL!  Sound good?
Entering is easy!  Just follow me on Instagram and leave a comment on the giveaway post (click here to go to the post)
Plus, once you're entered, you can get additional entries (woot!) by doing one (or both!) of the following :
Tag a friend in the comments of the Instagram post. Each friend tagged is one additional entry!
Repost the Instagram post with the hashtag #SpaceCadetCombiningYarnsGiveaway
I'll announce the winner on June 16.  Good luck!
For full sweepstakes rules and alternative method of entry, click here and see "Official Rules for Combining Yarn KAL Kickoff Sweepstakes"

Today: Shop Update on Maia and Celeste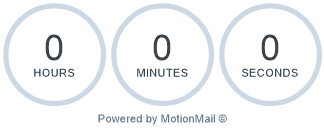 Next, let's get some supplies for the KAL!  You'll want Maia and Celeste to get the most out of this KAL, and you can work from stash or… we've dyed a bunch that's going in the shop update today at noon (eastern)!   So when that timer gets down to zero, click here for Maia and here for Celeste to grab your favourite colours before they go.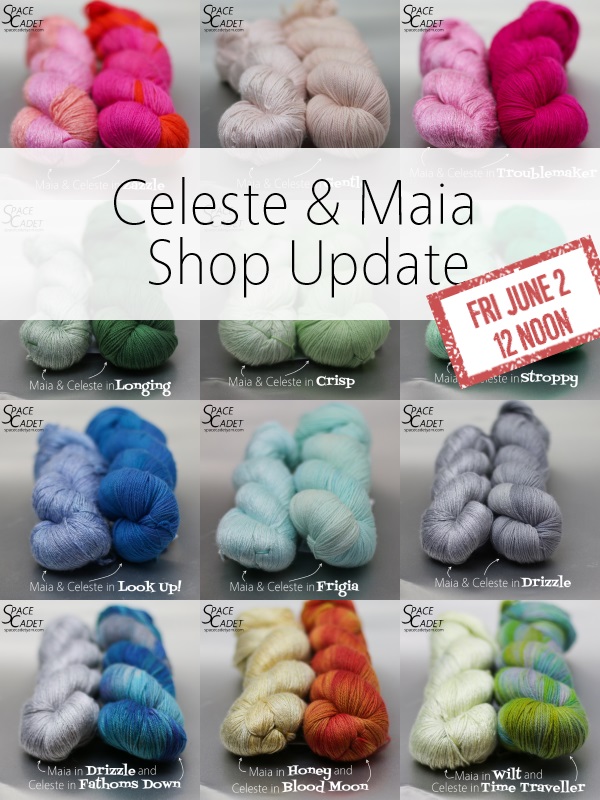 Plus Limited Editions!
We have the most fun dyeing when we let our imaginations run wild, so we've created not one but two Limited Editions for this shop update — and they are bursting with colour and just gorgeous!  Scorch is saturated with the colours of fire and heat, and Deluge is shades of cool, refreshing water.  The same colourway looks so different dyed onto both Celeste and Maia and yet blends together perfectly.  Combined in one project — matte and sheen, vibrant and iced — the effect will be stunning!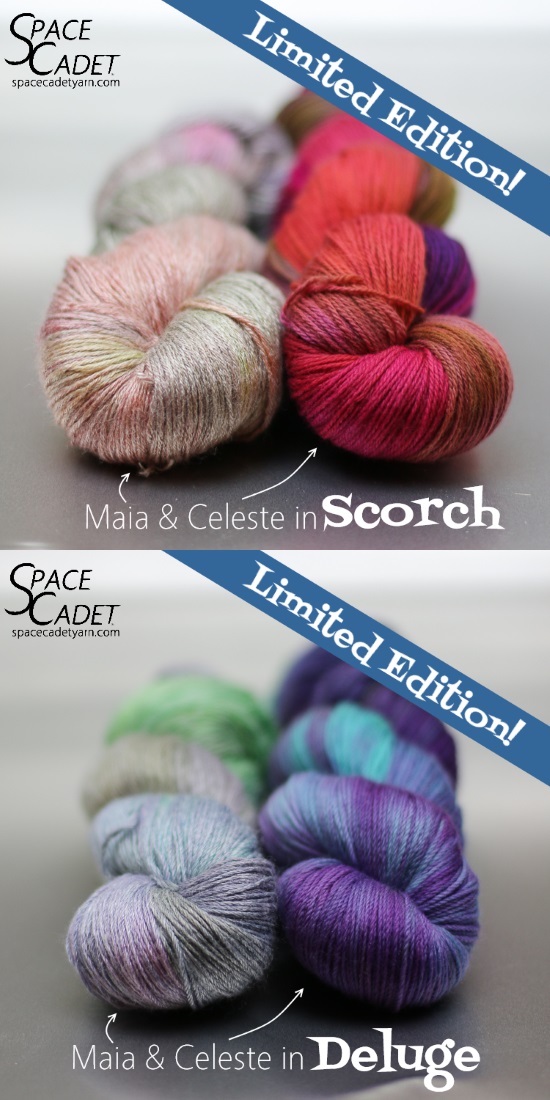 Official KAL Guidelines
Structure is the spice of life    …have you ever heard that phrase?  No?  Oh.  Well, anyway, a KAL is always more fun with a few guidelines to keep everyone on the same page.  Here's how the Combining Yarns KAL will work:
To get the most out of the KAL (and to be eligible for prizes), you must combine two different SpaceCadet yarns in one project.  We're suggesting Maia and Celeste (because they're awesome together) but you can get creative and combine any two SpaceCadet yarns you like.  It's all about exploring the way different yarns combine!
Choose any pattern you like, so long as you can combine yarns in it.  Large or small, from a cloak to a shawl, they're all welcome.  I recommend striping patterns because the yarn changes are build right in, but you can pick whatever suits your fancy as long as you've got a plan for incorporating both yarns.  Need pattern ideas?  Don't worry — we've got you covered in the next section.
We'll be casting on on Friday June 23 and binding off on Sunday August 27.  You can work at your own pace but if you want to be eligible for the grand prize at the end of the KAL, you'll need to be bound off (and posting your finished object photos) by Aug 27.
Swatching is highly encouraged ahead of time!  It's worth it to get to know the two yarns before you launch into your project, because they can sometimes give unexpected results.  Use your swatch to play with striping, test your project's trickier stitch patterns, get to know the yarns' textures and, of course, get gauge.
Project updates and discussion will be in the SpaceCadet group on Ravelry.  Look for progress threads to go up there regularly during the KAL and then jump in with your photos and updates.  We've got a great community of folks who'd love to see them!
But I'm on Instagram more often than I'm on Ravelry, so please share quick updates with me there too.  Tag me @spacecadetyarn and use the hashtag #SpaceCadetCombiningYarnsKAL so everyone else can find your updates too!
There will be giveaways and prizes along the way!  We're still working out the details, but we've got fun stuff planned — from gift certificates to yarn to swag.  And we'll finish with a grand prize for a project voted on by all the participants, so make sure you're giving us updates and lots of photos along the way!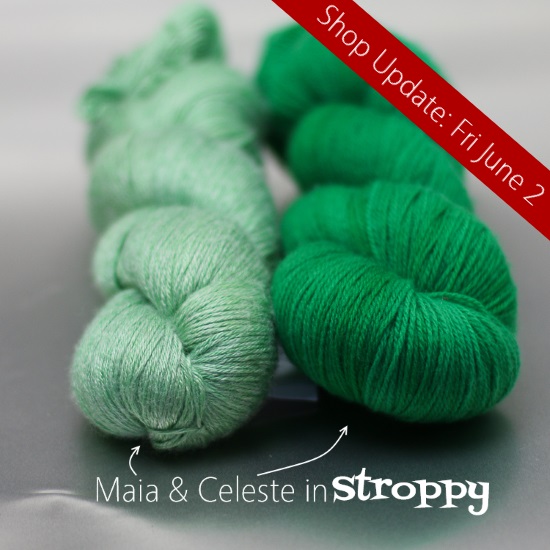 Pattern Suggestions
Ok, so are you starting to think of pattern ideas?  We've got a whole thread on Ravelry dedicated to sharing great pattern suggestions for the Combining Yarns KAL!  Click here to browse it, and here are my own favourite picks from it:
Shawls
Sweaters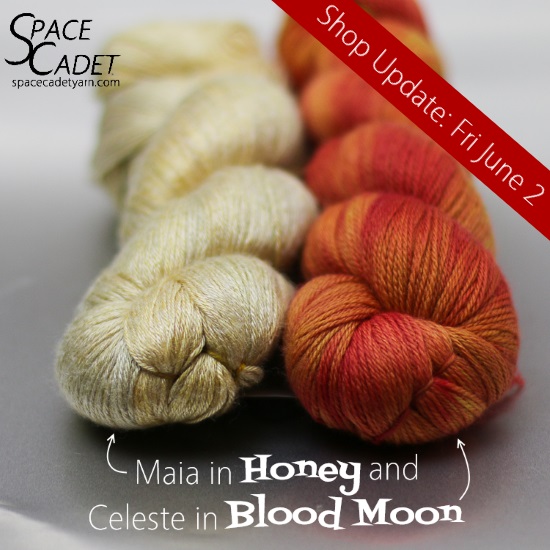 My Tips for Working with Maia & Celeste
And finally,  here are my top tips for working Maia and Celeste together:
Go for big needles. I can't tell you how many conversations I've had with customers who've picked up a fingering weight yarn and said that they don't like working with little needles.  But don't be fooled — just because the yarn is fingering, that doesn't mean you have to use tiny needles.  In fact, both Maia and Celeste do amazing things on bigger needles.  Try them on size 8s (US) and you'll find they create a wonderfully light and airy fabric that drapes beautifully and feels just so summer-y!
Think about different textures.  The two different yarns lend themselves better to different types of textures, so think about that as you choose your pattern.   Both of them work beautifully in stockinette stitch, so you'll never go wrong with that.  But consider Celeste for garter or any area that needs good stitch definition.  And Maia's smoothness makes it perfect for lace or any area that needs great drape.  The short answer?  Swatch first to test the yarns out in the textured sections of your pattern
Aim for contrast.  These two yarns are so delicious together when they're used in a way that highlights the differences between them: the matte vs sheen, the bold colour vs soft.  So choose a pattern that creates a lot of play and spotlights the contrast between the two yarns.
What to Do Next
Ok, if you're ready to jump on board, here's your next steps:
Come over to the Ravelry thread to let us know you're in the KAL, say hi to everyone, and to give (or get!) pattern ideas
Set a reminder on your phone to check out the Shop Update at noon today (eastern).  Then, when the time rolls around,  click here for Maia and here for Celeste to get your favourite colourways.
And make sure you enter our giveaway for some awesome  SpaceCadet swag!
See you in the KAL!