The Fourth of July is such an awesome holiday: family get-togethers, wonderful weather, hamburgers, corn on the cob, and fireworks.  Well, the food and fireworks are practically a given but we always have to just hope for the wonderful weather, right?  Here in Pittsburgh, we lucked out yesterday — the sun shone all day, the temperature was fantastic, and the humidity (believe it or not) was low and comfortable.  Honestly, I don't think it could have been a nicer day.
Which makes coming back to reality this morning all the harder, right?  If you're sitting at a desk right now or heading out to an office, I know how tough that is after all the fun of a holiday weekend.  So this week I've really tried to put together some special stuff to ease you back into real life in a gentler, more fiber-rich kind of way.  There's some great yarny tips and tutorials, a few extras just for fun, and three pattern picks I'm super excited about (guess which is my favourite!).
Ok, ready to get started?  Here we go…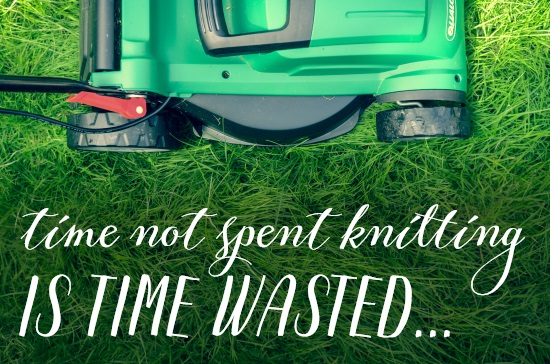 Even though everyone seems to think of knitting and crochet as cold weather activities, I find I knit more during the summer than any other time of year.  There's something about sitting in the dying sunlight on a summer's evening that makes me want to just grab my needles and relax.  But summer brings a lot of extra chores and, while the world may view a lawn-mowing robot as a frivolous luxury, when you look at it in terms of extra time gained to knit and crochet….  well, maybe it becomes something of a summertime necessity?  Regardless, I have to admit I am highly intrigued by Viking's iMow.  Even the video is strangely hypnotic.
In our Combining Yarns KCAL, a lot of folks are making shawls and I know that, at shows, I get asked a lot about the yardage required for different types of shawls.  So I know this article from Laura Aylor about using Excel to estimate shawl yardages will be a handy resource.  Calculations create cast-on confidence, yes?
One of the strangest textile-related things I came across all week (perhaps all my life?) is this item in the Part-Time Genius podcast, discussing a study that found that rats dressed in polyester trousers lost their sex drive in statistically greater numbers than rats dressed in cotton or wool trousers.  Yes, you read that right.  And yes, somebody studied this.  But the thing that jumped out at me?  There's real value in working with natural fibers.  And that disdain you have for manmade fibers like acrylic?  It might be a good thing for more reasons that we realised!
If you've never knit intarsia, it's something to add to your repetoire.  If you have but you hated the way the yarn gaped or looked messy at the join, you'll want to read YarnSub's excellent tutorial on the Twist-and-Weave technique for colour changes.  The difference in how the finished knitting looks is remarkable!

Shop Update: This Friday July 7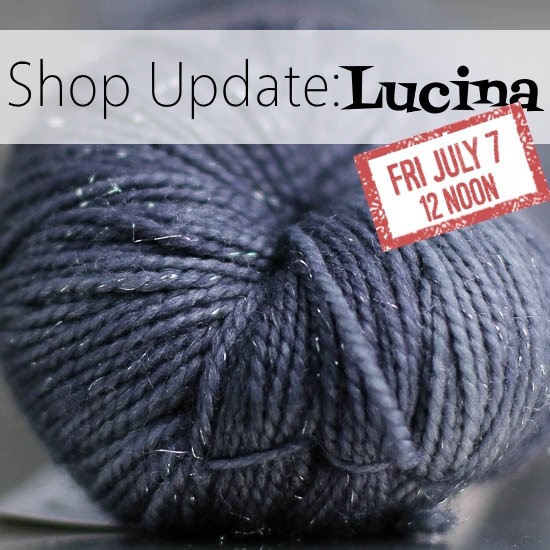 I realised last week that Lucina has been selling pretty quickly lately, so we've been busy dyeing up plenty more to go into a shop update this Friday at noon.  If you've never knit with Lucina before, you're in for a treat because, while the sparkle is beautiful to look at (see it in the photo above?), it's a surprisingly subtle and soft yarn.  You'll definitely want to try it to create something really special.  Watch your inbox on Friday for a reminder or set an alarm on your phone now for Friday, July 7 at noon (eastern) to get in on the fun!
The SpaceMonster Club is Open to Subscriptions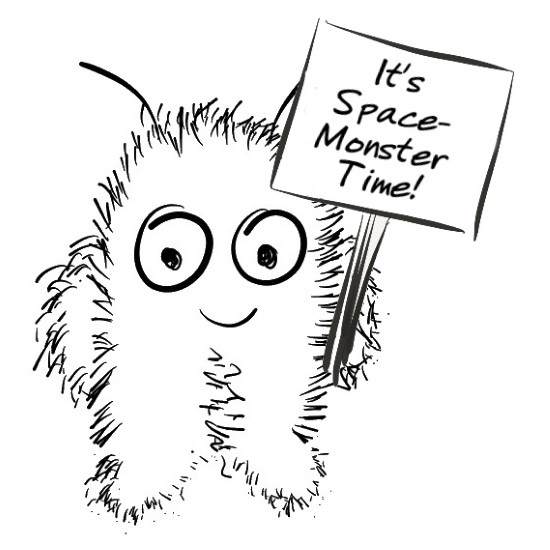 The SpaceMonster Club has been closed for six long months but it opened to new subscribers on Friday and, wow, did the response blow me away!  So many new members jumped on the chance to get into the club that, just five days later, there are only a few spaces left.  I am so thrilled to welcome all the new members and can't wait to get to know you all.  Please be sure to come over to Ravelry and introduce yourself!
And if you'd like to get one of those last few spaces, click here for all the details.  It's going to be a great season and we'd love to have you join us!
Combining Yarns KCAL: What Are You Discovering?
It's hard to believe we are now halfway through our 3rd week of the Combining Yarns KCAL and the projects are starting to look amazing!  And now that everyone has been working with two (or more!) different yarns in one project, I'm wondering: what has surprised you about the way your yarns are working together?  If you're working with Maia and Celeste, what have you discovered about them that you weren't expecting? Are they combining the way you thought they would? Have they surprised you in any way? Come over to Ravelry and share with us what you've discovered as you've worked on your project.

Rift by Laura Aylor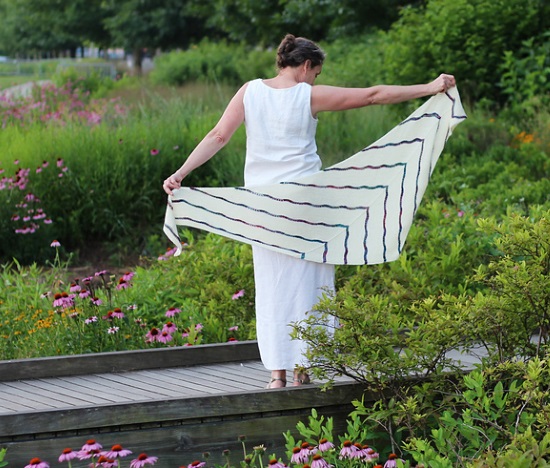 If you are looking for a pattern for your SpaceCadet Mini-Skeins (or even if you're not), may I introduce you to Rift?  I can see this being worked so many different ways:
with Ombre Minis as the small accent stripes and a neutral for the larger panels in between
with Ombre Minis for the larger panels and a single contrasting colour for the accent stripes
with a few wildly variegated Multicolour Minis as the accent stripes (a great way to use variegated yarn without it having a chance to pool!)
And, if you're still thinking of ideas for our Combining Yarns KCAL, this is an amazing choice!  Alternate Maia and Celeste in a single colour in the larger panels so they go matte-sheen-matte-sheen, and then choose a SpaceCadet Mini-Skein from your stash in a contrasting colour for the accents stripes.
Plus, Rift is 25% off today only — go grab it quick!
Granite Lake Shawl by Laura Cunitz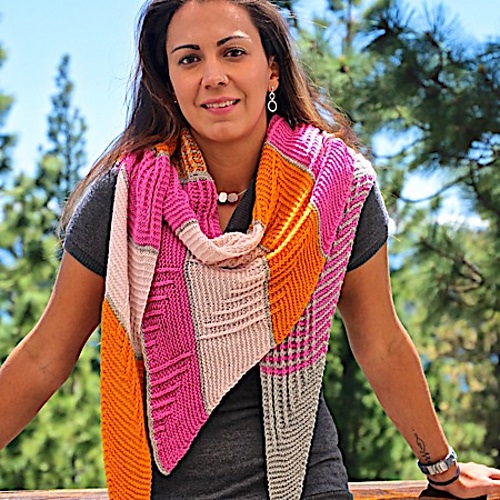 Looking for something with yet more colour options?  I love the Granite Lake Shawl for blasting through your stash of Mini-Skeins.  It uses four colours to create a simple yet interesting textured motif that flows across the colour blocks.  Choose bold contrasting hues like the sample here, or ones that blend into each other more.  Either way, the thin stripe between each colour block defines the space so the results will be stunning!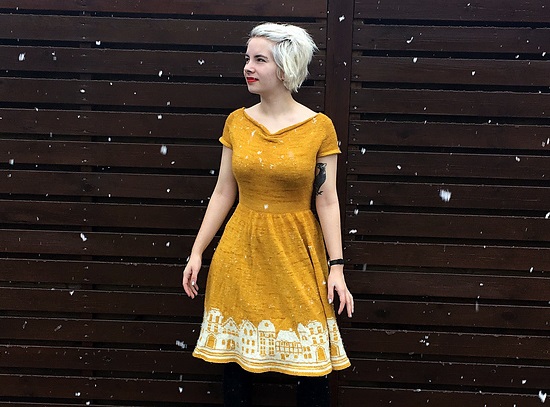 And here's a design that just fills me with joy!  First, because it was Chantal's wedding dress (and the pictures from her wedding day are just adorable) and, second, because the dress itself is nothing short of fabulous.  It's the depictions of the houses and buildings of Reykjavík, Iceland, that first caught my eye.  But look a little more closely and see the detailed shaping around the bodice and the lovely draping of the neckline.  Then imagine this dress knit in a dark shade of SpaceCadet Lucina (say, Dark Skies or Gobsmack), so the subtle sparkle in the yarn creates the effect of a starry night sky above the city.  Gorgeous!
Finally, a Personal Request from Me to You

You know I love putting these newsletters together for you — gathering all the news through the week, finding great patterns, thinking of all the things I want to share with you — and I get such joy from knowing you can relax and take your time as you read through it all.  And I'd really love to share all this fun with even more people so, if you know a knitter or crocheter who would enjoy this newsletter as much as you and I do, please invite them to join our mailing list.  It's easy:
Thank you so much — I really appreciate it!
Ok, and with that, I think I'd better get off to work myself.  Today's to-do list includes some photography, a bunch of order packing (woot! goodies on the way!), and a couple of new colourways to try out that I can't wait to dye.  Even though we're all back at work, it's good to have exciting things to look forward to.  I hope you've got a few of those tucked into your day as well.  So until next time, all my best!