You remember a few weeks ago, I told you about my sister wanting to buy wool clothing for work, and not knowing where to get it?  (Or even how to ask about it!…  "when they manufacture merino…")  I asked you guys to suggest places for her shop, and the response was fantastic!  So many folks emailed in and with such excellent suggestions that I not only was able to put together a great list of resources for her but, even better, I was reminded anew of what a wonderful community we have here.
So, first, thank you so much to everyone who wrote in or left a comment!  And second, quite a few folks asked if I would also share the compiled information here, which I think is a terrific idea.  So here's the full list, with several companies getting duplicate mentions (which I think is a great sign) and a few companies that were completely new to me.  I know that you and I can make our own wool clothing (because: we are awesome) but I'm delighted to have such a great list of additional options.  (And just thrilled to pass so many suggestions on to my sister — thanks again!)
Photo by Kai Pilger
Where to get wool clothing:
• from Holly: Pendleton and Eileen Fisher.
• from Pamela: Talbots
• from Deborah: LL Bean, Woolrich, REI, Pendleton, Johnson Woolen Mills, and Eddie Bauer
• from Grace: Lands End, Winter Silks, LLBean
• from Paula: Brooks Brothers
• from Lillian: Banana Republic, or Anne Taylor. Nordstrom, or Nordstrom Rack
• from Melissa: Banana Republic, J. Crew, Gap, Brooks Bros. Boden is one of my favorites (search by "wool").
• from Deb: Vogue Fabrics in Evanston, IL.
• Elizabeth suggested high end consignment shops
• from Elizabeth B: LL Bean, Land's End, Macy's, and Pendleton
• from Lisa C.: Eileen Fischer or Garnet Hill
• from Joanna: Land's End and another from LL Bean
• from Stacey: Pendleton, Cos (https://www.cosstores.com/), Jcrew (you can search on their site by fiber content), Nordstrom (https://shop.nordstrom.com/c/womens-dresses-shop/wool)
• from Susan M: Pendleton.
• from Pat: Talbots, Pendleton, I've bought wool clothes in Macy's
• from Beth G: Kühl
• from Mary Ellen: Eddie Bauer
• from Alison: Brooks Brothers, Bon Worth, Pendleton, Banana Republic
• from Rebecca: Orvis
• from Emmie: Orvis, Talbots, Woolrich, Lands' End
• from Kate: Pendleton
• from Cisela: COS
• from Jocelyn: Neiman Marcus, Nordstroms, J Crew, or REI for hiking.
• And I got this suggestion as well, which I thought was excellent:
The ready to wear lines by most designers do include classic components made of good quality wool (Calvin Klein, Anne Klein, Lauren used to…). Check Canadian manufactured goods…they've been the most reliable for affordability, outstanding construction and fabric quality as of late.
Ideally, find a good tailor. Tailors are not just for men and they know how to cut and drape fabric to be most flattering . Imagine a jacket or skirt or slacks that actually fit and you can be comfortable sitting through a tedious meeting. You can start off with a jacket and skirt or pants and then add complementary pieces as you go. They will keep swatches and measurements on file so if you want a pair of chalk line slacks to go with your new charcoal blazer for a more relaxed look, they're on it. They have access to a myriad of fine quality wool, wool gabardine, wool silk blends etc. There are wools so lightweight they are gossamer and the drape will make you swoon.
Keep in mind these will be well constructed pieces and if well cared for can last many many years. (I took apart some of my Dad's suits and recut them for me and then my daughter did the same with them when I was done wearing them…third generation and they look brand new.)
I use the CPW formula when deciding on a higher cost purchase. Cost per wear. How many times a month will I wear this? How many years?  Great question from your sister!
Isn't that a fabulous resource list?!?  Thank you all so much.  I can't wait to share it with my sister!

If there's a crocheter on your holiday list, top crochet designer Robyn Chachula (Crochet by Faye) has created a pop-up shop to sell her awesome Love Laugh Crochet range of t-shirts, mugs, bags, and other great gifts.  Everything is in very limited quantities, so don't wait!  (I've already nabbed two mugs and a backpack for a couple of crocheters on my list)  Bonus: Robyn is offering us an exclusive 20% discount with the code LOVE.  Woot!
Speaking of woollen clothing, if you follow Clara Parkes on Instagram, you'll know she's been waging a campaign for winter-clothing manufacturers to use natural and appropriate fibers in their products (that is, fewer synthetic fibers and no cotton, thank you).  It's been entertaining to watch her daily posts and stories but this one (where she penned an open letter to Deluth Trading Company deriding their ad claiming "Fleece-Infused: No Smelly Animal Fur Here, Just… Polyester Fleece" — under a drawing of a sheep!) created a bit of a firestorm in the comments.  Well worth reading!
And then Quintin McEwan, a shepherd at Cedar Grove Farm in Ontario spotted a Lucky Brand sweater with a tag claiming (…wait for it…) that "The World Needs More Fat Sheep" and "Not a Single Sheep was Sheered in the Making of this Garment"  (yes, you read that right).  He wrote a wonderful open letter to the company explaining that sheering sheep is a *necessary* part of good animal husbandry, and inviting representatives of the company to come to his farm and see for themselves.  Click here to read it and here to see the company's (disappointing) response.  The good news?  They included their contact information (email and phone) and seem keen to… receive feedback.
Tis the season for those amazing holiday-themed stranded colourwork sweaters and that always makes me think of Scandinavian patterns.  If you're the same, this article giving the history of that classic motif, the Norwegian Star, makes really interesting reading.  Make sure it's snowing outside and you curled up next a roaring fire.
Ok, the clock is ticking and you are stuck for gift idea, you could always consider this.  It seems like a fairly quick knit and… erm… it'd certainly be a unique present.  ( Or scroll down, I've got great gift ideas below)

Ok, I'm going to be very honest here — the last couple of weeks have been both fantastic (you guys, what a response to our Holiday Specials!) and exhausting (a bazillion orders to ship out, plus a show last weekend).  And add to that the fact that a couple of weeks ago, our main skein-twister and parcel packer, my assistant Sara, slipped on the ice and broke her hand, and so the whole crew has been doubling down to cover the work she can't do until her hand heals.  All this to say that the dates below may need to be a little flexible to accommodate things.  Keep your eye on your inbox, Facebook, and Instagram for updates.
The SpaceMonster Mega Yarn Club Opens Monday Dec 10…  Maybe.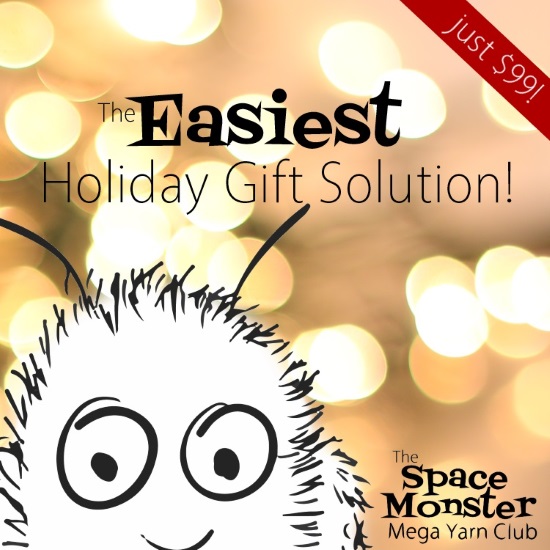 It's nearly SpaceMonster time and I couldn't be more excited!  The SpaceMonster Club is our worsted and bulky weight club, and I absolutely love dyeing for it, because big squishy yarns are… well, they're what got me started knitting in the first place (you too?).  They knit up so quick, they're so much fun to hold, smoosh, snuggle, and wear.
If you feel the same way I do, or have someone on your gift list who would love to get in on the fun, click here and get on the club mailing list to make sure you're the first to hear how to subscribe!
(Why "maybe"?   Well, things have been so crazy-busy that I may need a few more days to prep everything and open the club, so I'm allowing myself a little leaway.  Get on the list and keep your eye on your inbox, Facebook, and Instagram for updates.)
Prism Break Sets Available as Sweater Sets and Individual Skeins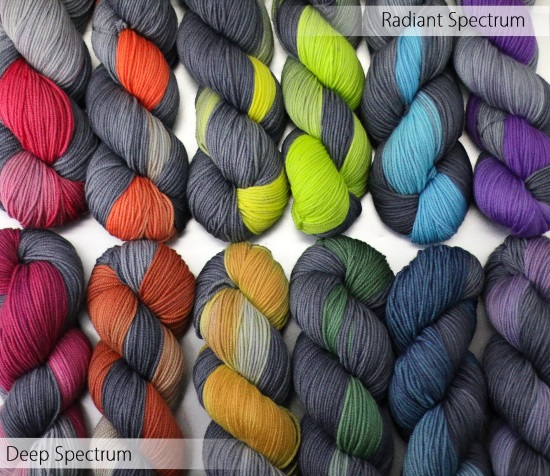 When we put the Prism Break Mini-Skein Sets in the shop as our Black Friday Special, they sold out so fast it made my head spin(!) and lots of folks never got the chance to get one before they were gone.  Well, that special may be over but I've got good news: the same colourways are available as full-sized skeins, in either Sweater Sets or as individual yarns!
And using them in a sweater is easy.  The grey that runs through every skein allows them to flow into one another effortlessly: no jarring joins, no alternating skeins… You just change from one yarn to the next and they flow beautifully!  Choose from either our Radiant Spectrum or Deep Spectrum, on Celeste, Ester, Oriana (all fingering), or Lyra (sport), Astrid (DK), Vega (worsted) or Elara (bulky).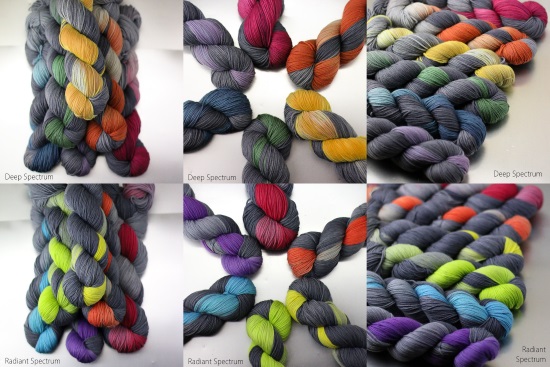 Flickering Light by Lisa K. Ross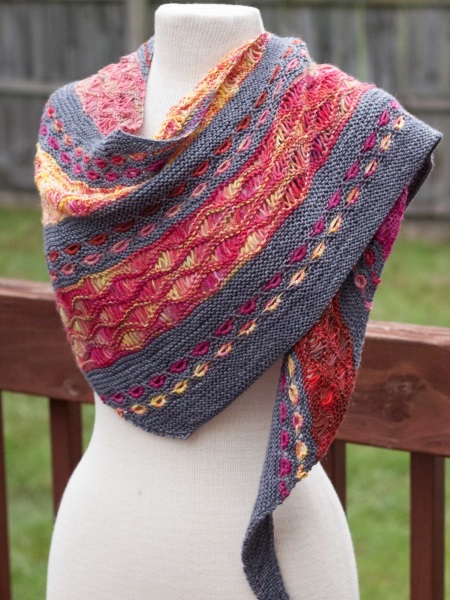 No doubt you saw this beautiful shawl last week when I released SpaceCadet's kits for it and they absolutely flew out of the shop.  They went so fast, in fact, that we had to quickly dye a couple of small batches just to have enough to bring some to last week's show, and now there are only a few left in the shop.  An absolutely delicious project with intriguing details, it's design in Aurora, our sumptuously soft 20% cashmere yarn.  Grab a bundle before they're gone!
Judy's Rainbow Scarf by Lindsey Stephens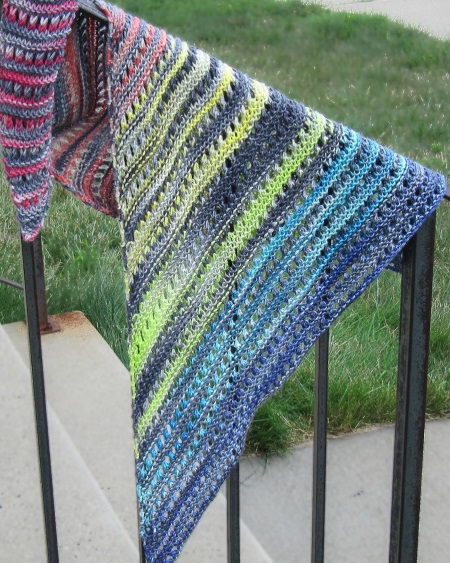 If you got one of our awesome Prism Break Mini-Skein Sets on Black Friday, then you've already seen this simple-but-addictive design that Lindsey Stephens created specifically for them.  But even if you didn't, this is the perfect project for that kind of depth-of-winter comfort knitting we all crave, and a fabulous way to use up your stash of SpaceCadet Mini-Skeins, no matter the colour!
Ithilmar by Heatherly Walker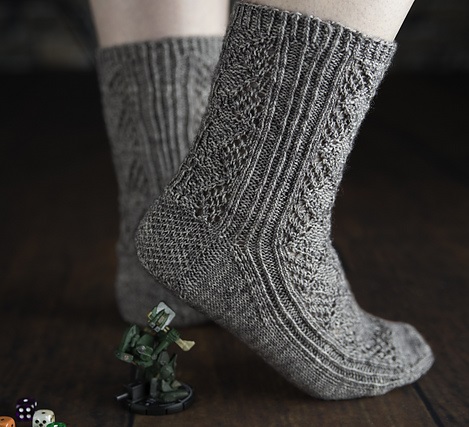 The temperature in Pittsburgh today is not going to get much above freezing, so warm warm socks are an essential.  But does that mean they can't be beautiful?!?  I love the delicate stitchwork and the colour.  Try it in SpaceCadet Ester in Sliver, Drizzle or Dark Skies.
images © the respective designers, used with permission
Ok, it may be freezing outside, but it's time I got to the studio and got some work done.  Today I'm dyeing some gorgeous club yarns and if I get a chance, I may just take a little time to play with a special colour I've had in mind to celebrate mid-winter (I'll let you know how it goes!).  In the meantime, I hope you have a wonderful day ahead of you and, until next time, all my best!