Here's something I found surprising when I first started SpaceCadet: photographing purple is hard.  It's hard. I mean, it's my job to make sure every colour on our website is true life, insomuch as I'm able, and purple tries to defeat me every. single. time.  Apparently, this is a known thing amongst photographers (and one of them once kindly wrote in to explain the technical reasons for it and I can't remember them now) and it's not just me, which I found a relief to know.  But to be honest, that doesn't make it any better when I am desperately trying and trying to get an accurate photo of a purple yarn and it just refuses to cooperate!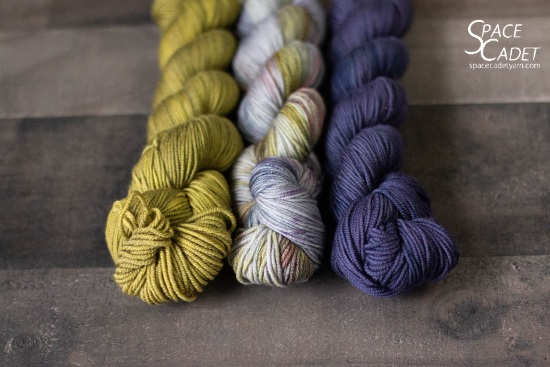 (l-r: Yes Dear, Fred While You're Up, and That's What She Said)
So, having learned this about purple, I had to laugh when I saw designer Corrine Walcher's Instagram posts this week.  She's designing a sweater in SpaceCadet Lyra and we sent her the yarn in our beautifully rich new purple "That's What She Said".  She sent me a direct message to say how much she liked the colour and that she would start posting photos.  And then…  purple did its thing.
Oh my stars!
"…and it looks absolutely nothing like I could get in this picture," she says.  And then later, "…I really just have to stop trying to capture the color of this. It's never gonna happen."  And I couldn't help chuckling, because I feel her pain.  Sometimes purple just will not cooperate and it's good to know it's not just me!
Still though, doesn't it look like it's going to be an amazing design?  I can't wait to see it.  And if you want to watch her continued progress (and continued fights with purple), be sure you're following her on Instagram at @gingyknits.
And if you need to see again what that purple really looks like, here it is…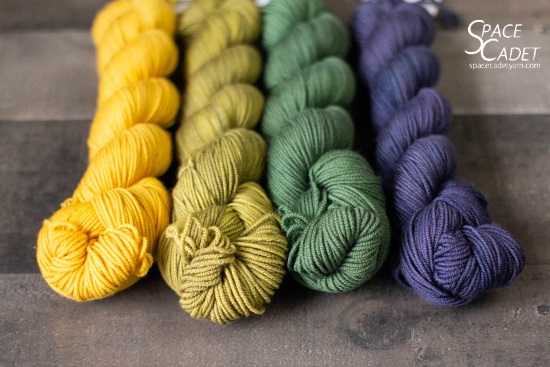 (l-r: Honey, Yes Dear, Longing, and That's What She Said)
---

---

The Yarn Alliance Opens to New Members on March 21!
Being part of the Yarn Alliance club is all about coming on a colour exploration — in gorgeous yarns dyed in exclusive colourways and shared with a wonderful community of fellow club members who are all part of the adventure too.  Plus we create beautiful coordinating skeins to double the fun.  And each parcel contains a wonderful club gifts created exclusively for the club by our community of amazing handmakers.  Oh, and a 15% coupon!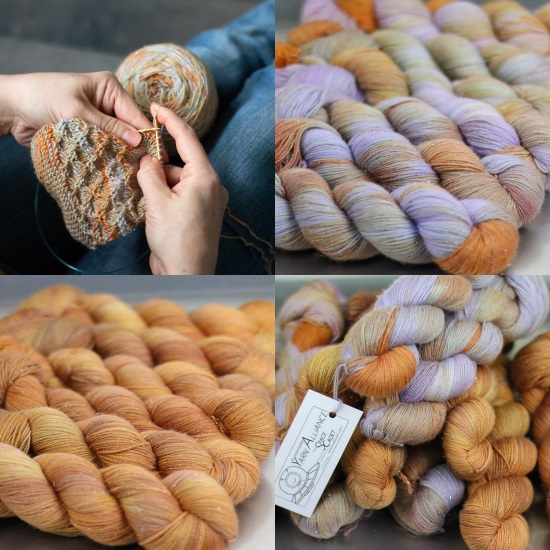 (this is the yarn & coordinate from January's parcel — isn't it lovely?!?)
The Yarn Alliance is available for subscriptions only twice a year, and we always give early access to folks on our waiting list. There's not much time, so click here and make sure you're on it.  You'll get an email a few days before subscriptions go live so you can join us!
Upcoming Shows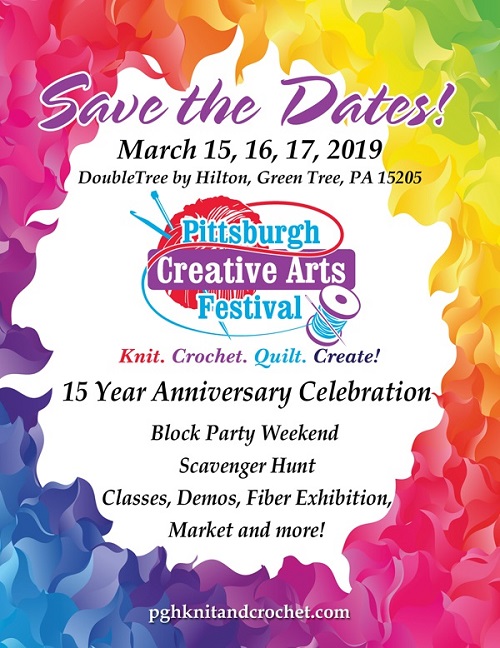 ---

Sagostad by Sofia Kammeborn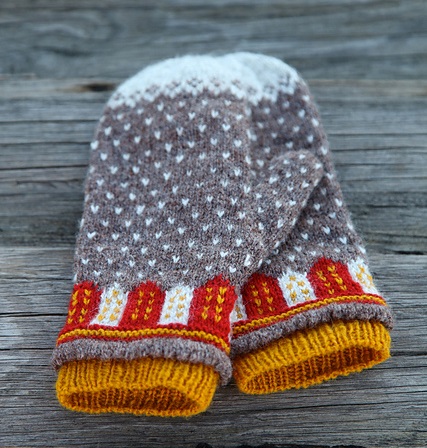 image © Sofia Kammeborn, used with permission
Here in Pittsburgh, it just keeps snowing — in a really sweet way, if I'm honest, with little flurries that make the world look like a snow globe.  And so when I spotted these adorable mittens, named "Fairytale Town" in Swedish, they seemed to capture everything that is delightful about this time of year.  Designed in fingering, I'd go for SpaceCadet Ester because it's a wonderfully hard-wearing Merino/nylon combo, in Dark Skies for the main colour and maybe some of my Mini-Skeins for the coordinating colours.
Double Brim Coffee Beanie by Amy Leclerc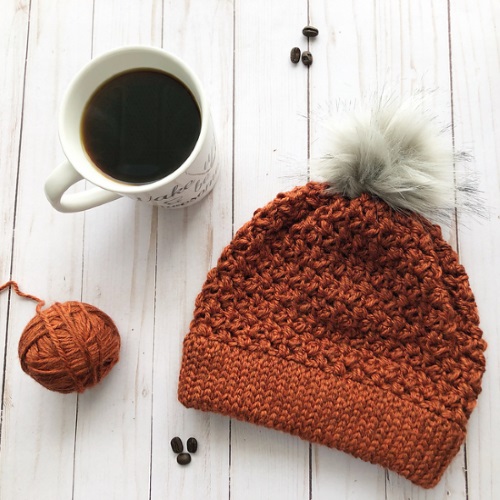 image © Amy Leclerc, used with permission
Few things are as satisfying as whipping up a hat in record-breaking time!  This lovely beanie incorporates crocheted seed stitch for textural interest and looks adorable with an added pom-pom.  Designed in worsted weight, I'd work it up in SpaceCadet Cressida in either Fat-Free Chocolate (because I love the combo of coffee and chocolate!) or Longing
Fading Waves Cowl by ChiWei Ranck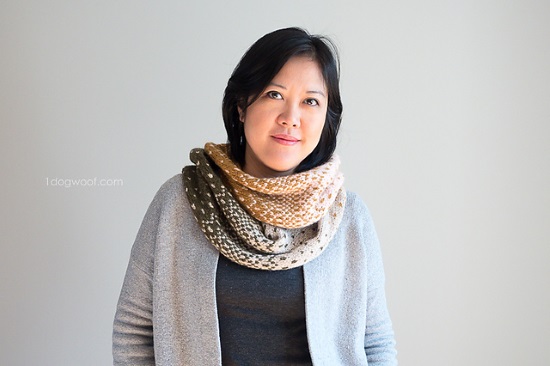 image © ChiWei at One Dog Woof, used with permission
I love the way this long cowl uses a mixture of colorblocking and fairisle stranded knitting to work one colour into another. This version uses strongly contrasting hues to make the transitions pop (click through to see a photo the cowl opened up) but I think it would be a lot of fun knit it in more blended colours.  Perhaps Look Up!, Feather, Frigia, and Sliver?  Or Longing, Sage, Wilt, and Honey?  So many possibilities!
---
Ok, I think it's time I head down to the studio and get things started.  Today we're going to take all of our amazing One-of-a-Kind colourways and create some gorgeous fades with them for our upcoming shows.  It's going to be a ton of fun, and I might even grab my camera and share some behind-the-scenes shots with you.  No purple though!  I hope you've got a great day planned too and, until next time, all my best!