You remember the other week I was discussing the way I tension my yarn, and wondering whether I ought to change it for something more…  efficient?  So many of you wrote in to reassure me that my tensioning technique was just fine as it is (thank you! I appreciate that!).  And so many others shared their own techniques (and that was so helpful and enlightening!).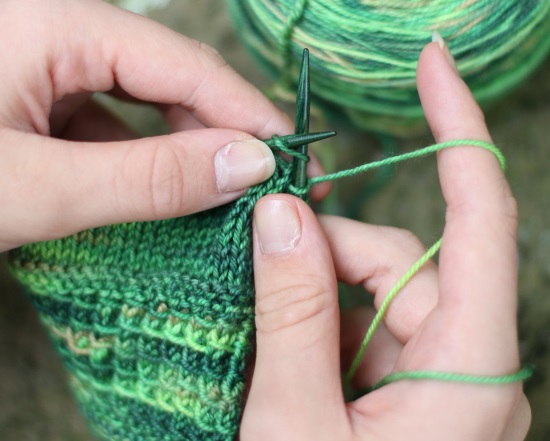 Susan said, "Wow! That has to be the most complicated tension hold I have ever seen… All teasing aside, if it works for you and you have beautiful stitches, why change?"  And then shared her much more simple tensioning method, "around pinky and over the index." (which, I suspect is a very common way to tension?)
And another Susan explained, "As to old dogs and new tricks… I usually beg off teaching people who knit English style how to knit Continental style. That's simply because muscle memory is so strong, people have a really hard time learning a knitting system that's different from the one they're used to. Good luck learning a new tensioning system!"
Designer Emily Connell said, "I love the tensioning discussion. Personally, I've found from teaching a lot of people how to knit and knitting techniques that the first way it feels ok to hold the yarn is usually what will stick long-term. I also find that most people aren't successfully able to rebuild new muscle memory for a different tensioning method…I learned to knit by throwing, and I held the yarn around my pinky finger for just a tiny bit of tension. However, I changed methods to picking/continental a few years later and wound up with a whole new system of tension… Now it goes over and under all my fingers and then circles my pinky. …My thought is that if what you're doing is working and isn't causing any physical pain, then no need to worry about finding a more efficient method."
Cassandra wrote, "I am trying to teach crochet to some Girl Scouts and their leaders and no one can seem to wrap their brain around holding the yarn in their non-dominant hand for tension and doing nothing else with that hand, except to hold the immediately worked project as they go along. I keep telling them their dominant hand, holding the hook, is the one doing all the work making the stitches, but I keep seeing them having a problem with trying to wrap the yarn around the hook ala knititng fashion or not understanding how the yarn moves through their fingers."
Lisa reassured me, "I think everyone tensions in their own unique way!" (and I think she's right!)
Samantha pulled out her knitting to check her own tensioning style, "Let me see… under the pinky, up between the pinky and next finger, then over the other fingers and wrapped twice around the index finger- and this is continental style in my left hand. Techniques are so interesting, and hard to change I think unless you find a more comfortable way. We do what works, right?"  We do indeed.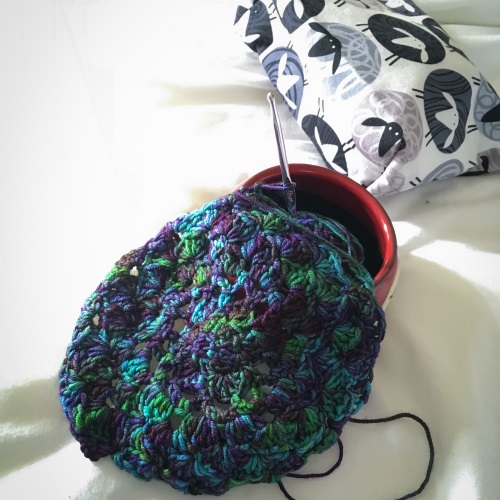 And then the funniest thing happened.  I was sick last week — really sick, couldn't get out of bed, couldn't walk up the stairs without gasping (did you notice there was no newsletter last week? yeahhhhh) — and so I did what makers do and cast on a new project while I let my body rest.  This project was crochet and, as I worked on it, I realised that the way I tension crochet is how I would tension my knitting if I knitted Continental.  But I can't knit Continental and, every time I try, my knitting explodes into a heap of mess in my lap.   And yet there I am, flying through my crochet stitches with my hands holding my yarn in the same configuration that feels impossible when I do it for knitting.  Now, how do you figure that?!?
I'm beginning to think it's all in my head.  I'm also considering having (another) serious try at learning Continental.  Which would, of course, alter my gauge, so the only logical thing to do is cast on a new project, right?  Heh! Such a hardship.
But before I get started on that (rather massive) endeavour, I've got a ton of fun stuff to share with you, so let's dive in…
---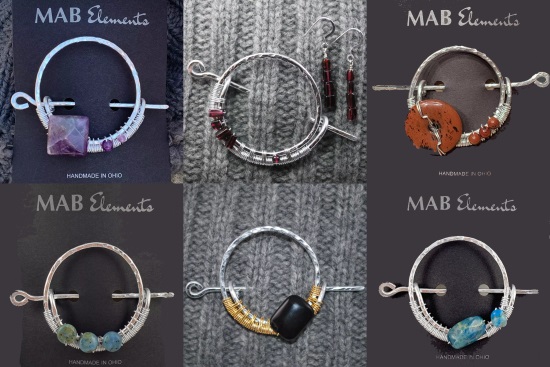 At one of our recent shows, I fell in love with these gorgeous shawl pins from MAB Elements.  Handcrafted by Michelle Barrett in Ohio, each piece is unique and designed to show off the distinctive colors and shapes of the individual stones.  And Mother's Day is right round the corner..  just sayin'…
Did you see these crocheted Converse sneakers?!?  So cool!  Although, there is a part of me that feel like I ought to be able to make them for myself, the truth is that I know I never would and they're just too adorable to pass up.
Closet Case Patterns are consciously working to expand their sizing range and, to that end, they're asking for help developing accurate measurements in larger sizes.  If you're size 12 or up (hips greater than 42″), you can participate by filling out their sizing survey with your measurements.  Incidentally, I'd love to know your favourite knitting and crochet designers who do larger sizes really well.  Please let me know!
As we head into the warmer months, it's worth sharing this little tidbit: wool is a great warm-weather fabric!  (Back when I worked in corporate — waaaaay back — I had a beautiful summer weight wool suit that was absolutely my most comfortable warm-weather outfit.)  As Woolmark points out, "In warm environments, wool fabrics can feel up to two times cooler to touch than synthetic fabrics, because wool conducts more heat away from your skin… Wool fabrics can move 25% more moisture away from your skin than polyester fabrics."  Good to know!
---

Spring weather is so much fun — warm, then cold, then storms, then sunshine.  And I guess I was on a weather-themed kick when I was looking at patterns this week.  Here's to beautiful spring days and lots of lovely knitting and crocheting time to go with them!
sunchaser by Jenny F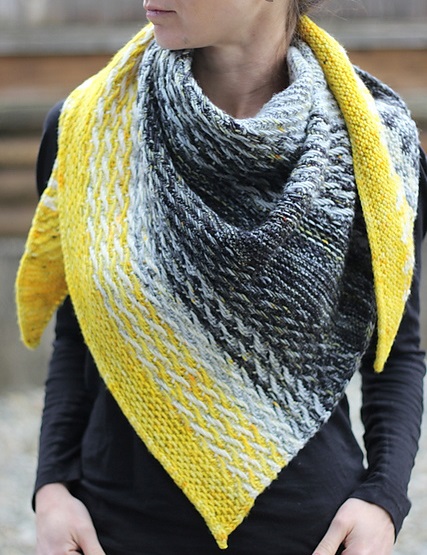 This gorgeous design incorporates two of my favourite things — bold colour changes and slipped stitches — to create a super fun shawl that looks like an absolute delight to make.  Worked tip to tip, it alternates simple garter with those more interesting slipped stitch sections before finishing with an tidy i-cord bind off.  Designed in DK, you could recreate it in either Lyra or Astrid in the colourways Sliver, Dark Skies, and So Life Gave You Lemons.  Or be really creative and use your SpaceCadet Mini-Skeins held double for an incredible colourplay.

Stormfront by handmade by SMINÉ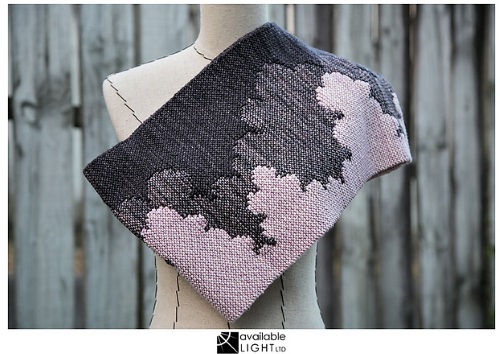 I just think this is such a gorgeous design!  If, like me, you love to sit and watch the dark clouds build as those summer thunderstorms roll in, you'll see how beautifully this simple three-colour design encapsulates that feeling. Designed in worsted, try it in SpaceCadet Vega using the colourways Dark Skies, Drizzle, and Gentle.

Sunflower Jumper by Robyn Chachula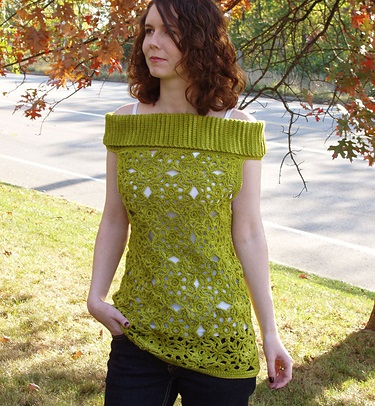 What better way to welcome the return of warm weather than wrapping yourself up in a gorgeous field of crocheted sunflowers?!?  Robyn Chachula's eye-catching design can be worn off the shoulder or on, or even wrapped up and worn as a cowl.  Versatile and gorgeous!  Designed in sport, it'd be lovely in SpaceCadet Lyra in Wilt, Feather, Frigia, or Faded Promises.

images © the respective designers, used with permission
---
Ok, I've got an awesome day lined up: a little yarn wrangling, a little photography, and then I get to work on updating our wholesale information for TNNA in June.  So, I'd better finish my tea and get the day started.  I hope your day is just as fun and, until next time, all my best!