It isn't always that a returned order puts a grin on my face but one that we received this week really did.  Actually, it first put a perplexed look on my face.  Because when I picked it up at the post office, the box… rattled.
Ummmm, what?  Yarn doesn't rattle.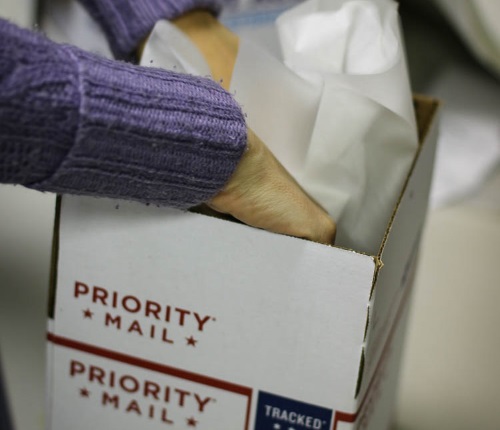 When I got back to the studio and opened it up, I found it did contain yarn, carefully wrapped and in perfect condition.  And on top of the yarn was a note and a box of cookies.  Spicy pecan cookies, which looked absolutely delicious.  And which rattled.
The note was from Karen, a lovely customer of ours and a member of two of our clubs, whose parcels had gotten a little confused.  We'd sent a replacement…  it seems perhaps it wasn't necessary…  and now she was returning the extra yarn with a little something for us as well.  And her note explained she understood how difficult running a small business is — every little bit counts — and so she was including a treat for us for our troubles.
Can I tell you how touched I was?  I think I sat and looked at those cookies for a whole minute without moving.  The thing is, it is absolutely not necessary to send cookies with a returned parcel (not at all!) but receiving it was more than a simple mid-afternoon treat.  It was, in a way, proof of why we do this: it was the connection between two makers, between dyer and knitter or crocheter.  And while that connection usually flows in one direction — in a parcel from us to our customers — on that day, it flowed back again.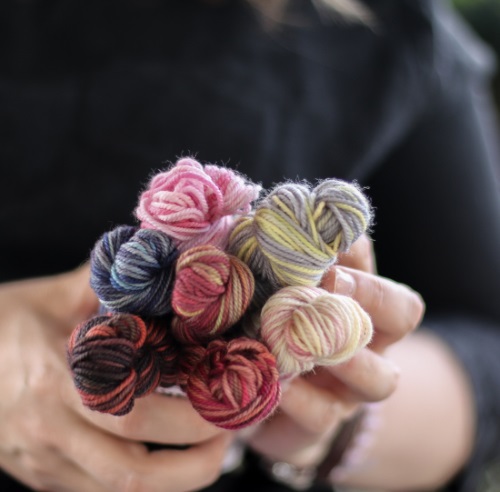 And that connection is everything about why we do this.  There's an enormous amount of love and dedication that goes into every skein we dye and every parcel we send out.  We do it so the work of our hands can become the work of your hands — like for like, maker to maker.  And when that connection is returned back — through a conversation at a show, through an emailed reply to the newsletter, or through a completely unexpected box of cookies — I speak for the whole SpaceCadet crew when I say, it means the world to us.
(Thanks, Karen)
---
Ok, I've got a lot of juicy news and interesting stuff to share with you this week, so shall we get to it?  I've got a nice cup of coffee to get the morning started, you go grab something for yourself, and here we go…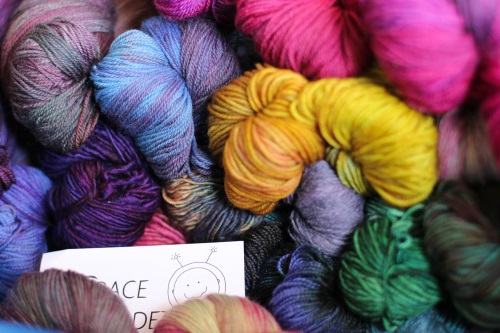 I absolutely loved this article about breaking up with the needle size suggestions on the ball band (such a good idea!).  We get asked about needle sizes all the time and, while we're happy to make suggestions, I'm always a little flummoxed, because there are no set rules about yarn and needle size. One of my favourite combos is our light fingering Celeste, which has 490 yards/100g on… wait for it… US size 8 needles.  So many people assume a yarn that thin requires something tiny, like 0s/1s/2s, but knit on size 8s, it makes a fabulously light and airy fabric.  So I'm in complete agreement: forget the "rules" and break up with the ball band!
Bluprint, the company that was formerly Craftsy, sent a letter to its course instructors that has angered many of them and caused great embarrassment.  In short, Bluprint promoted its classes with the promise that students could access teachers directly with questions, but then didn't actually make a large portion of those questions visible to the teachers who were supposed to be answering them. When they finally shared this information, many of those teachers found thousands of unanswered questions dated as far back as a year ago, and a group of them (including many names you'll know) have written an open letter to Bluprint (and its parent company, NBC Universal) demanding a public apology.  Meanwhile the teachers have had to issue their own explanations and public apologies to their students for not answering questions they were never given access to. Read more detail here.
These adorable space-themed page flags make me feel all happy inside.
In the last month or so, there's been a lot of discussion around pattern (and yarn) prices, designer income, and accessibility to folks of all income levels.  For the most part, that discussion has been happening on Instagram (and especially in Instagram Stories), which makes it incredibly difficult to share and discuss outside that platform.  But I'm grateful to Lisa for pointing me to this post by Hunter Hammersen that gives an excellent, in-depth look at the realities of designer income.  I also came across this post by Louise Tilbrook and this Twitter thread by Sarah Dawn, both of which give passionate view points.  And this post from Heather Zoppetti — the owner of Stitch Sprouts, author, and a designer published regularly in all the major knitting magazines — discusses the difficulty in making a living as a designer and her decision to take a day job. Interesting reading.
---

If you don't follow me on Instagram, you won't have seen the amazing Year of Gradient from 2018's Mini-Skein Club Ombre&Gradient Mix that my assistant Jade has knitted.  Each month, she made one hexagon from each mini in that month's bundle (which still left her with plenty of yarn for other projects) and her goal is to join them all up together in a wrap that is sure to be stunningly eye-catching!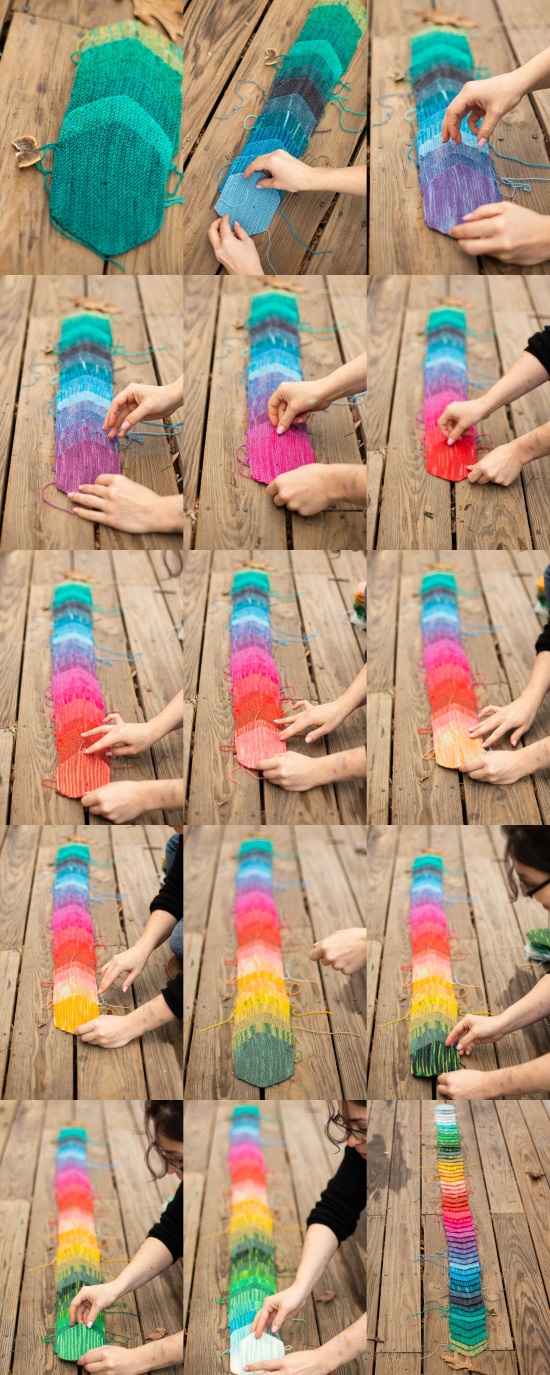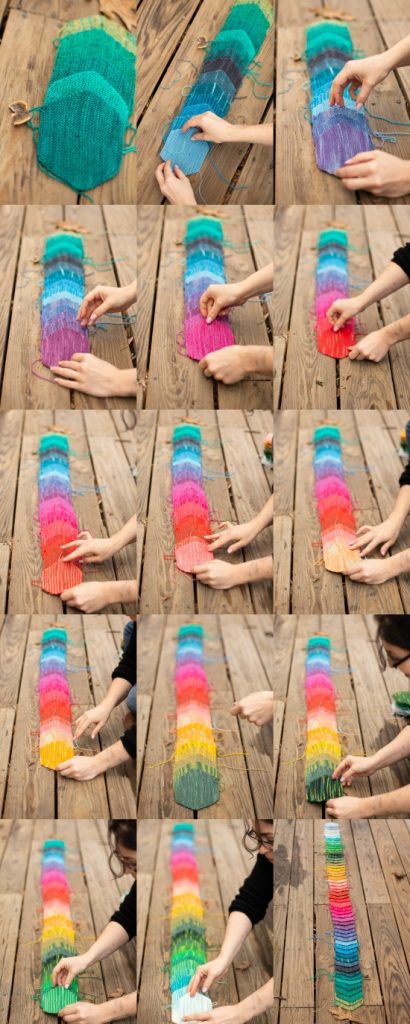 (doesn't a year's worth of gradient look amazing?!?)
But first, we laid them all out together on my deck to capture the full glory that is a year of the SpaceCadet's Mini-Skein Club!  (Can I tell you, by the time we were done, it was so hard to fit the whole thing in one shot!  It's a ton of colour!)
Each month for our Mini-Skein Club, we dye an Ombre & Gradient Mix that flows from last month's colours into the next month's colours, to create a Never Ending Gradient. It's seriously so cool! To find out more, click here.
---

Casual Cadence by Lisa K. Ross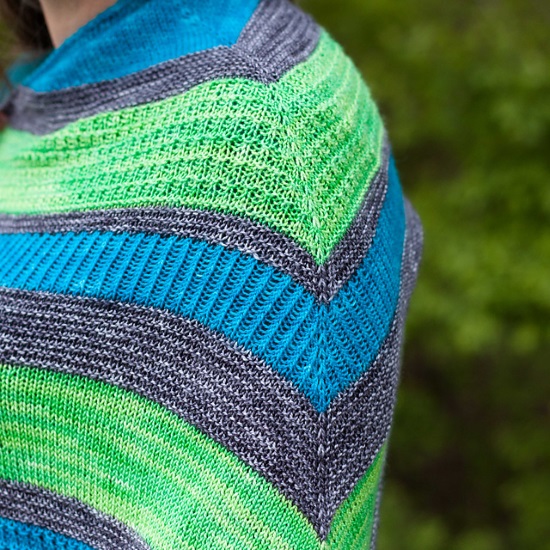 I love the kind of knitting that lets your mind relax and get into the rhythm of the stitiches and this shawl does exactly that with simple textures to keep things relaxed while showing off the changing colours of the yarns.  A perfect match for SpaceCadet Mini-Skeins (especially if you mix and match from the Mulitcolour Mix!), Lisa is offering our newsletter readers an exclusive 20% off the pattern with the code SPACECADET through the end of June.  Woot!
Wingspan by Kyle Vey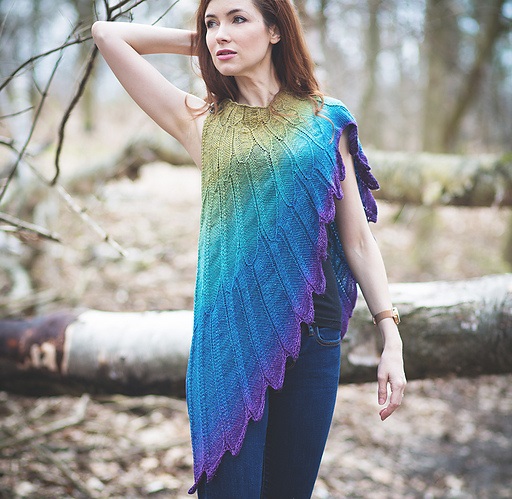 It's been hard to miss this incredibly innovative design on Ravelry and social media of late but, if you haven't spotted it yet, allow me to fix that for you.  Designed to mimic a pair of feathered wings, the shawl can be worn draped to draw attention to the unusual shape or wrapped to look more subtle.  It's so much easier to understand if you click through to see all the photos.  I'd love to see it it worked up in the SpaceCadet's Ombre & Gradient Mini-Skeins, where you can start the colour anywhere in the gradient and control the colour changes yourself.
Open Waves Top for Women by LoopinglyMade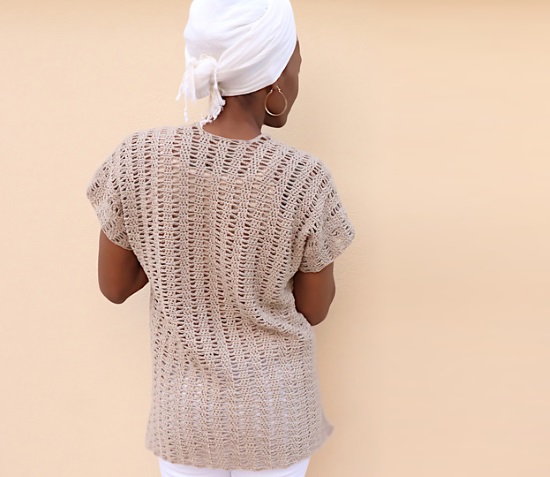 With the warmer weather, the hunt is on for cool cover-ups that look stylish but let the breeze flow through, and this crocheted top caught my eye immediately.  Its straight-foward shaping keeps the stitchwork simple and I love the V-neck styling.  Designed in sport, I think I might be inclined to play with my gauge a little and try holding double our bamboo yarn, Maia, in two different colours for an interesting effect in a nice light fabric.
---
Ok, I'm about to run a bunch of labels for orders and club parcels that are going out today and I'd better get busy with it!  I hope your day is filled with fibery goodness the way mine will be and, until next time, all my best!