Many years ago, I worked for a large chemical manufacturer, controlling the raw materials for a factory making polyesters for the textile industry. It was an interesting job that was constantly changing as we tackled supply chain issues, manufacturing delays, and all sorts of unexpected hiccups.
But twice a year, everything would go eerily quiet as we shut down all our operations and the entire manufacturing team headed down to the warehouse to spend two full days counting everything we had in stock.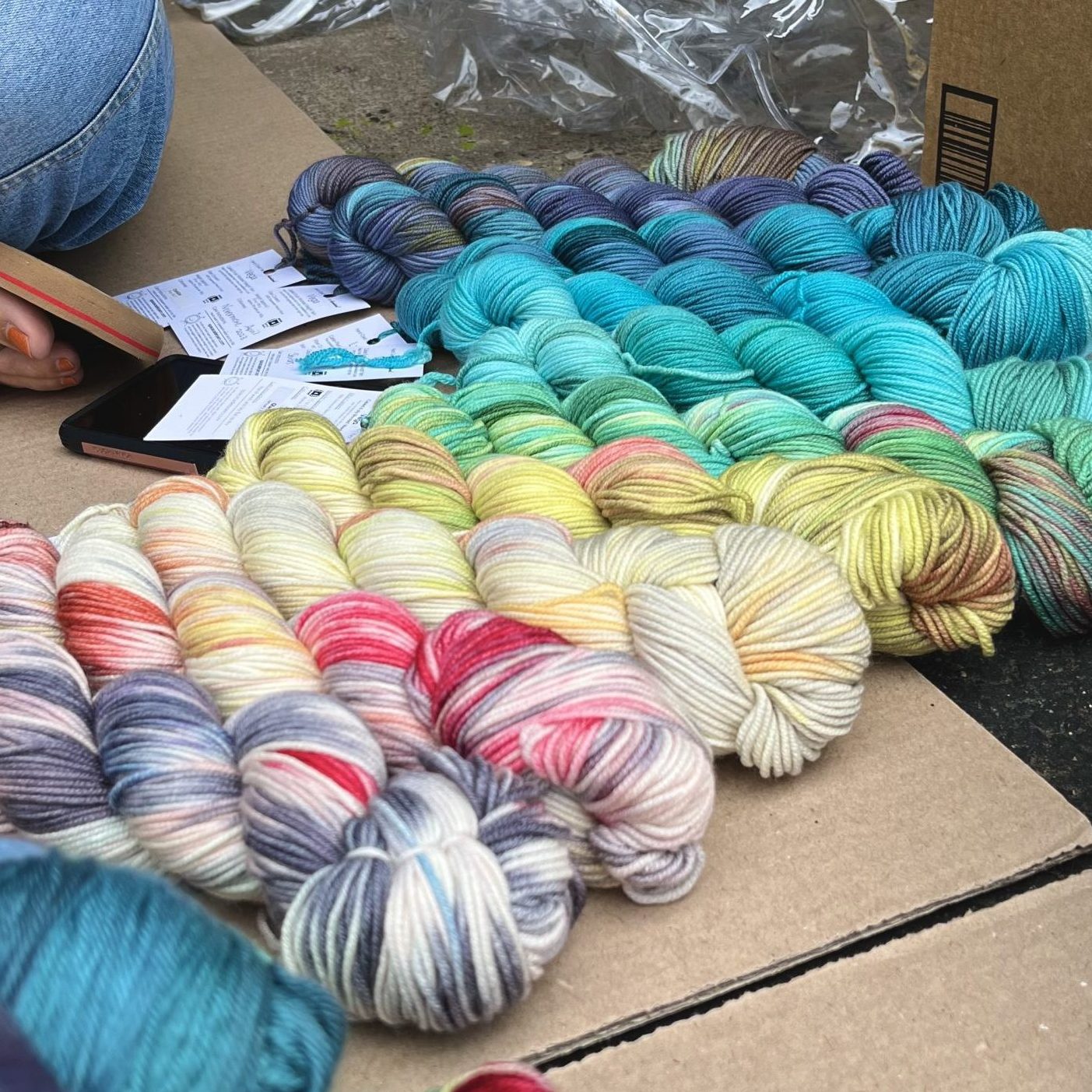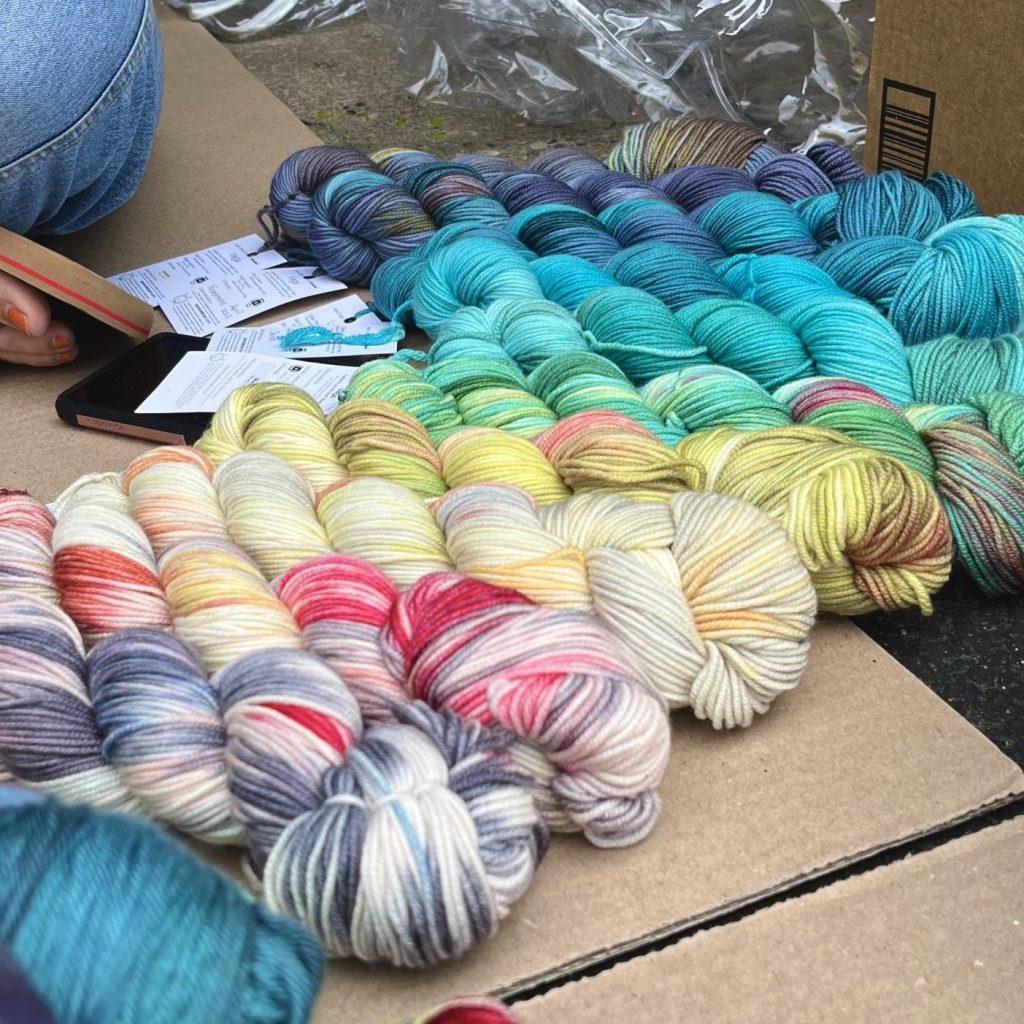 Counting the
Gradient Explorers
colourways
The warehouse was cavernous, and so cold in the winter that you could see your breath and so hot in the summer that you could feel the sweat trickling down your back. And, to me at least, stocktake was unbearably boring no matter which time of year.
Walking in pairs down row after row of pallets stacked to ceiling, one person would count and the other would scribble the numbers on densely line sheets attached a clipboard. The job felt like it took forevvvvver.
…1 …2 …3 …4. Ok, jot that down. 
…8 …9 …10. Wait, which line were we on?
Can I be honest? I hated it.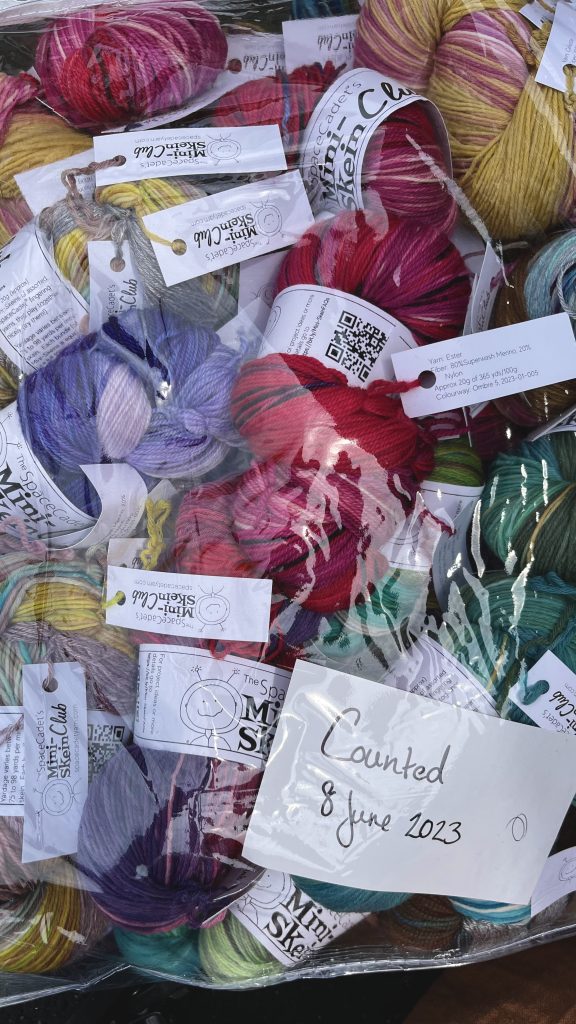 So when my accountant first told me that, even though SpaceCadet is only a teeny tiny company, we still need to do those same stocktakes….  Well, my heart sank.
But the thing is, this time it feels completely different. This time, we're not counting pallets in a huge, windowless warehouse — we're counting yarn. And as we take it all off the shelves and dump it into a big basket to begin counting, it feels less like a requirement and more like a treat.
In fact, a few years ago we joked that, instead of calling it "Stocktake Day", we should call it "Pet All The Yarn Day".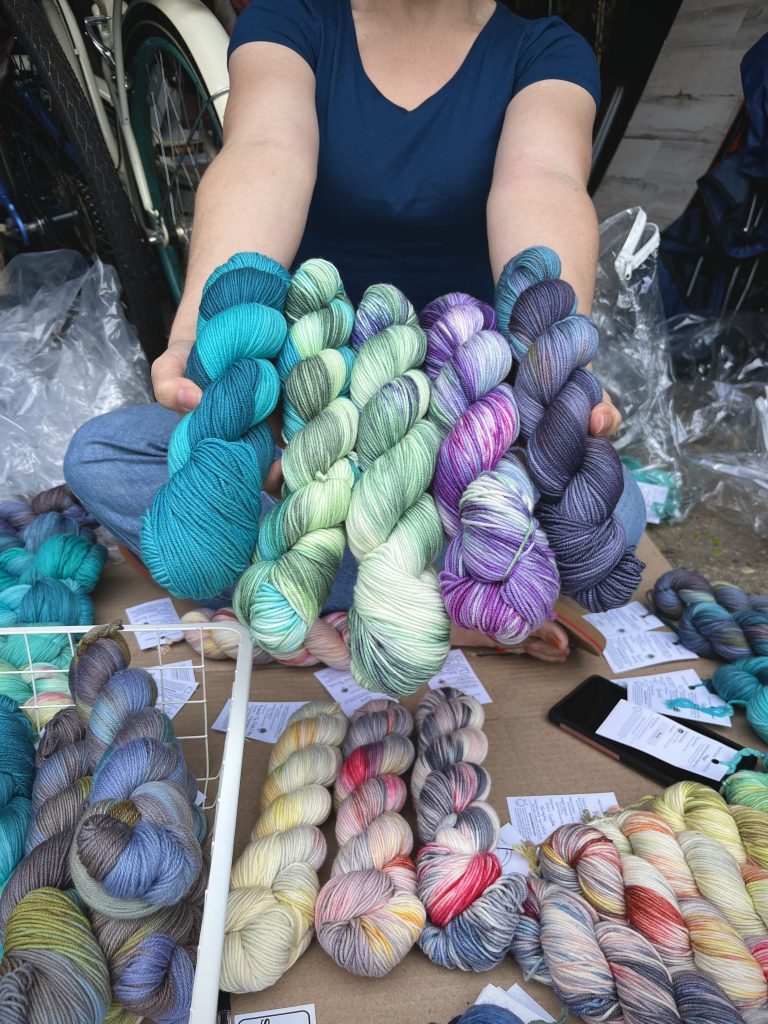 Mixing and matching
Gradient Explorers
colourways (instead of counting..
ahem!
)
Actually, because we're such a small team — who (ahem) easily get suddenly distracted with tons of new colourway and design ideas(!) — stocktake takes a lot longer than a day. And that's ok, because it's all yarn.
But this year, we're doing something a little different. We've been live streaming our stocktake on Instagram! I mean, yeah, that might sound a bit nuts and, if you're not a yarn person, it's probably pretty boring.
But if you are a yarn person, then it might just be right up your alley! We think of it as visual ASMR that can just play in the background of whatever you're doing, as we dump all that lovely yarn into a big basket and and then count it all up again.
There's birdsong in the background (we take everything outside if the weather is nice), we're chatting as we work, and then there's the lovely meditative counting.
…1 …2 …3 …4. Jot that down. 
…8 …9 …10.
Oh I love counting all the yarn!
Join Our Next Stocktake
We'll be stocktaking some more in the next week.
To join us, make sure you're following SpaceCadet on Instagram and watch our IG Stories for notifications.
---

news from the world of knitting & crochet…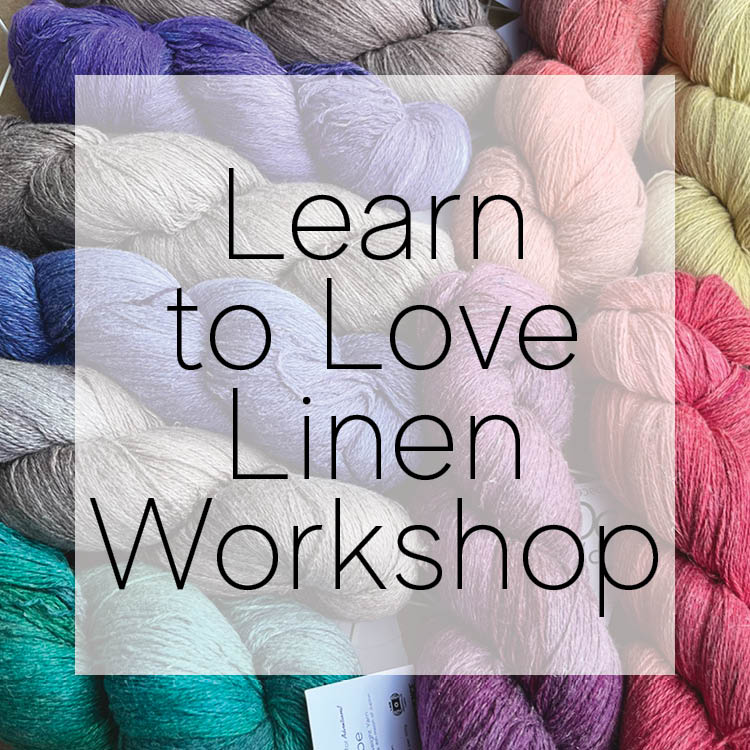 If you're ready for summer yarns, then you'll want to join Encourage Better's Learn To Love Linen Workshop. Feel like you've been whisked way to the best summer camp ever, learning about the perfect warm-weather yarn choice and broadening your understanding of plant-based options.
You'll recall that last month, Stitches/XRX announced they were cancelling all their future shows and shuttering their business, but it appears they are not actually entering bankruptcy. A letter from their lawyer has been shared on Ravelry, amid much debate.
If you love crochet and you love math, this may be right up your alley: The Learn to Tech Edit Crochet course from the Tech Editor Hub is open for enrollment. The 7-week course begins on Monday and enrollment closes this week, so be quick!
Photo by Imani
There's no faster way to kill the vibe at knit or crochet night than to ask about dealing with clothes moths, but it's an issue that every knitter or crocheter needs to be aware of, especially this time of year. This useful article walks you through several methods to avoid an infestation, including baking your woolens. Yes, baking.