Getting in Touch
Forgot Your Login?
Giving Gift Cards
Using Discount Codes and Gift Cards
Shipping
Order Changes and Returns
Questions about Colour
Questions about Clubs
For LYSs and Designers
Our Terms of Service & Privacy Policy
---
Getting In Touch
I want to get in touch! How do I do that?
We'd love to hear from you! Email us at missioncontrol (at) spacecadetyarn (dot) com and we'll get back to you as quickly as possible during the work week (but we are a very small operation, so it may take longer when we're away at yarn shows, during holidays, or if we're up to our elbows in dye out in the studio!). Also, we answer email messages much faster than messages on Ravelry or social media, so please do stick to email.
I have a question about gauge or yarn choice or pattern ideas (or similar).
The very best (and fastest!) place to get answers to your question is the SpaceCadet group on Ravelry. There are tons of great folks there who have used all our yarns and are happy to help.
Squeeeee!!! I wanna show you what I made with your yarn!!!!
Yay! We love to seeing SpaceCadet projects. Please please please come share it by email (missioncontrol-at-spacecadetyarn-dot-com) or in the SpaceCadet group on Ravelry so we can squee with you!
If you've made something beautiful with SpaceCadet yarn that you'd be happy for us to share with our community (in our newsletter, blog, or social media), here's what we'll need you to include:
your project can be a in photo attached to your email or a link to a social media post
please include the yarn you used and the pattern name
let us know how you want us to refer to you — either by your real name, a social media handle, or something else
and we'll need you to say in the email that we have permission to share your photo, name, and project details on the SpaceCadet website, emails, and social media.
and everyone is always drawn to projects with great photos, so make sure yours is one that's nicely composed, is in focus, and shows your project in use
---
HELP! I forgot my login!
If you've bought from our shop before, you probably have a login but our shop software doesn't share your username and password with us.  If you can't remember it, click on "Forgot Your Password?" and then enter your email to reset your password.
If you're a member of one of our clubs but have never bought through our shop before, you don't have a login yet (so you're not forgetting it!) because we manage the clubs separately from the regular shop.  Just go ahead and create a new login and you're all set!
---
Gift Cards
Oooh, I know someone who'd love your yarn! Can I give a Gift Card?
Absolutely! SpaceCadet Gift Cards are available by clicking here, and can be either sent by email or printed for you to deliver. They can be used on almost anything in the SpaceCadet online shop, but please note that there are a few restrictions:
Your SpaceCadet gift card will be delivered by email to you (the gift giver), so you have the option to print it out to give the recipient in person or you can forward it to the recipient by email.  Please enter all of your own information during check out (email address and billing address) so that you receive the gift card email and your receipt.
Our gift cards have no additional processing fees and never expire.  They can be used in partial amounts and the balance remains on the card to be used later.
SpaceCadet Gift Cards can be redeemed online only — we regret that we have no way to redeem them at shows or other in-person events
Gift cards can be used for the InterStellar Yarn Alliance and SpaceMonster yarn clubs (when they are open for subscriptions) but, for technical reasons, they cannot be used for the Mini-Skein Club or Gradient Explorers. If you'd like to give a gift subscription for either of those, please do contact us and we'll be happy to sort that out for you.
---
Discount Codes
I have a Discount Code, but don't know how to apply it. Can you help?
Sure! First, choose your yarn and start the check out process as normal. After you have entered your shipping and billing addresses, the next screen is marked "Step 2 of 2" (on the right) and asks you for your payment method. Enter your SpaceCadet Discount Code into the first box on this screen and click "Apply". Please note that you have to enter the code exactly as it was given to you (so it may be easier to copy & paste it instead of typing it in) and you must click "Apply" for it to work (see the image below — click to make it larger).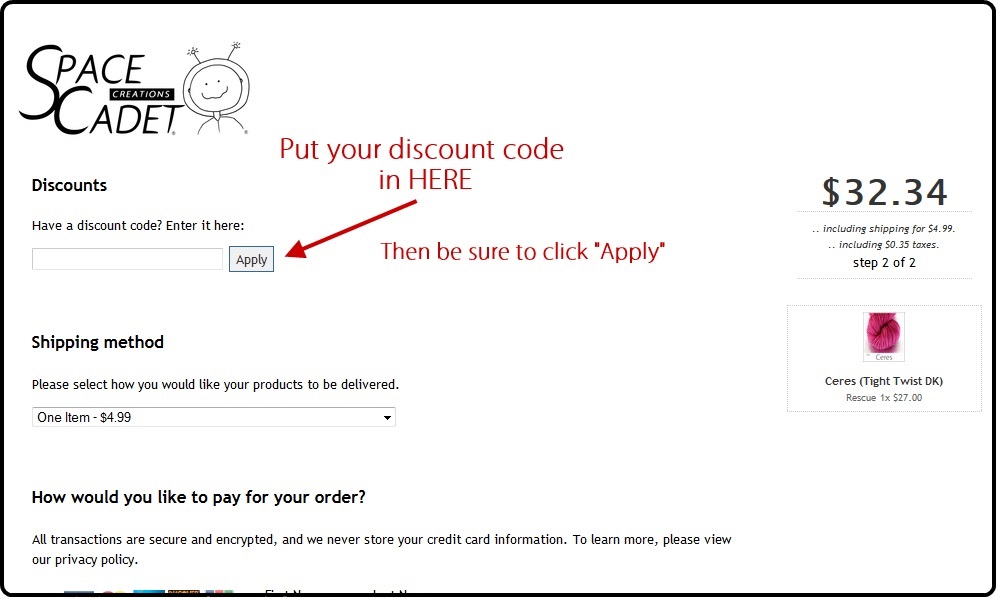 ---
Shipping
I live outside the US. Do you ship internationally?
Absolutely! But international parcels are shipped slightly differently to domestic, so be sure to read the special notes in the shipping information below.
How will you ship my parcel? What are your shipping charges?
Orders that are entirely in stock are usually shipped one or two business days after you place your order, but may occasionally take slightly longer, especially if we are away at a show. Orders with items for custom dyeing will be sent once all the items are dyed and ready.
Want to see how your yarn will be packaged? Click here to have a look!
Most domestic packages are shipped by USPS Priority Mail with Delivery Tracking and Confirmation included. Our Priority Mail rates are calculated automatically based on weight and shipping distance, and you can see the shipping cost during check out before final payment.
Some important information for international buyers:
USPS's charges for International Priority Mail and Delivery Confirmation are simply too high to be practical, so we send international packages by USPS First Class mail and base our shipping charges on almost exactly our own cost. We obtain a customs number which tracks your parcel at least within the US (and sometimes also outside the US, but not always). If you would prefer your package be sent by Priority Mail or with Delivery Confirmation and/or Tracking, please contact us for the cost.
Please be aware that, when a package is sent by First Class mail, we are both in the hands of the USPS and your local carrier.  International delivery can sometimes take considerably longer than might be expected.
When we send items out of the country, we must complete a customs declaration. This is required to include the price paid for your item, and your country may charge customs fees, and these fees are your responsibility.  If you choose not to collect your parcel from the post office and it is returned to us, we will refund at your request the cost of the items you ordered but we do not refund the cost of shipping for parcels not collected.
---
Order Changes and Returns
How do I make a change to my order?
Because of the custom nature of hand-dyed yarn, changes are not always possible, however we do try if we can.  Please email us at missioncontrol@spacecadetyarn.com with details of the change you'd like to make. Please include your full name and address, and your order number if you have it.
I need to return my yarn to you. What do I do?
If you are unhappy with your yarn purchase for any reason, please contact us as soon as possible. We want you to be satisfied and will make every reasonable effort to make that happen. Items returned unused, in original condition and within 30 days from from delivery may be refunded or exchanged*. If the item is eligible for a refund, we will return your money to you once we receive your returned yarn.  Please read our full return policy by clicking here.
Our return address is:
SpaceCadet Inc
PO Box 113312
Pittsburgh PA 15241
*Important Restrictions Please note that:
Because of the nature of the club set-up, we can accept returns or exchanges of club shipments only in the case of faulty merchandise.
We refund shipping charges only in the case of faulty merchandise.
We cannot accept the return of any yarn or fiber that smells of cigarette smoke or pets, or yarn which has been wound into balls/cakes (whether by you or by us). In this case, a refund will not be possible and your purchase will be returned to you. Thank you for your understanding.
In the case of kits with a pattern download code, where the code has been used before the return, we are able to refund only the price of the kit minus the cost of the download code.
I'd like to a refund for my pattern purchase. What do I do?
Because of the nature of digital downloads, all pattern sales are final and refunds for patterns are not possible.  We appreciate your understanding.
---
Questions about Colour
What does "Dyed From Primaries" mean?
It means that we use no premixed dyes and that every single colour you see on our yarns and fibers has been created by entirely hand from the basic primary colours — just like you learned in art class when you were a little kid! Click here to read more about how we create our colours from scratch.
Why doesn't my yarn look exactly like the last skein I bought? (Or why does my yarn look different from the picture on my computer? Or why do my skeins look slightly different from each other?)
Hand-dyed skeins are very different from industrially dyed yarn — each skein is dyed by hand by an individual dyer, and their true beauty is the uniqueness and adventure in every skein. Different yarns also take colour differently depending on their fiber content — be sure to look for the details on each yarn's page in the shop, and click here to see how different the results can be from one yarn to another.
All hand-dyed yarns can vary between and within dyelots so please be sure to order enough yarn for your project, which gives us the chance to minimize the differences between your skeins. If you'd prefer to reduce any variation in your project, we recommend alternating skeins every two rows in your project. Please remember that our photos are as accurate as possible, but the colours you see also depend on your computer monitor's settings (click here for more info on how screen settings can affect colour).
---
Questions About Clubs
I have a question about my Mini-Skein Club Subscription…
Click here to check out the Mini-Skein Club FAQs and get your answer fast!
How can I join the InterStellar Yarn Alliance or the SpaceMonster Club?
The InterStellar Yarn Alliance and the SpaceMonster Club reopen for subscriptions for only two weeks twice each year.  Click on the club name and join the club mailing list to be the first to hear when it opens!
---
For Shops and Designers
I'd like to sell your yarns in my shop. Do you wholesale?
Yes!  We make SpaceCadet® yarns available to a select group of retail shops. Please click here fill out our wholesale information form.
I'm a designer (or a shop) and I'd like to use your yarn for an upcoming design or KAL/CAL. Can I do that?
We LOVE supporting designers and KALs/CALs! The key thing here (especially with KALs/CALs) is to allow enough time for us to have the right yarn in stock to support your event properly. Please click here for more information.
---
Terms of Service and Privacy

For our full Terms of Service, click here.
For our full Privacy Policy, click here.