Shop/The Clubs/The Mini-Skein Club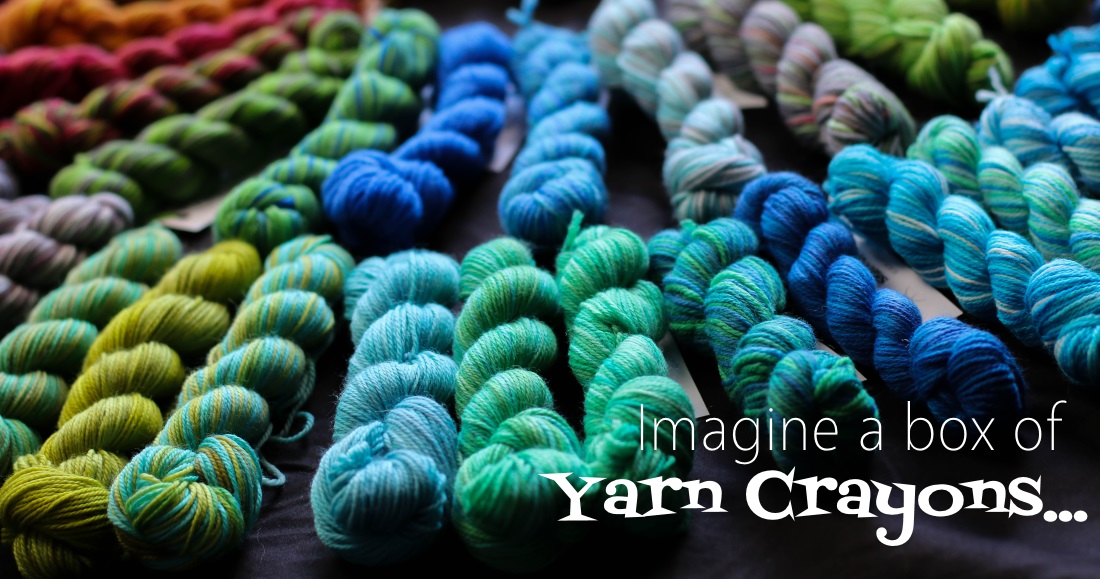 And use the SpaceCadet's Mini-Skeins to Colour your World!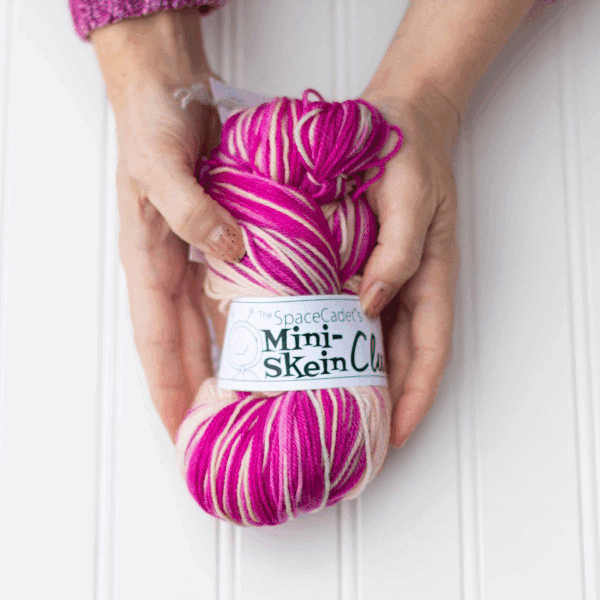 You're ready for a colour adventure… And there's nothing as exciting as your delivery of mini-skeins from the SpaceCadet's Mini-Skein Club!

Richly dyed in stunning hues, we design these delightful little yarn-gems to guide you on a colour journey that will inspire you to create uniquely eye-catching projects.  Each month, your parcel arrives bursting with glorious colour ready to be untwisted and explored!
The Multicolour Mix gives a range of hues in complex colourways to add interest to any project.  And the Ombre&Gradient Mix is dyed an amazing Never Ending Gradient in colours that flow from one month to the next… and onwards to the next!
The result is a guided journey through colour that is wildly exciting and so much fun to cast on!

Let's Do Something Amazing with Mini-Skeins!
First, choose your colour mix:
Our Multicolour Mix gives you wild pops of colour to use in any project.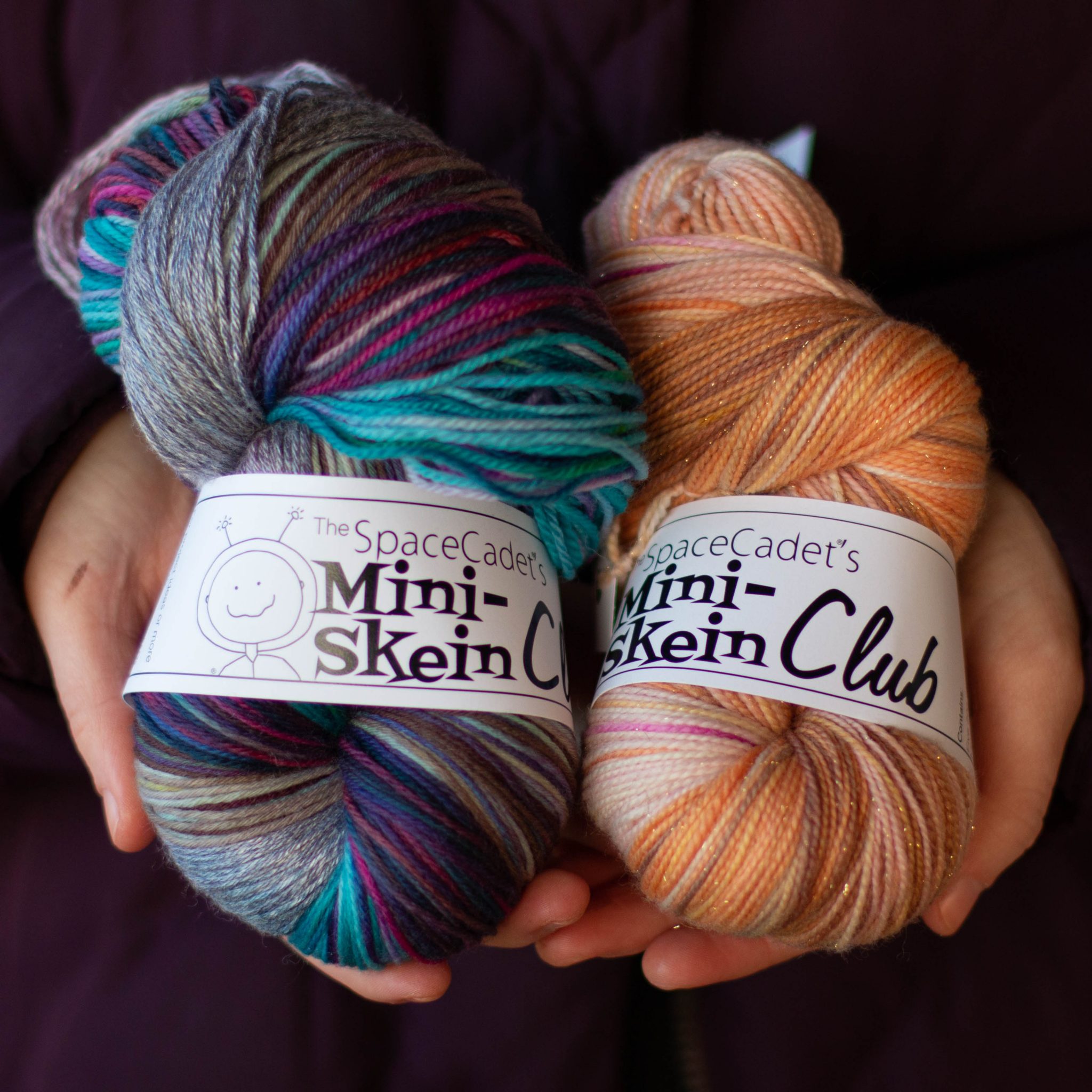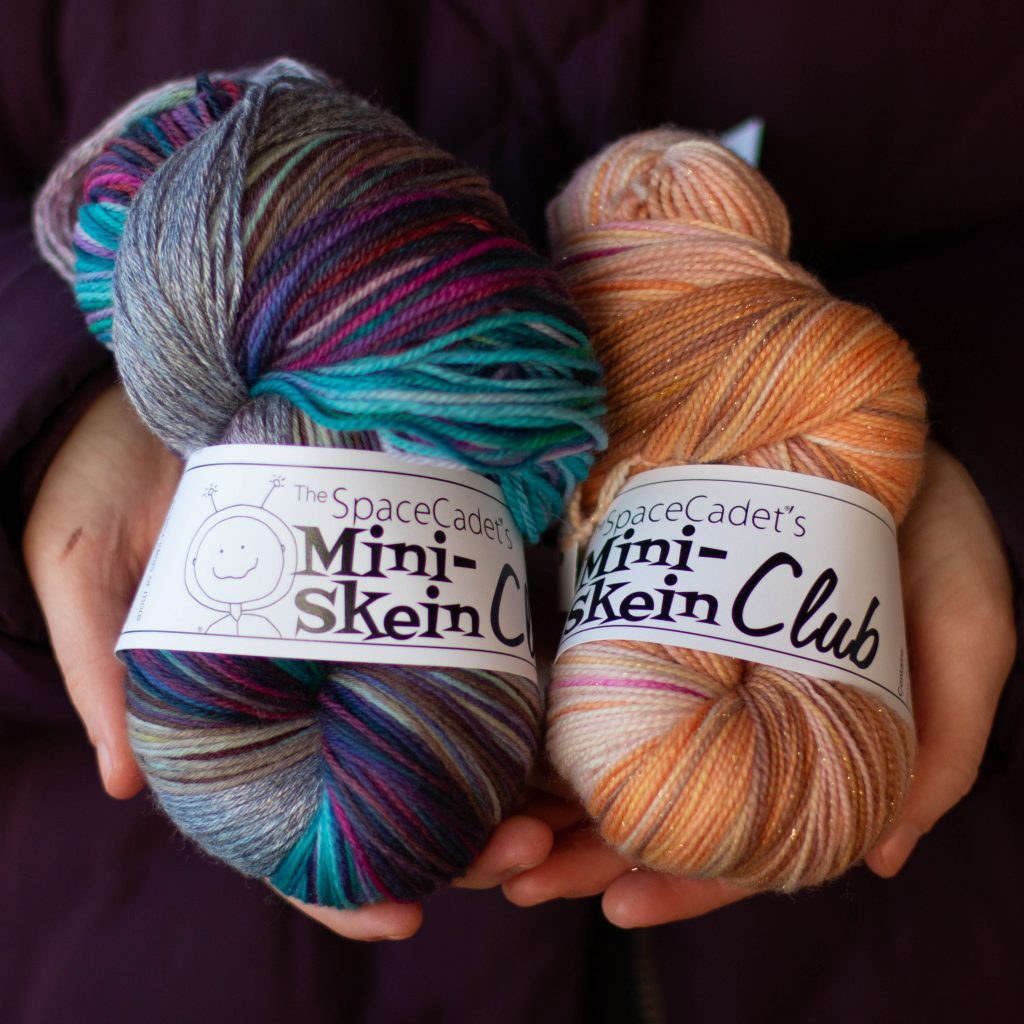 Then, you choose your subscription level:
Single (five 20g skeins) for $34
Double (two sets of that month's five 20g skeins, 10 skeins in total) for $64
And here's the really cool thing: If you've ever wanted to try the different SpaceCadet yarns, the Mini-Skein Club is a GREAT way to do it! Because the skeins are a mix of all the SpaceCadet's beautiful fingering yarns (the Multicolour Mix contains a variety each month, and the Ombré & Gradient Mix changes yarn from month to month). So some are Celeste and Oriana, there's a touch of cashmere with Aurora, stunning sheen on Maia, and the subtle sparkle of Lucina.

And you can cancel your subscription as soon as you have enough Mini-Skeins for your project. (But the question is… can you ever have enough Mini-Skeins…?)
Still got questions? No problem — check out the Mini-Skein Club FAQs.
Ready to jump into the Mini-Skein Fun?

---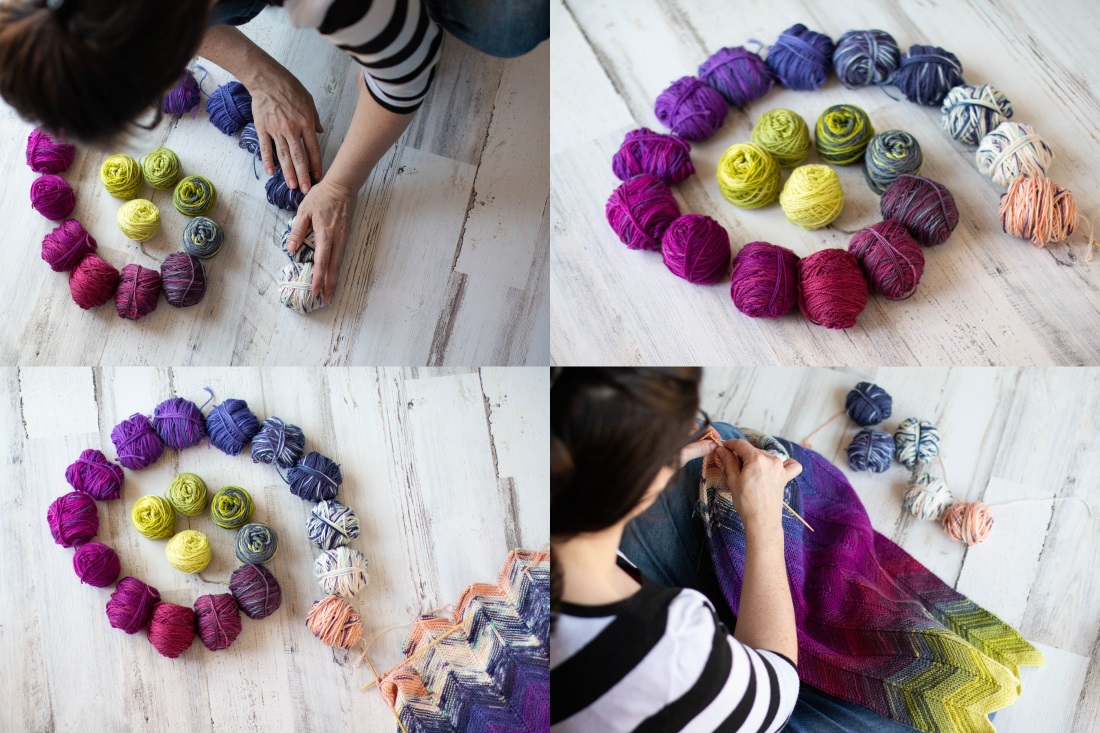 Mini-Skein FAQs
They're so cute, but what do I make with Mini-Skeins?!?
Ohhhhh there are countless ways to use Mini-Skeins! Start by checking out the SpaceCadet's Mini-Skein Ideas board on Pinterest. There you'll find tons of patterns designed specifically for Mini-Skeins that you are going to love, as well as tons of ways to use Mini-Skeins to incorporate a surprising pop of colour in almost any project you're working on!
And when you join the club, we'll send you a short series of emails chock-full of great pattern ideas for mini-skeins to get you one your way, as well as links to places to find even more. We can't wait to see what you make!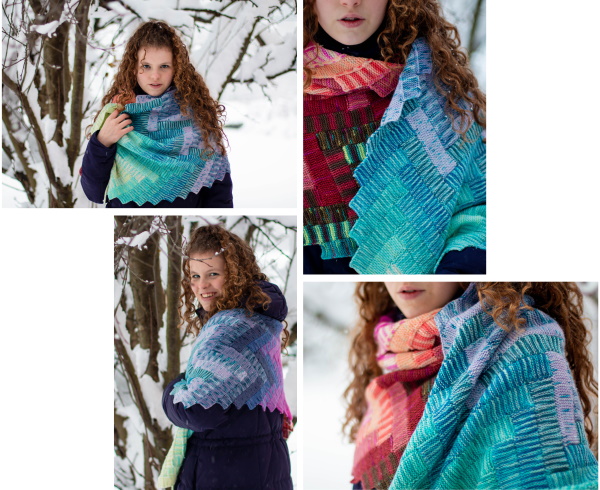 The D'aeki Wrap, designed for SpaceCadet Mini-Skeins
How do I make the Never Ending™ Gradient work? Can you start anywhere on Month 1 and have it blend into Month 2?
You can start anywhere within an individual Ombre & Gradient Mix bundle and it will blend 360° back into itself — so cool, right? But to make the Never Ending™ Gradient flow from one month into the next, you'll need to use them in order. Every Mini-Skein has a tag with the dyelot number, like this: 2201-001, 2201-002, 2201-003 (translation: 2201 = Jan 2022, 001 = first skein in the set). Just use the Mini-Skeins in order from 001-005 and each calendar month will flow beautifully into the next!
What yarns will be in my parcel? And what is the yardage in each Mini-Skein?
The Mini-Skein bundles are made up of a collection of SpaceCadet yarn bases, which gives you the chance to try out different SpaceCadet yarns. Click here to see the different yarns that will be included in your bundle.
The two Mix options work their way through our yarns differently:
each month, the Multicolour option contains a mixed variety of our yarns
whereas each Ombré & Gradient bundle is made of one type of yarn that changes from month to month.
They are always fingering weight yarns, so they all work together, but the fiber content and yardage varies from yarn to yarn. Generally speaking, though, the yardage on our fingering yarns runs from around 375 to 490 yards per 100g, which means the yardage on the Mini-Skeins will generally range from 75 to 98 yards per skein. Altogether, each bundle of 5 x 20g Mini-Skeins is equal to a full normal 100g skein of SpaceCadet yarn.
The Northeasterly Blanket, knit as a wrap with SpaceCadet Minis
What are the different subscription levels?
There are two levels, to cover you for the month no matter how fast you knit!
The Single Mini-Skein Subscription is five 20g skeins for $34
The Double Mini-Skein Subscription is ten 20g skeins for $64 (in five colourways — to get ten different colourways, be sure to choose the Half-and-Half mix)
(Club members are special folks to us, so we do special shipping rates for the club: just $5.99 per parcel, whether you're joining a Single or Double subscription level! International costs are higher, see full details here.)
What sorts of colourways can I expect in my parcel?
Each parcel is made up of a selection of SpaceCadet colourways, hand-picked to work together. You can choose between
the Ombré & Gradient Mix, which contains colours that morph gently from one colour to another — this is the mix to choose for our Start Anywhere™ and Never Ending™ Gradient option
the Multicolour Mix, which is made up of variegated and semi-solid yarns that are designed to give you a wonderful assortment of colour to make any project pop
Half-and-Half, which is one bundle of the Ombré&Gradient Mix and one of the Multicolour Mix — only for Double subscriptions!
All together, they look terrific and will set your creativity free!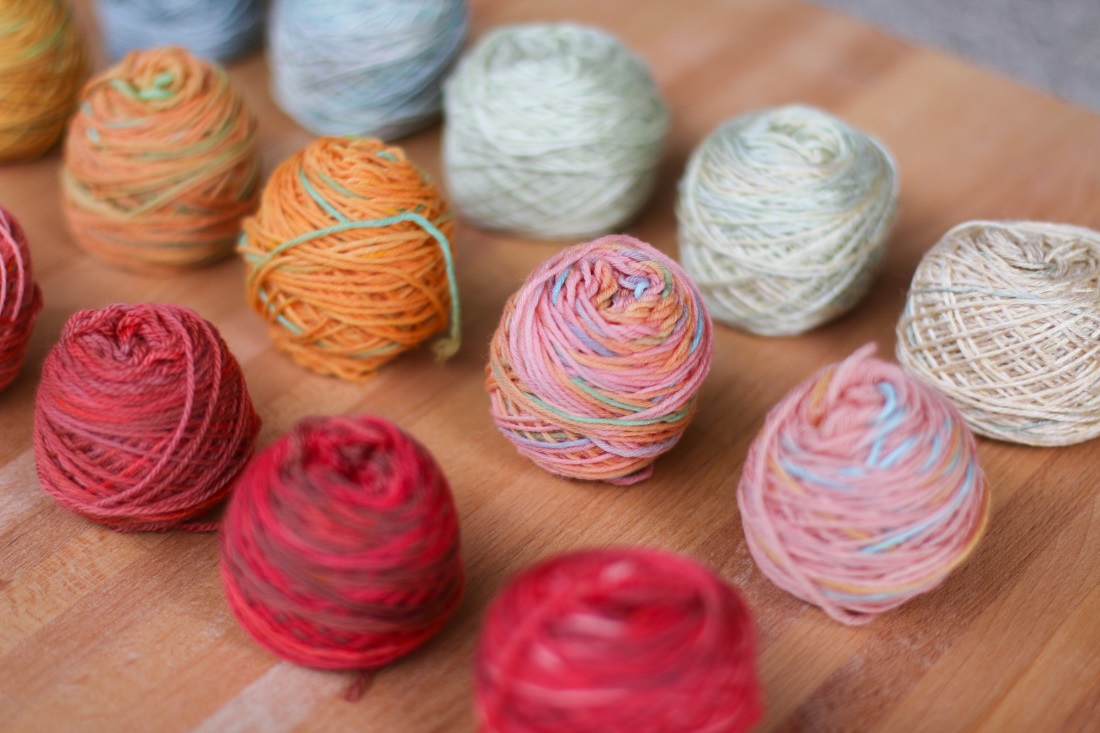 When will my parcel arrive? And when will payment be taken?
All parcels go out and the end of the calendar month, and the deadline for new subscriptions to be included in that shipment is midnight on the 1st of that month (every Mini-Skein is wound by hand, so we need a bit of notice to get your parcel ready!).
Domestic deliveries are sent by Priority Mail, which usually takes about 2-3 days. International deliveries are sent by USPS First Class mail.
Your payment will be processed on the day you subscribe, and will automatically repeat on the same day each month of your membership.
Hey! My second payment has come out but I haven't received my yarn yet!
Because every mini-skein is wound by hand, we need enough time to get everyone's parcel dyed and ready. That usually takes between three to six weeks, depending on what day of the month you join the club. When you join, your first parcel will be the following month's parcel, and will go out at the end of the month (for example, if you join on January 2, your first shipment will be February's parcel). Because of this, if you join early in the month, you may end up making two payments before your first parcel arrives (in the example above, your payments would come out on Jan 2 and again on Feb 2, and your first parcel would go out at the end of February). Although it is not ideal to have that happen, we can't figure out a good way to avoid it, so we always track everyone's payments carefully to ensure you receive all of your mini-skein parcels.
When does my subscription end?
You can end your subscription whenever you have collected enough Mini-Skeins for your project (or, any time you like). And it's easy to unsubscribe! Just click on the Unsubscribe button below: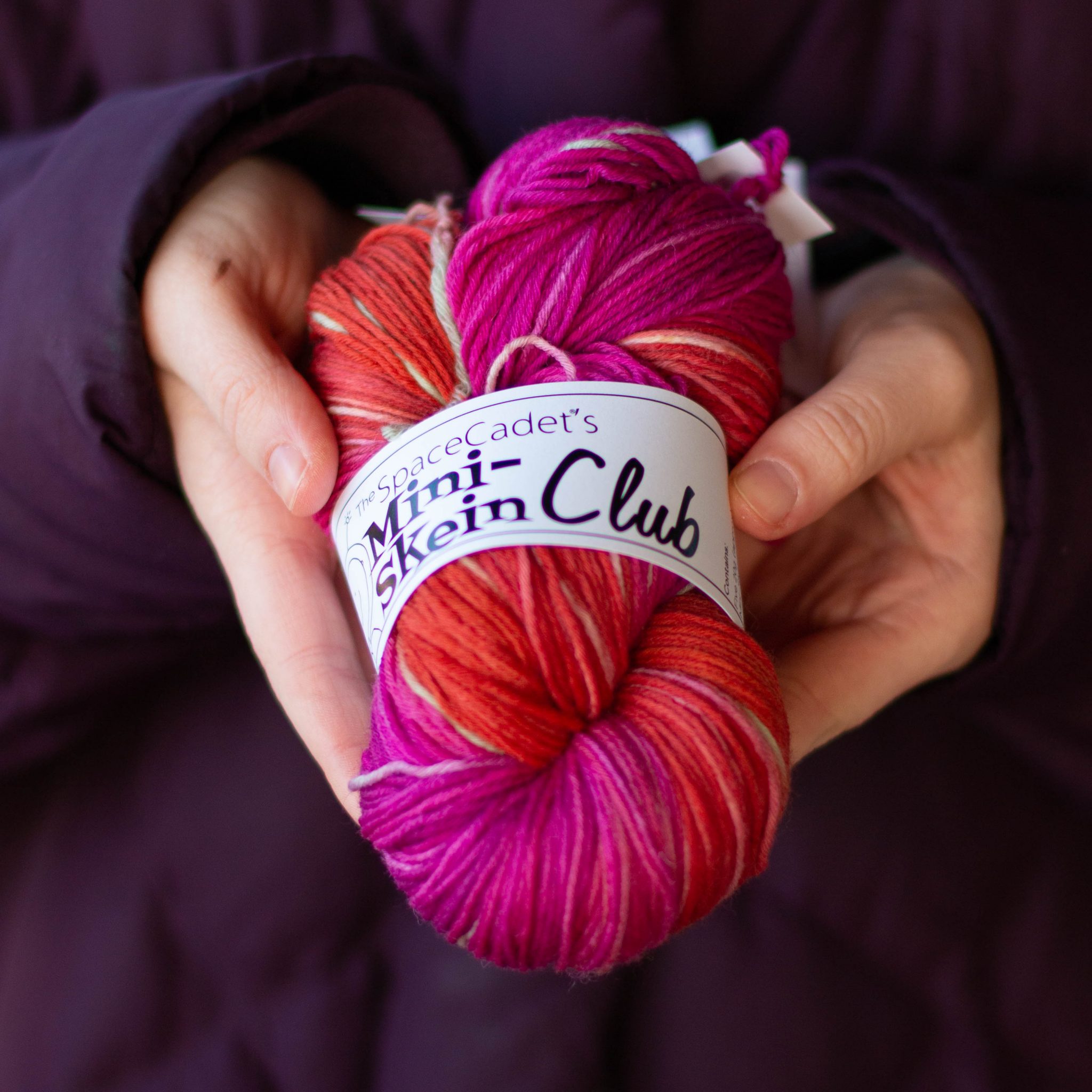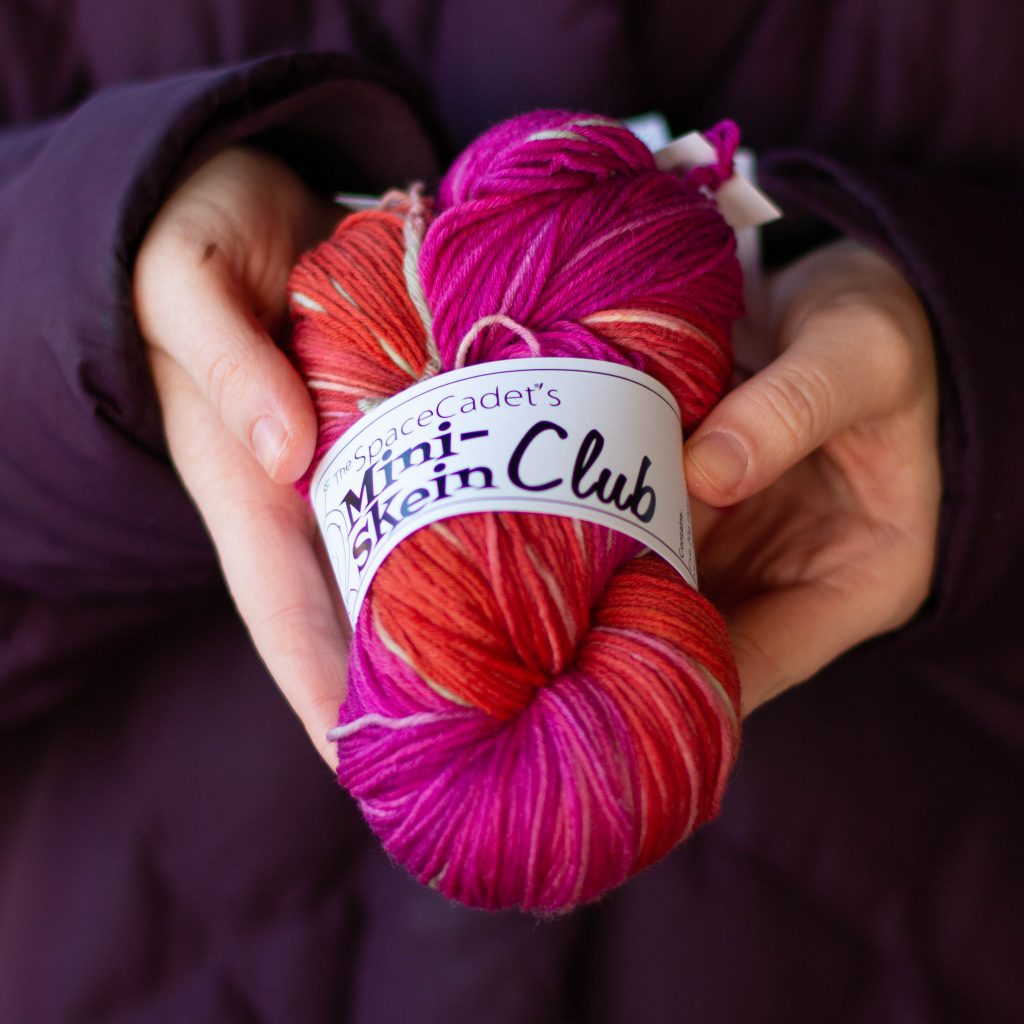 What if I don't like the colours? Can I return or exchange a bundle?
So much of the fun of being in a club is the excitement of discovering new yarns and exclusive colourways! Joining the Mini-Skein Club with a sense of adventure means you'll come along as we explore new worlds of colour together, and that is key to really getting the most of your club experience.
Because of the nature of the club set-up, we can accept returns or exchanges of club shipments for faulty yarns only. However, if one of your bundles really isn't working for you, you can always sell or destash it on Ravelry, in the SpaceCadet's For Sale or Wanted thread (click here to go to it). Even if a colourway isn't your cup of tea, it's almost guaranteed that there's another SpaceCadet fan who will be excited to snap it up!
Anything else I should know?
When you join, you'll be added to the Mini-Skein Club mailing list, which we use to share project ideas, club information, and to easily let you know of any changes to the club in the future.
And once you've joined, please do come over to the SpaceCadet Creations group on Ravelry and tell us all about the project you're making or planning to make. We'd love to hear about it and see your progress!
We're dyeing the next set of Mini-Skein colourways — Join Now!

(please note: the Ombre&Gradient Mix is not continuous in the every-other-month option)
---