As the weather has been getting warmer, I find I like spend the first few minutes of my day sitting on the front porch, drinking my coffee and listening to the songbirds call the world to life.  This morning, I've cut a few peonies to put on the table (they're stunning! I'll show you on Instagram later today).  Sometimes I knit…  most days I don't have time… but it's good to take five minutes to slow down and start the day off right.
That's how I always imagine you as I write this newsletter: taking five minutes to relax, curled up with a nice cup of tea or coffee, and just enjoying all the fiber-y news I've collected to share with you.  Whether you're at work or at home, on your commute or on your porch, I'd love to see where you read your SpaceCadet newsletter: please take a quick photo of the spot where you read it and share it with me on Instagram using the hashtag #FiveMinutesWithTheSpaceCadet.  And if you have friends who'd enjoy this newsletter too, please tag them too!
Ok, I've got a ton of great stuff for you today, so let's jump right in…


Weaving is hot at the moment — I'm seeing it everywhere, whether it's on great big (expensive!) floor looms or beginner-friendly hand-looms.  And for those of us who have huge stashes (who, me?), they are an awesome way to blast through that yarn fast.  Sometimes though, when I see those smaller looms, I wonder what you can make besides placemats.  But then I fell in love with this woven ribbon cushion cover on the Purl & Loop blog.  It's still the size of that same placemat but feels completely fresh and new.  I don't have a stash of linen ribbon, but I can see a few of these in my future woven in Capella, our single-ply worsted.
Being a knitter or crocheter is about way more than making stitches:  there's the math, there's understanding fiber and yarn types, and there's taking the all-important finished object photos.  Can I be honest?  I hate seeing someone put hours and hours of work into a really great project and then take photos that don't show it off to its best.  But I know posing for great photos can feel really hard.  Here's a great rundown of ideas to make your next photoshoot look awesome — even if it's just you and a friend shooting with your phone in the backyard.
Picking up stitches can be tricky, particularly when the stitches turn a corner (I find the spot where arms join bodies especially difficulty prone) so this tutorial on closing the holes that can result was a really useful read.
Ummm…  I'm a little confused…  Kniterate ran a Kickstarter campaign for a computerised knitting machine that it says is revolutionary but I feel like I've seen in the past lots of knitting machines that will connect with a home computer for automated machine knitting production.  I freely admit I have no experience with knitting machines though, so I don't really know.  Can anyone tell me how this is different?  Is it really revolutionary?  (Also, I'm chuckling at some of the reviews calling it "3D printing for knitting" — why yes, knitting machines kind of have been like 3D printing, all along)
My current favourite Instagrammers:

Announcing our Summer KAL!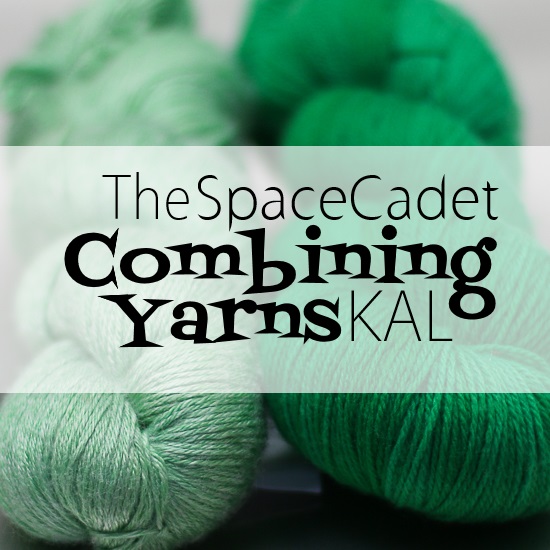 I am SO EXCITED to tell you about this!  I've known for a long time what a magical combination Maia & Celeste are, but I've never really known how to share that with folks unless they're standing in our booth and I can show them the two yarns together.  But then the SpaceCadet crew and I had the idea of doing a summer KAL all about combining Maia  and Celeste together in one project.  The magic is in the way the two yarns take the dye — Celeste is deep and intense, Maia is soft and iced — and how that plays against each other in one project.  Further details coming in Friday's blog post, so keep your eyes open for that.
In the meantime, come over to our thread on Ravelry where everyone is sharing pattern ideas that will combine Celeste & Maia beautifully. Say hello, let us know you're in for the KAL, and get some project ideas (right now, the SpaceCadet crew all seem to be favouring Saco Stripes — it works beautifully in Maia).  It's going to be tons of fun!
Shop Update: Fri June 2
(and it's perfect for the KAL!)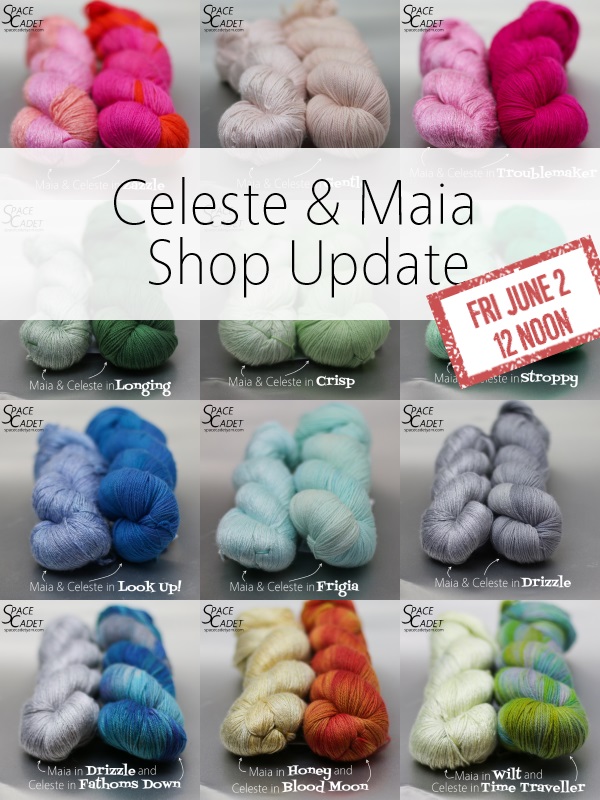 Since we're doing a KAL, it only made sense to do a shop update in Maia and Celeste!  We've been dyeing like crazy — our standard colourways plus not one but two special Limited Edition colourways that you won't want to miss! They're on both Maia and Celeste, beautifully variegated and full of colour, and are going to look amazing knit together.  I can't want for you to see them.
The update goes live this Friday, June 2 at noon (eastern) — set a reminder on your phone now, and then click here for Maia and here for Celeste to grab your favourite colours (and the Limited Editions) before they go!
Does Your Local Yarn Shop Carry SpaceCadet?
If they did, you could go and see the colours in person (and pet the fibery goodness!) any time you want!  We're going to TNNA next week, so if your LYS is going to the show to place their wholesale orders, please forward them this email and ask them to come see us in booth 117.  And if they aren't, go ahead and send them this email anyway and ask them to get in touch — we'd love to hear from them, and we've got a great wholesale information pack to send.  And you'll be the superstar who made the whole thing happen!

Confetti by Veera Välimäki
The whole SpaceCadet crew has been hunting high and low for patterns that suit the combination of Maia and Celeste, and I just love this one because, besides those sweet stripes that will look amazing as they shift from matte to sheen, it's got a delicious A-line shape that will make it the kind of sweater you'll go back to time and again (don't you love those?).  If you're joining our KAL, I think Confetti is a practically perfect pattern choice!
Zostera by Kelly G.
What makes Zostera a fantastic choice for Maia and Celeste?  So many things!  First, the textured panels (the darker green sections in the photo above) will show up beautifully in matte Celeste.  Then there's the lace panels (the cream sections) that will positively glow when knit in bamboo-rich Maia. But look closely — do you see that between those two sections, there's a panel where the yarns are knit together?  That's going to look amazing, both yarns highlighting each other's best qualities.  Seriously, I can't wait to see someone choose this pattern for our KAL!
Poison Ivy by Svetlana Gordon
I can't stop looking at this amazing scarf that's both a riot of falling leaves and yet knit seamlessly in one piece.  Perfect for that wildly variegate skein you've been wondering what to make with, or for your stash of SpaceCadet Mini-Skeins, this is a project that with be fascinating with every single stitch from start to finish!  Quick — go check your stash.  You know there's a yarn that's just been waiting for this pattern!

With the weather getting warmer here in Pittsburgh, I'm thinking about different yarns than I did a few months ago. I find that when the weather changes, I want to knit all the light and airy things. Summer knitting feels completely different from the rest of the year to me!
Are you the same? Do you have a favourite yarn that you gravitate to as the weather warms up?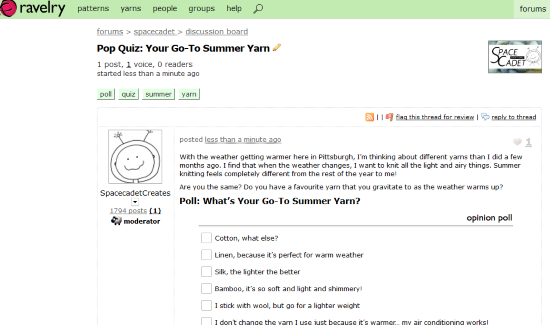 Click the link and let me know!
Ok, well, the morning is moving on and my five minutes of quiet are up, so I guess it's time I got busy in the studio.  I hope you've enjoyed this little break — and have great things planned for your day.  So until next time, all my best!