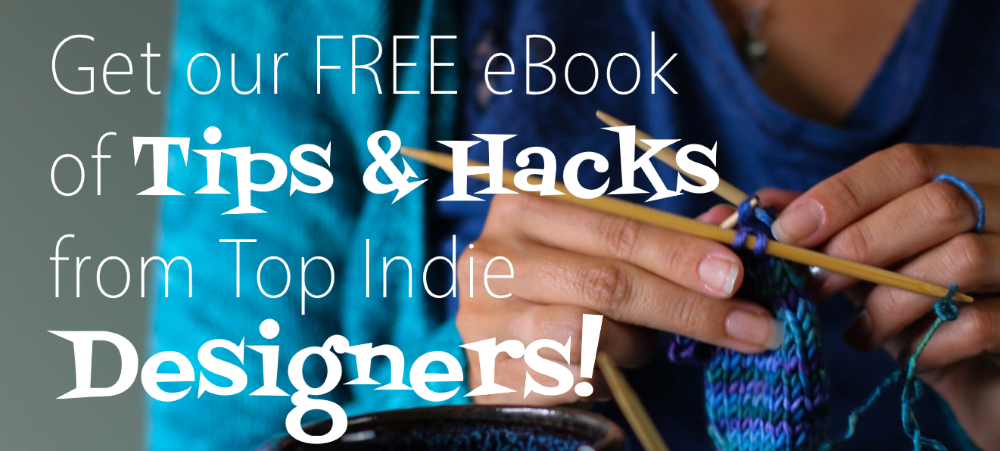 We asked our favourite indie designers for their best hacks and tricks to make your knitting and crochet better, quicker, or just more fun — and turned it into a fabulous FREE ebook for you to download.  Keep it on your phone or tablet for easy reference, or print out just your favourite tips to carry in your project bag.  Enter your email address below to get your copy instantly!
Our FREE ebook includes fantastic tips from great indie designers, including:
Hunter Hammersen's step-by-step tutorial for swatching in the round
Heather Zoppetti's super tip for decreasing on the wrong side
Alasdair Post-Quinn's guide to the slip-stitch bind-off
Rebecca Velasquez's brilliant trick for when the foundation is a bazillion chains
The Sexy Knitter's fabulous Texas Long-Tail Cast-On
Rohn Strong's best tip for getting gauge
When you join our mailing list, we'll also send you updates of our regular blog posts as well as our weekly newsletter chock-full of knitting and crochet news, fantastic project ideas, first notice of exclusive special offers and exciting giveaways, heads-up notice when our clubs are opening, and all kinds of fibery goodness!
We pop into your inbox once or twice a week, and every email is filled with good stuff.  So hop aboard!  Take-off in 3… 2… 1…  Let's go!