If you were listening closely in the middle of June, I am quite certain that you heard a loud noise in the distance.  And you might have thought it was just a child yelling three streets over, or a dog who suddenly spotted a stray cat, or a distant explosion of some sort.  But no, it was me, letting out a scream on the day I met a dress.
I was at TNNA and had run into Heather Dixon, the designer at Army of Knitters and the creative director at Clotheshorse magazine.  And, after some lovely chit-chat about the Universal Importance of a good cup of tea, Heather suddenly said, "Oh, the dress!" and took this little number down from the rail…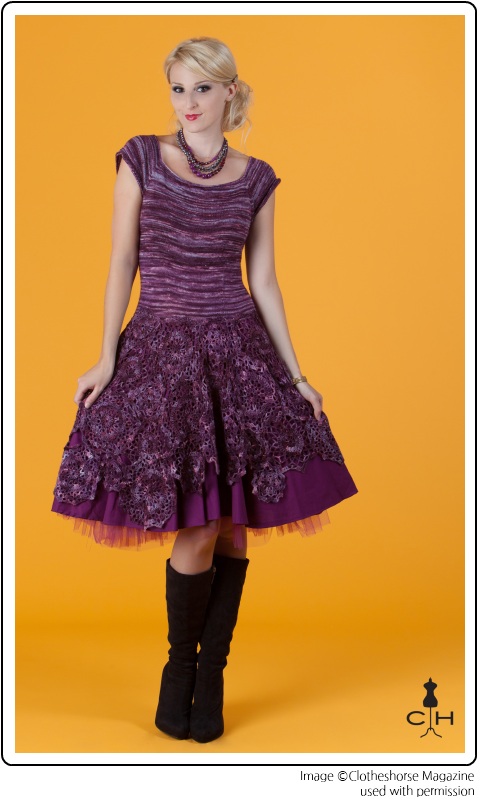 Months and months previously, Heather and Mindy Brown, the editorial director at Clotheshorse (and the designer of the dress) had asked me to dye some Celeste in the colourway Stewed Cranberries for a segment they were doing on indie dyers.   And so I dyed it up and sent it off and…  went back to normal life.  And I think maybe I knew it was for a dress, but I really didn't have any vision of what it might eventually be like.  I have no idea why, but my head had conjured up something like a heavy, elongated sweater with cables running down the front…
So when Heather pulled Bayeux, it was so completely NOT what I was expecting…  And so incredibly gorgeous — with that fabulous combination of knitted top and crocheted skirt, lovely nipped-in waist, sweet capped sleeves, and asymmetrical crochet hemline — that I think I actually let out a little scream right there on the TNNA show floor.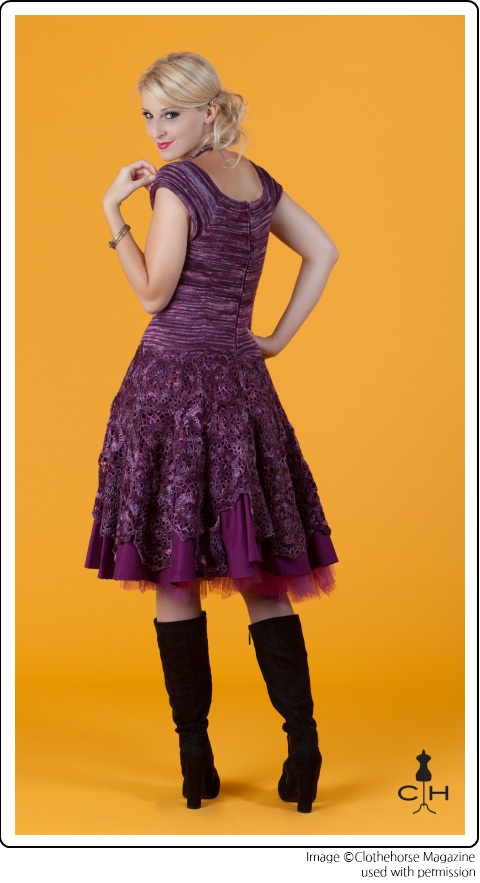 And that is the noise that you heard.  But then, if you'd suddenly realised that the yarn you'd dyed and sent away those many months ago had been turned into something so incredibly stunning as Bayeux, you'd have squealed too, right?
---
I've put a bunch of Celeste in the shop that will be perfect for this dress, in Stewed Cranberries, Honey, and a really gorgeous experimental green.  And a bunch of other great yarns too…  Click here to check it out!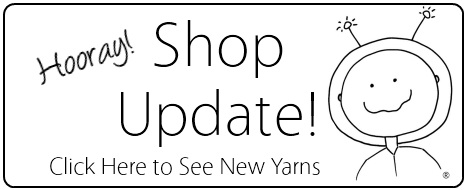 (Also, everyone please cross fingers that the next shop update will be in the new shop!  There's a lot of work between here and there, but I am really looking forward to having that big button above take you to the brand new SpaceCadet shop! Wooot!)
---
Hey, I just have to tell you about this because I am so excited!  Do you remember a few weeks ago I introduced you to the wonderful Melissa and her new podcast SingleHandedKnits, which she records beneath the palm trees and on the beaches of Hawaii?  Well, Melissa is putting together a fantastic KAL in honour of the upcoming election.  It's called Sock the Vote, and Melissa has asked me to dye custom colourways for two the "parties".  It's going to be a BLAST!  But spaces are limited and going fast so — quick! — click here to take a mid-day trip to Hawaii and let Melissa explain all about it.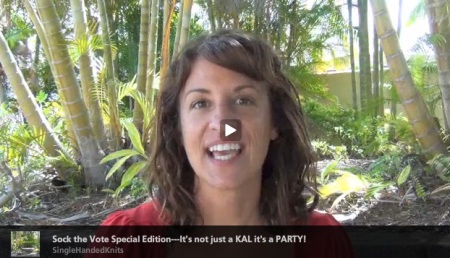 …You know what?  Go ahead and click that link regardless.  Because no matter where you are or what you're doing right now, somehow everything just feels that much better when you see those palm tree swaying in the background.  And, seriously, Melissa is just such a lovely, positive person, you can't help but smile as soon as you see her.  Go on, click!