If you've bought a skein of SpaceCadet yarn from the shop, you may have received a note from me, asking you to please come to the SpaceCadet group and show me what you made with it.  Or, if you bought from us at a yarn show, I probably grabbed you before you left the booth and told you how much I'd love to see your project.  Sometimes I wonder if people think I really mean it.
Oh, but I do!  I honestly love seeing what my customers make with my yarn.  Because here's the thing:  when I create a colourway, I have an idea in my head of how it will knit up but, more than any other kind of yarn, every skein of hand-dyed is something really special.  The same colourway will work up completely differently from one pattern to the next — each project a wonderful adventure.  And so often, entirely different from what I'd imagined when I dyed the yarn!
Here, check out this colourway.  It's called Submerge and I love it.  Loved it from the very moment I pulled it out of the dyepot.  It's vibrant, exciting, and fabulously wildly variegated.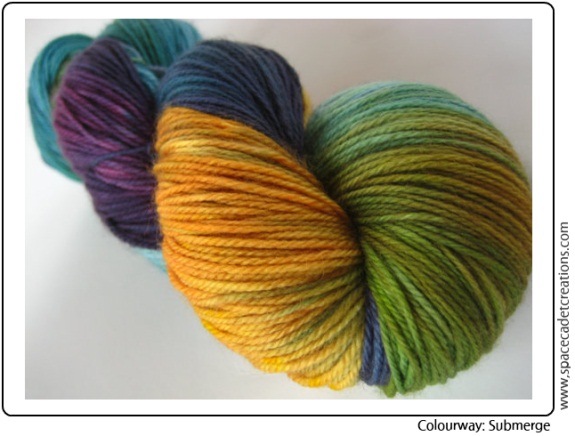 And there are just so many ways this colourway could work up in a project!  The possibilities are almost endless, so I was dying for someone to send me photos of their finished object.
So I was delighted when Rebecca posted photos of her Submerge socks in the Ravelry group.  Especially because she chose a pattern I never would have had the guts to use for this colourway:  a pair of stockinette socks.  Don't get me wrong, I love simple patterns that let the yarn shine through, but I think I would have worried that this colourway would just be too bold for such a simple stitchpattern.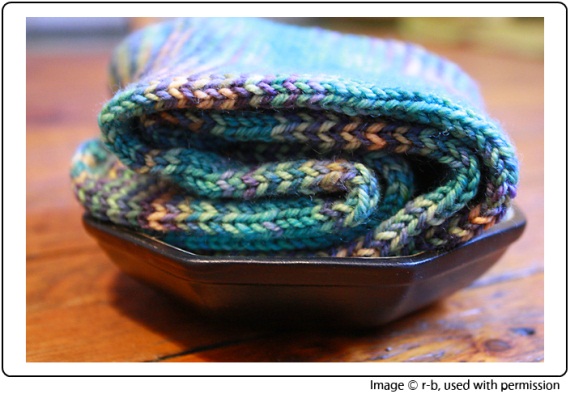 I would have been completely wrong!  The stockinette was a bold choice, but it totally worked.  The colours formed mini-stripes that played against one another beautifully and, where they came together, really made each other really pop.  Here, see if this doesn't get your fiber-lovin' juices flowing…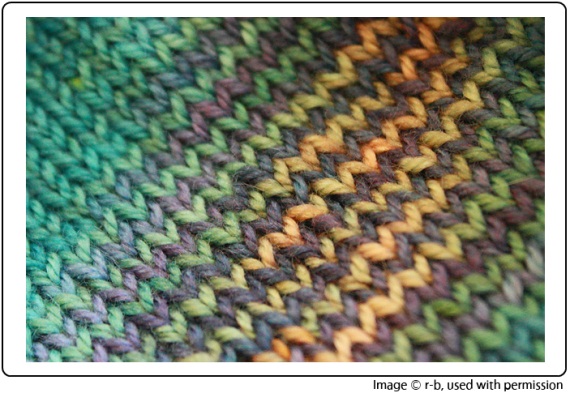 One of the reasons I would have shied away from stockinette is that, with such a highly variegated yarn, there's a potential for pooling or flashing.  Now, there are always ways to avoid it if it starts (don't know how? Download the SpaceCadet's free guide) but, as these socks show, sometimes it's best to just throw out the rules (are there rules really?) and just go where the yarn leads you.
And in this case, the yarn led Rebecca to some of the coolest diagonal pooling I've ever seen.  "I loved seeing the colors start to spiral around each sock," she said.  "I'm more of a fly-by-the-seat-of-my-pants knitter, so it was pure luck that the socks ended up with those fun spirals."
Seriously, how subtly funky are these socks?!?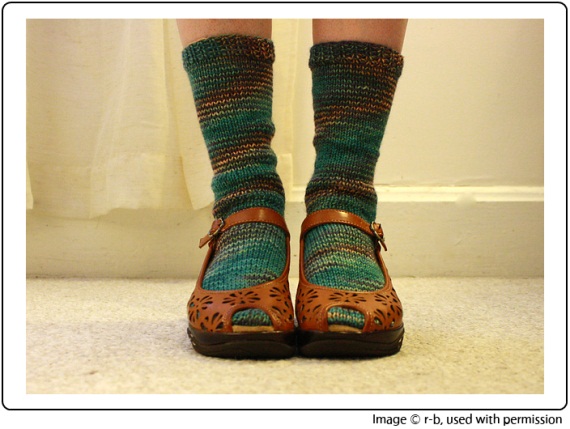 So, if you meet me at a yarn show and I ask you to send me photos of your project…  or you open your parcel and find a little note from me asking you to share your project in the SpaceCadet Ravelry group…   know that I mean it.  I love seeing what you guys create with my colourways into and I really do want to see your projects.  Quick! Grab your camera and show me your work!