HomeSpun Yarn Party was amazing!  So much fun, so many people, and a near mob-scene at one point!
But first, let me just remind you that there are only two days left to join the SpaceCadet's yarn club, the InterStellar Yarn Alliance.  I've already been working on the yarn and goodies for the first parcel and it's going to be fabulous, so if you've been thinking about joining and haven't had a chance yet, don't  wait!  The Yarn Alliance closes for subscriptions on March 31.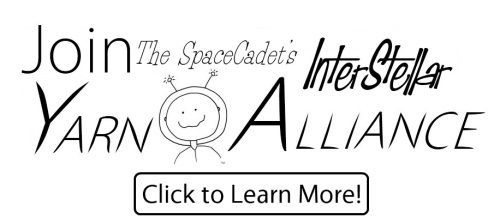 ---
Ok, now, back to HomeSpun…  The place was hoppin', absolutely crazy.  It was wall-to-wall indie spinners and dyers and, the minute the doors opened, it was wall-to-wall fiber-loving customers too.  At one point, I actually found myself pushed out the booth on the other side of the aisle, and physically unable to get back into our booth!  It. was. wild!!!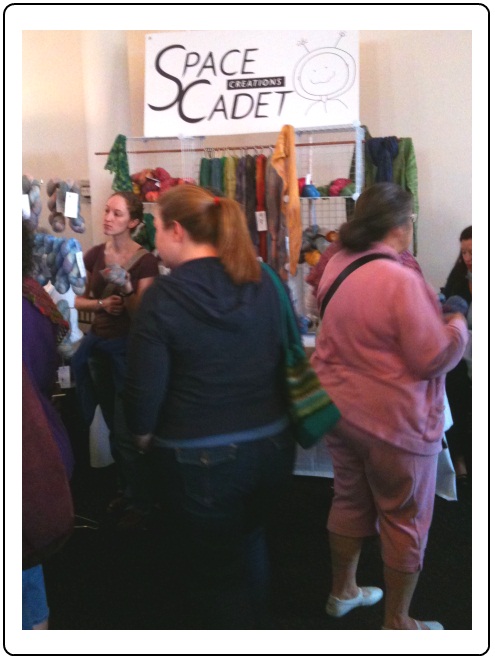 And I'm tickled pink to tell you that part of the reason for the madness was… everybody loved the SpaceCadet tattoos!  I was hoping people would like them — they loved them.  I was running around the booth just trying to get one on everyone who wanted one.  Customers waving and gesturing, calling out, waiting for me to put a tattoo on them — or even taking a couple and putting them on each other.  Before I knew it, there was little SpaceCadet all over the place.  I was thrilled!!!
I stuck one on my cheek, of course (but you've already seen that).  And then I got a bit risqué and stuck one just below my neckline…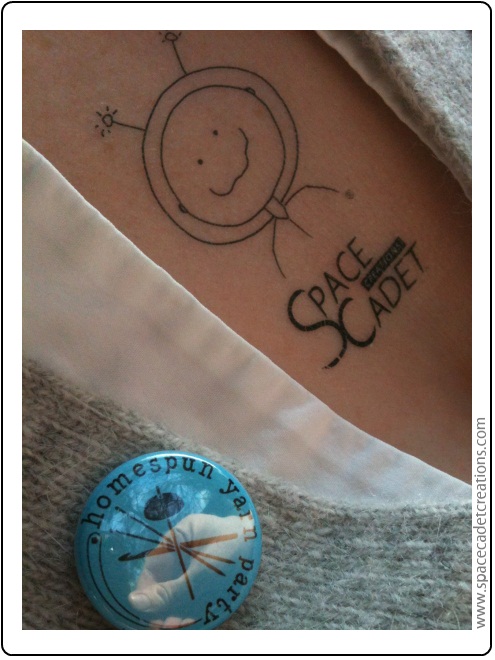 But then, some of my customers thought that was the perfect spot too!
And the thing about the tattoos is that they were the perfect icebreaker.  Suddenly, all the customers waiting in line were helping each other put them on, discussing whether they should go for shoulders, wrists, or biceps…  It was so cool to see so many people getting into the spirit!  Oh, and then…  they started comparing yarn.  Of course they did!  It's what fiber people do!
Lots and lots of customers sticking SpaceCadets right there on their cheeks.  Including my two lovely assistants…
(Don't they look fabulous?!?)
We came home feeling on fire — happy, exhilarated, exhausted.  HomeSpun lived up to everything we hoped, and our customers were so much fun.  Our next show is Knitters Fantasy on April 14 and it's going to be a crunch to get ready for another show so soon but…  I can't wait!
---
Hey, don't forget — only two days left to sign up!