The last couple of days have been crazy busy — I've been running around doing last minute things to prepare for HomeSpun Yarn Party this Sunday in Savage MD.  But yesterday and I had to stop everything and play for wee bit.
Just stop and play, like a kid.
Because something wonderful arrived in the post.  Something I'd ordered completely on a whim, and just hoped it'd turn out all right, thought I'd probably love it but wasn't really sure…
When I ripped open the package I found this…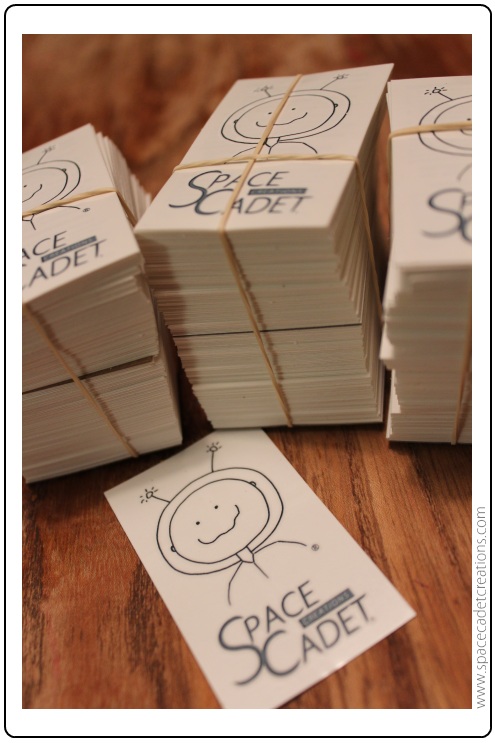 And I immediately let out a squeeeeee!!!!
And then, I immediately did this…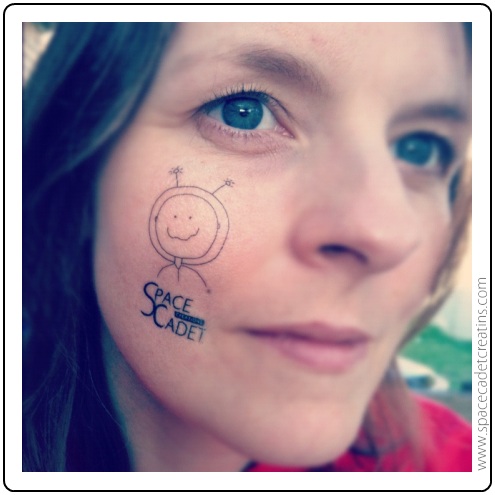 (Disclaimer:  My nose is not that big.  Somehow, I seem totally incapable of taking a close up that does not involve either enlarging my nose to alarming proportions or causing it to become misshapen in a startlingly Gérard Depardieu-esqe fashion.  Seriously.  I have no idea why.  Also, the crazy amount of out of focus area?  That hides wrinkles.  Yeah, I can see some of you nodding.)
But back to the tattoos.  Ok, now, I admit I'm probably a lot more excited about this than you are.  The thing is, I love my little SpaceCadet.  He hangs out with me all day long — on labels, on my project bag, and on the original drawing I made of him, stuck on the corkboard over my desk.   So to see him suddenly appear on a bunch of temporary tattoos just made me feel downright giddy.  I mean, a SpaceCadet tattoo!  How cool is that?!?
So, If I Wear One, Will You Wear One Too?
Ok, how does this sound…  We'll be taking these funky little SpaceCadet tattoos to HomeSpun and giving one to every person who signs up to the SpaceCadet mailing list (oh yeah, a copy of the SpaceCadet's Guide and a tattoo!).  And — and here's the fun part — for everyone who puts their tattoo on right then and there, we'll give them 10% off their HomeSpun purchase!  How does that sound?
And if you're not going to HomeSpun but you really really want one of these cool little tattoos, just remind me in the notes of your next order and I'll pop one in your parcel.  And when you wear it, you gotta send me a photo! Ok?
---
(Hey, don't forge:  InterStellar Yarn Alliance memberships will be open for only another 7 days.  If you've been meaning to join and haven't yet, don't let the subscription time close before you get a chance!)