All day today, I've been making Mini-Skein bundles in preparation for HomeSpun Yarn Party this weekend (hey, are you coming?).  I love putting them together — picking the colours, arranging the skeins and tying them all together.   Mini-Skeins are just so cute and, oh, so much fun!

We took Mini-Skeins to Pittsburgh Knit and Crochet to introduce the idea to customers who hadn't seen them before and… they sold like hotcakes!  I mean, it's one thing to see them online, but I think it's completely different when you meet them in person.  I loved seeing the customers pouring over each and every bundle, trying to decide which one (or two …or three!) that had the colourways they loved the most.
And the very best part?  So many of those customers have came back in the weeks after the festival to join the SpaceCadet's Mini-Skein Club.  Seriously, I don't think there's any better compliment than that!
So, the Mini-Skeins are coming with us to HomeSpun Yarn Party this weekend.  And if you're going to be there, do be sure to come by the booth early before they disappear!
Or Win a Mini-Skein Bundle
So, what if you're not going to HomeSpun? (or if you just can't wait…)  Well, don't you worry because the lovely folks at the Pittsburgh Knit and Crochet festival are giving away a SpaceCadet Mini-Skein bundle in their latest newsletter, along with a copy of Sarah Core's Mini-Mania Scarf pattern.  Just click on this link before March 30, and scroll down to the bottom for all the details on how to enter.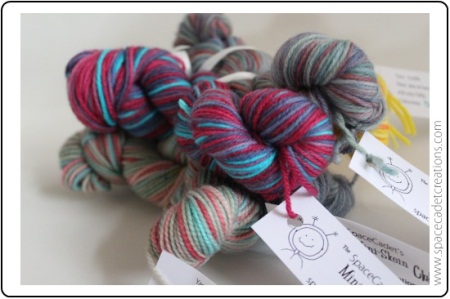 And then you can sit back, cross your fingers, and wait for your own little bundle of Mini-Skein goodness to arrive in your mailbox.  Hooray!