This weekend is the Pittsburgh Knit & Crochet Festival — always fantastic fiber-filled fun! — and one of the things I'm most excited about is hosting festival headliner, Alasdair Post-Quinn, for book-signings in our booth.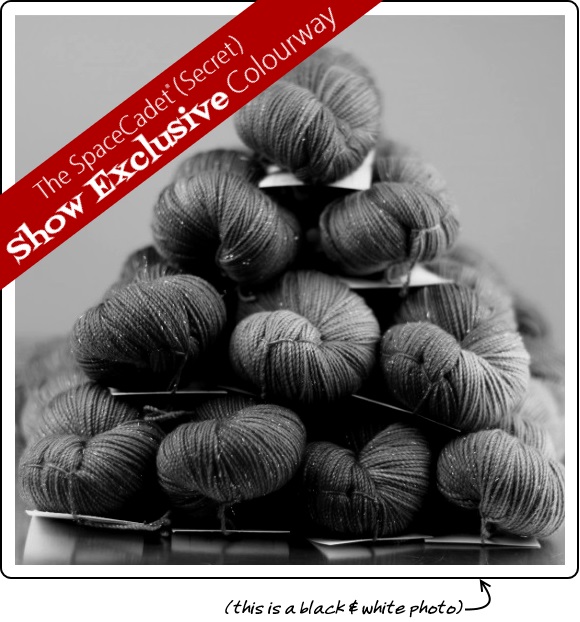 Alasdair is a knitter, teacher, Craftsy instructor, author (Extreme Double-Knitting from Coop Press), and a world-expert on double-knitting, a technique which can be used to make knitted fabric with no wrong side.  I sat him down this week to get to know him better but, before I share our conversation, I want to let you know why you should make a bee-line for our booth at the festival (and if you can't get to the festival, do scroll down and read the interview — Alasdair's an interesting guy!).
Head Straight for the SpaceCadet Booth at Pittsburgh Knit & Crochet
We're bringing amazing get-it-while-you-can stuff to this festival and, for the best selection, you'll want to stop by our booth as early as you can.  Here's what we'll have at the show:
A Whole WALL of One-of-a-Kind Colourways — We've been doing a lot of experimentation and playing with colour in the last few months, and have hundreds of skeins in eye-popping colourways that we may never repeat again — a whole wall of amazing colour.  Stop in and see them before anyone else grabs your skein!
Our Show Exclusive Colourway (picture above) — This year's colourway is stunning!  Layer upon layer of colour, the more you look at it, the more colours start to reveal themselves.  Knitting or crocheting with this will be amazing — an adventure in colour that changes with every stitch.  Available only at our spring shows, we tried to dye enough for everyone — we hope we have — but we sell out every single year…
Sweater Kits in Semi-Solids and Gorgeous Gradients — Want to knit a whole sweater but hate having to dig out enough skeins in a crowded booth?  We've put together our favourite colourways and our favourite yarns in beautiful Sweater Kits to make it easy for you.  Best of all, lots of them are in Lyra, our fantastic sport-weight that everyone raves about for its beautiful stitch definition and smooshy sproingy-ness.
Mauna Kea in Person — If you love the beautiful Mauna Kea pattern, come and see it in person!  We'll have a sample in our blockbuster "Tickled" colourway — and our Sweater Kits are the perfect way to cast it on.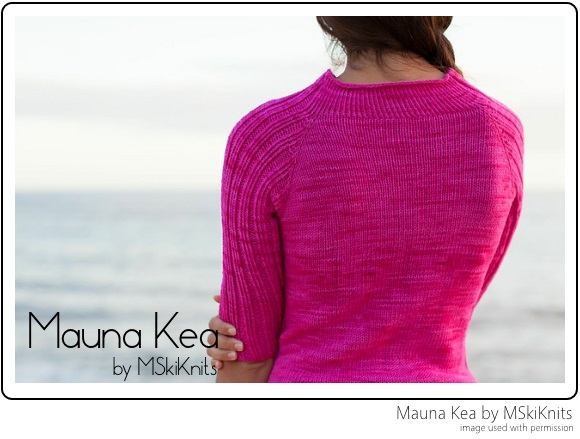 Join the Yarn Alliance — This weekend is your last chance to join the InterStellar Yarn Alliance, the SpaceCadet's premier yarn club.  If you haven't had a chance to sign up or you've got questions about the club, talk to us at the festival and we'll be happy to take care of everything right in our booth!
Book-Signings with Alasdair Post-Quinn — We're thrilled to have festival headliner Alasdair in our booth to sign copies of his amazing book Extreme Double-Knitting.  Come and meet him in person, get his take on knitting, and find out why he thinks double-knitting is where it's at.  Alasdair will be in our booth Friday from 1.30-2.30pm, and Saturday from 1-2pm.
And speaking of Alasdair, join me as I get the chance to chat and get know him better…
An Interview with Alasdair Post-Quinn, Master of Double-Knitting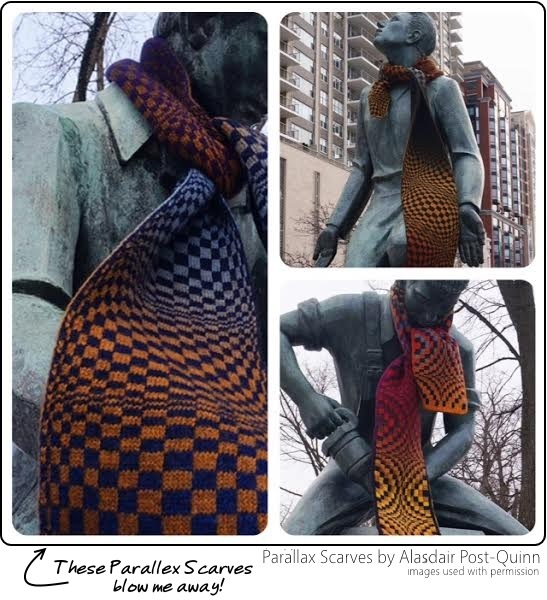 What got you into knitting? Where did you learn and how did that then turn into design?
Knitting was always "around" while I was growing up in Vermont — my mother knitted, my grandmother knitted, but despite the fact that I was a crafty child, they never taught me. Something about pointy sticks, I assume. I ended up learning in college, when I went to a craft-sharing event to teach origami — something I've been doing since I was very young. Nobody came to my origami session so I wandered around to see what else was being taught. I sat in on a knitting class and was immediately hooked. However, I was still more or less on my own — I picked up yarn and needles at the local shop but mostly taught myself how to purl and tackle other techniques. Because I didn't know about all the resources available — and of course this was pre-Ravelry — I was designing my own stuff from the very beginning. Many knitters get stuck working from other people's patterns; I rarely did so I don't have the mental block attached to designing that some knitters do.
I have to admit, when I look at double-knitting on the needles, I'm a little frightened! What draws you to double-knitting? And how do you make it less intimidating for your students?
Some of the first things I designed were Moebius scarves — just short scarves in a reversible stitch pattern, joined end-to-end with a twist. I think that early tendency toward reversibility primed me for double-knitting. When I found it in the back of an out-of-print book in the local library, I knew I could have some fun with it. I love the reversibility, of course, but I also love the fact that it allows for colorwork patterns that aren't limited by strand length or number of color changes in a row. And the more I work in it, the more possibilities I find — so I'm also drawn to the element of discovery. However, at its heart it's just a knit-purl technique. The basic technique is hardly more difficult than 1×1 ribbing. There are details that make it more challenging, but you don't need to learn them all at once. I make it less intimidating, I think, the same way any good teacher makes any new material less intimidating: by starting with the basics and building on them slowly, by remaining patient, and by adapting my teaching style to various learning styles.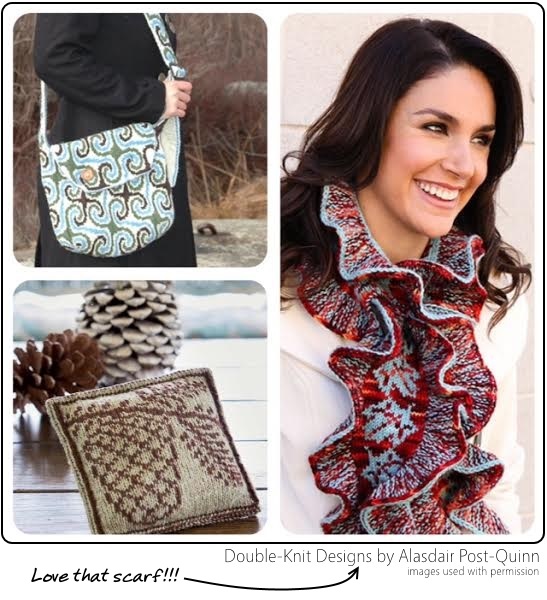 If someone picked up a copy of your book, Extreme Double-Knitting, and decided to dive right in and try double-knitting for the first time, what advice would give them to make their first attempt as smooth as possible? Is there a part of the book they definitely should not miss?
One thing to remember about Extreme Double-Knitting is that the title is a description of the eventual result — not of the entire content. It starts with the basics, and each chapter gives you a new technique or two and then a pattern or two so you can put your new knowledge into practice. Most of the projects are small pieces; I don't want to force someone to do a sweater just so they can learn increases and decreases. The largest projects are actually the two most basic. The reason for this is that part of learning a new technique is building muscle memory. If you've done a whole double-knit scarf or baby blanket, you're much better suited to going to the next level, wherever that may be. Your fingers will remember the basic technique and adding new concepts is just that much easier.
I'm not sure if I could pick a single section that everyone should see — since everyone is different and will probably get something different out of this book. I guess the important thing is that you'll probably find something to learn in almost every section — even if you assume you know it already. So even if you're a seasoned double-knitter, maybe check out the intro chapters before moving into the new stuff you really want to learn. And if you find I really don't have anything to teach you in those sections, I hope you'll at least glean a better understanding of how I think about double-knitting and won't find your time wasted.
Your parallax patterns are absolutely eye-popping! I think it takes a special kind of mind to create 2-dimensional optical illusions like that. How did you come up with them? Do you have a specialist background (such as graphic design) that helped you create them, or do they just come naturally to you?
Like most artists, I don't work in a vacuum. The Parallax patterns are inspired by the op-art of the 60s and 70s, by overshot weaving patterns, and by my high school art teacher, Mr. Eddy. As a child, I was given op-art coloring books, and played with cartesian grid puzzles. In art class, I remember an exercise where we warped pictures by transposing them square-by-square onto a warped grid. But even in textiles, quilting and weaving often use optical illusions similar to these designs — it's just not all that common in knitting.
You're going to have a busy weekend at the Pittsburgh Knit & Crochet Festival! You're teaching classes, doing book-signings in the SpaceCadet booth, and judging the fashion show. What are you looking forward to the most?
Honestly, I'm looking forward most to meeting new people and making new converts to the esoteric art of double-knitting — which can happen anywhere. I've never judged a fashion show before, so that'll be new and interesting, even if I feel a little out of my depth.
Don't worry, you'll be fine — we're friendly in Pittsburgh!  So, what are you working on next? Are you taking double-knitting in new directions?
I am working on a new book, tentatively entitled "Double or Nothing", where I'll start as I left off in EDK, further expanding the boundaries of the double-knitting universe. I've got to cover double-knit cables, double-knit lace, double-knit entrelac, double-knit intarsia, and more. I'm working on new patterns for all of these, and a few will be released beforehand but many patterns will end up only in the book. I expect it to come out in 2016 if all goes well.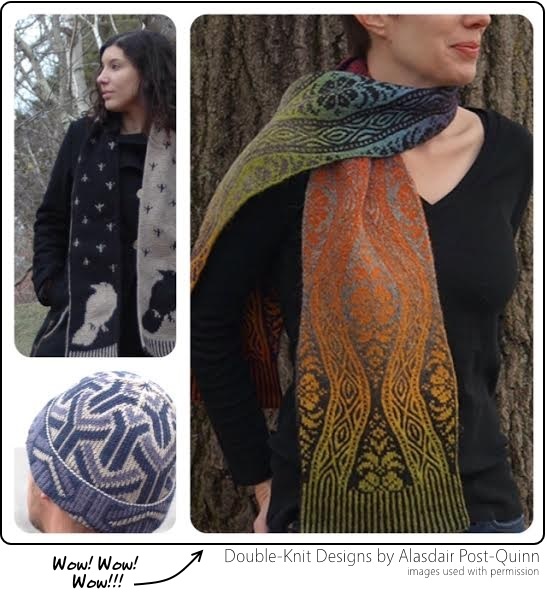 I so enjoyed talking with Alasdair — and I hope you will come to the Pittsburgh Knit & Crochet Festival and meet him (and say hi to us too!).  But if you can't make it, that's ok, here's where you can find Alasdair in person and on the web:
Live Events:
Website: http://www.double-knitting.com
Blog: http://www.fallingblox.com
Ravelry group: http://www.ravelry.com/groups/fallingblox-designs
Facebook page: http://www.facebook.com/fallingblox
Twitter: @fallingblox
Email list: http://eepurl.com/mXjdf