Despite another 2″-4″ of snow predicted for us this week(!), the start of March means our Spring Events are right around the corner (as hard as that is to believe).  Here's a quick heads up so you can mark your calendar so you don't miss out on any of the yarny goodness…
The Yarn Alliance Reopens for Subscriptions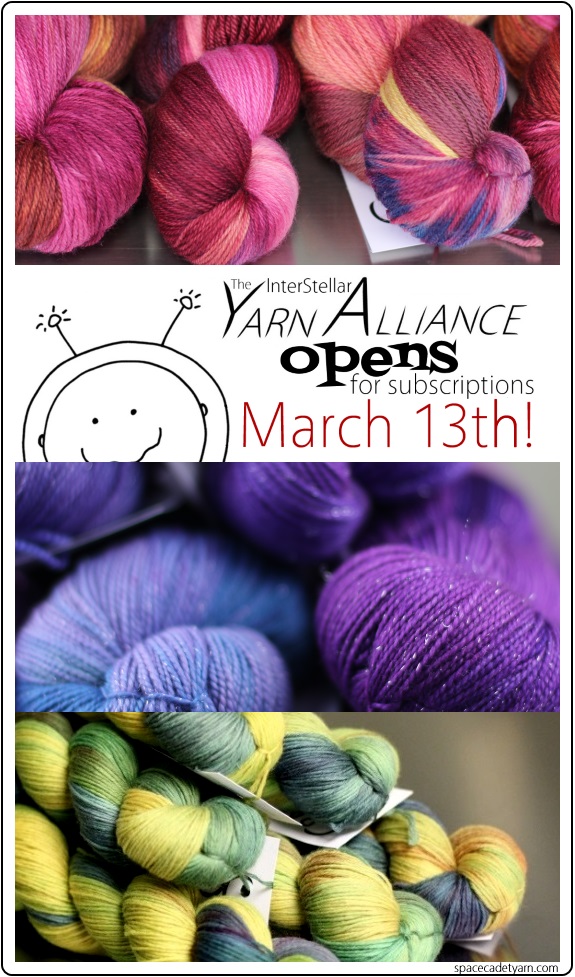 The InterStellar Yarn Alliance is the SpaceCadet's premiere yarn club, known for its amazing colourways and fantastic gifts.  It's open for subscriptions twice a year for two weeks only — from March 13 to 29 — and spaces always go fast.  We give early-bird priority to the people on the club mailing list, so click here and get your name on that list!
Homespun Yarn Party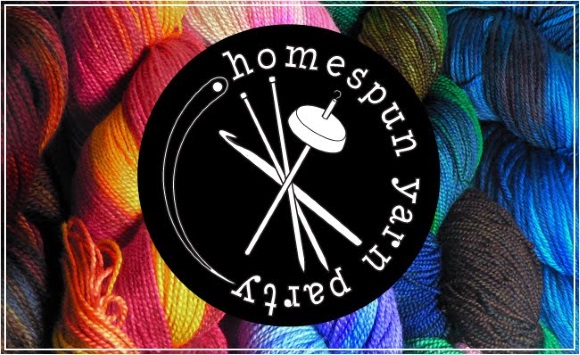 Possibly our favourite-est yarn show of the year, this super-fast, super-furious event is always pure crazy and intense fun for anyone who craves hand-dyed and hand-made yarny goodness.  A one day show that features only small and indie makers, it's so worth the trip to the beautiful Savage Mill — if you live in the DC-Baltimore area, please come and see us!
Sunday, March 22 from 12-5pm
Historic Savage Mill 8600 Foundry Street, Savage, MD 20763 Just off I-95, plenty of parking!
Admission is FREE!
Pittsburgh Knit & Crochet Festival

Our hometown festival just gets better and better each year!  Having rapidly outgrown all its previous venues, we are super excited that this year's festival will be at the Westin Convention Center hotel in downtown Pittsburgh.  Three glorious days of yarn and fiber fun, plus we are thrilled to be hosting festival headliner Alasdair Post-Quinn (author of "Extreme Double Knitting" from Coop Press) for book-signings in our booth.  If you're in the western PA area, we'd love to see you!
The Pittsburgh Knit & Crochet Festival
Fri-Sun, March 27-29
Westin Convention Center hotel, next to the David L. Lawrence Convention Center in downtown Pittsburgh
What's your Favourite Yarn Show or Festival?
I'll be honest, it can be hard to tell what shows are the best to do without bringing our work dyeing to a halt and going to each one.  So I rely on recommendations from friends and customers to decide what to put on our schedule. If there's a festival that you just love — one that's fun, lively, and full of that great buzz that being around lots of gorgeous yarn creates, I'd love to know about it!  Leave a comment here or please email us: info(at)spacecadetcreations(dot)com.  Honestly, your input is invaluable!