Monday really should have been a bad day.  I had to take my car in for unexpected repairs (urgh…  the combination of those two words is always the worst, right?) and I ended up spending nearly six hours waiting for it to be finished.  And then to top it off, I realised that as I left the house, I'd accidentally grabbed the wrong project bag.   Yep, it should've been a bad day.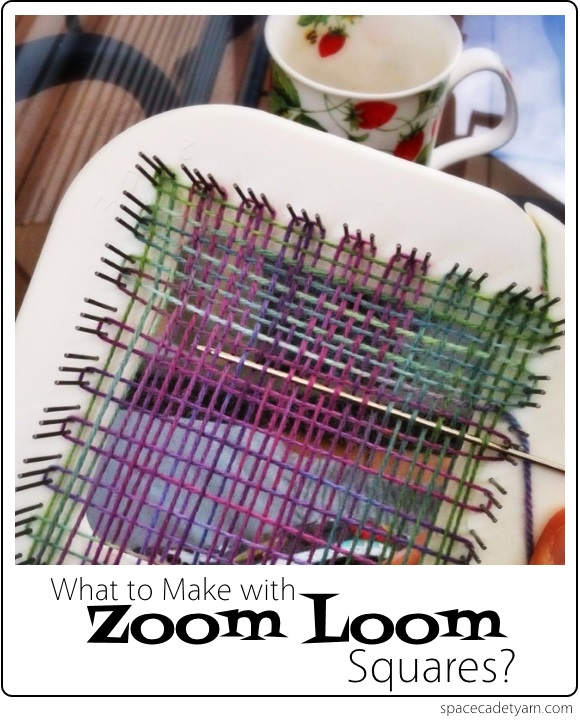 But when I unzipped the bag, I realised it contained my Zoom Loom — which I haven't used in months — and a set of Mini-Skeins in some gorgeous purples and greens.  So I started weaving  …and suddenly remembered how much I love my Zoom Loom — and just how addictive it is making those sweet little woven squares!
Now, whenever I show people how to use the Zoom Loom, I always get asked, "But what do you make with those squares?"  And on Monday, I started out making little flowers for a cool boho bracelet.  But, let me tell you, you can weave a awful lot of those squares while waiting for your car to be fixed(!), so I started thinking what else to do with them.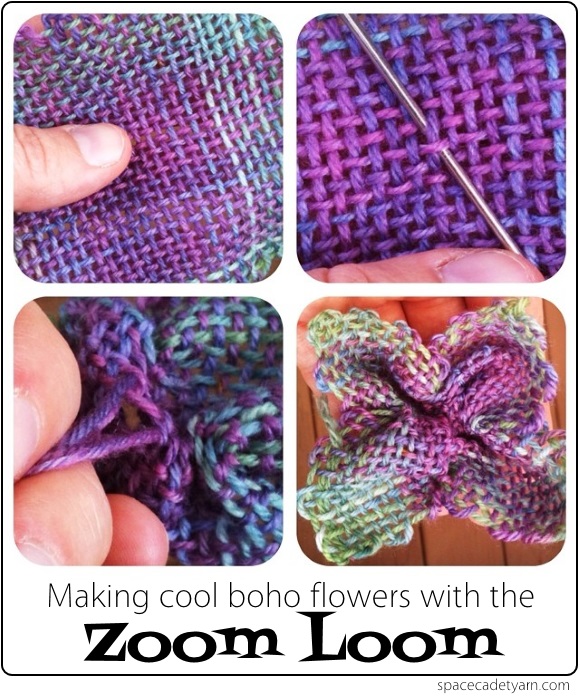 What to Make with Zoom Loom Squares?
And I suddenly realised something…  Something that was patently obviously but which felt like a brainwave because it had just never occurred to me before…   You could use Zoom Loom squares with any pattern that would normally use granny squares!
Now, Zoom Loom squares are much, much lighter and airier than crocheted squares, so the whole feel of the project would change completely in to something far drapier and — woven in fingering yarn — absolutely perfect for summer.  But, in the end, it's just changing one modular building block for another, so the answer to the question is simple.  What do you make with Zoom Loom squares?  All the same funky, cool things that you make with granny squares!
---
---
The Zoom Loom Taught Me How to Make Granny Squares!
Wellllll… not really.  But as soon as I had that brainwave, I went online to get inspiration for granny square projects that I could convert into Zoom Loom projects.  I just wanted to fill my head with ideas, so I went straight to my Crochet Inspiration board on Pinterest and started looking through all the granny loveliness.
Now, I'm not much of a crocheter at all…  Seriously, I can chain and single-crochet and that is it.  But something about those granny squares started calling to me.  I suddenly thought, I really want to learn to make those…   And, even better, I actually heard myself say something I've never said about crochet before:  I can do this!
Five minutes later, I was watching this (excellent) video on You-Tube and had started my first-ever granny square.  And not long after that, I had this…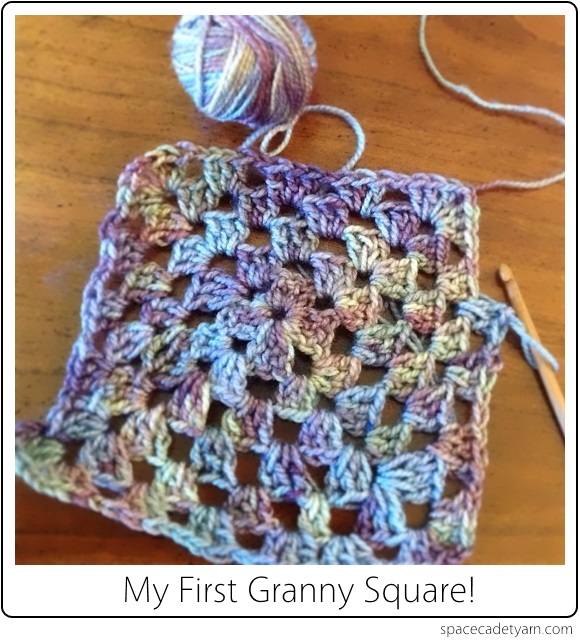 I have not knit a single stitch all week.  I am totally addicted to weaving on my Zoom Loom and now obsessed with crocheting granny squares.  Yep, Monday really should have been a bad day, but it ended up being the beginning of a week of fiber adventuring.  How fantastic is that?!?
…Ok, so now that you're thinking of using Zoom Loom squares as if they were granny squares, what modular pattern would you use for them?  Got any suggestions?