One of the things I love most about doing a yarn show or festival is getting to meet all of you.  It's so wonderful to get to put faces to email addresses, and talk to you about your yarn choices and your projects.  I enjoy that so much!
But sometimes I see a customer pick up a yarn and, even though I can tell she clearly loves it, and even though she turns it over and over in her hands to admire all the different colours, I hear her say to her friend, as she reluctantly puts the skein back, "But how would I use it?"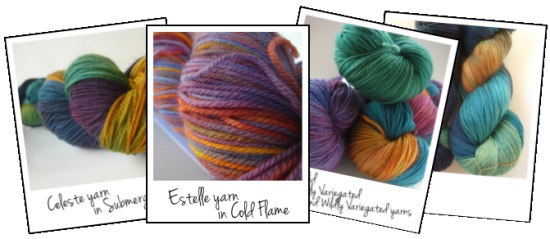 I always want to reach out to her and offer the chair next to me, so we can sit down together for five minutes and talk through hand-dyed yarns…  I want to show her how to understand all those colour changes so she choose a project that will use them to their very best advantage.  But yarn festivals are crazy-busy places, and there's never the opportunity…
The SpaceCadet's Guide to Using Hand-Dyed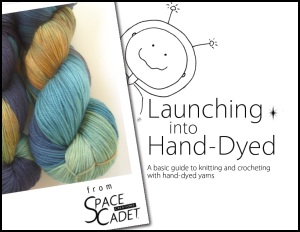 But now there is!  Because today is the day I get to release Launching into Hand-Dyed: A basic guide to knitting and crocheting with hand-dyed yarns.  It's a new ebook from SpaceCadet Creations and, in it, I get to do what I never get to do at those yarn shows.  I get to sit down with you and talk about how to choose a hand-dyed colourway that's going to work with the pattern you have in mind   …or how to choose a pattern that's going to work with the yarn you just fell in love with.
And it's not just me telling you this.  Abigail Horsfall of TAAT Designs shows how she chose a pattern for her SpaceCadet yarn, and Sharon Silverman, of Sharon Silverman Crochet, walks you through how variegated yarns work with different crochet stitches.  And then to round it out, textile conservator Christine Maurhoff discusses different ways to wash and care for your projects made with hand-dyed yarns.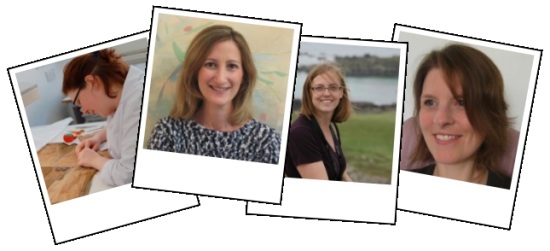 Doesn't it sound great?!?  Doesn't it sound like something that'd be really helpful for that customer who's fallen in love with that beautiful yarn but doesn't know what to make it with it?  Does it sound like something that'd be helpful to you?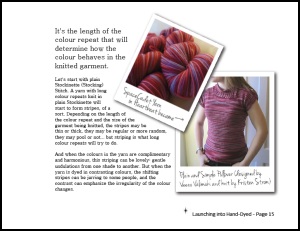 Well, let me tell you the best bit.  It's yours.  No, really, it's yours — for free.  The thing is, I really hate to see people fall in love with a yarn but not be sure what to make it with it.  Hand-dyed yarn is for more than petting (no, really, it is!).  Hand-dyed yarn is for using   …for knitting, for crocheting, for running through your fingers and turning the colour loose stitch upon stitch.  I want you to have this book and so I'm making it available free for signing up to the SpaceCadet mailing list.  Just click here and get yourself a copy!
---
Cue the Oscar Style Tears…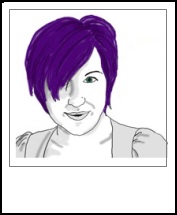 Now, I just have to tell you something else.  You know when you read the first few pages of a book and the author is going on and on about how they owe everything to their editor for being such a support and sooo patient and blah blah blahhh?  I always thought those dedications were overdone.  I mean, really, this life-long devotion? Really?!?
Yeah, well…  I was wrong.  Turns out there's a reason authors write with such love and dedication to their editors.   I thought I had this book all ready to go when I turned it over to my editor, Carrie Keplinger (of Ebooks That Rock), but I had no idea how much more there was to do.  And she was incredibly patient with me as we went through edit and re-edit… and re-edit.  And I changed the pictures, and then changed them again, and then tweaked them for good measure.  I never, ever, ever would have got this done without her — even though I had no idea how much I would need her.  So, yeah, I learned why authors are so dedicated to their editors.  And I want to tell you, Carrie is worth her weight in… well, yarn.  Could I come up with any higher praise than that?
---
Tell Me What You Think!
I am just so excited about this, I can hardly tell you.  This book has been months and months in the making, and I so genuinely hope you find it useful and inspiring.  So go on and download your copy right now!  And then, please please do come back and leave a comment below to tell me what you think of it.  I can't wait to hear!
And for everyone who is already a subscriber — don't worry!  You guys have been dedicated readers for a long time, so you'll be getting a special email shortly with your download link.  Keep an eye on your inbox for it!