So, I'm standing there in the studio, mixing colours in the dyepots, when my husband appears  in the doorway.  It's a rare treat when he stops into the studio and I'm always pleased to see him.  We start chatting, while I apply this colour and then that to the yarn…
And when I look down, I realise the yarn looks completely different from what I'd been trying to dye.  Completely!  Different!  And…  I don't know what I did to achieve it.  Chatting and dyeing — they do not mix.  And what's more, I love this new colourway.  Whatever it is, however I did it, I looooove it.
But I should be able to figure this out, right?  I mean, I know the colours I mixed, I just applied them in some strange order.  It shouldn't be too hard to reverse-engineer.  Right?  Right?
People, I've been trying.  Trying and trying!  And while I haven't quite hit it yet (damn! what did I do?!?), I've produced some really beautiful yarns in the process.  And they went into the shop today!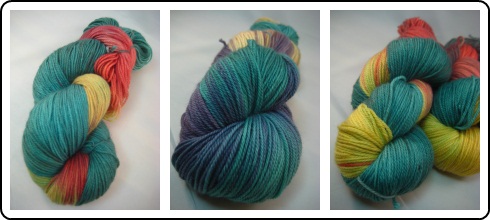 And those aren't the only colours I've fallen in love with lately.  Check out these purples…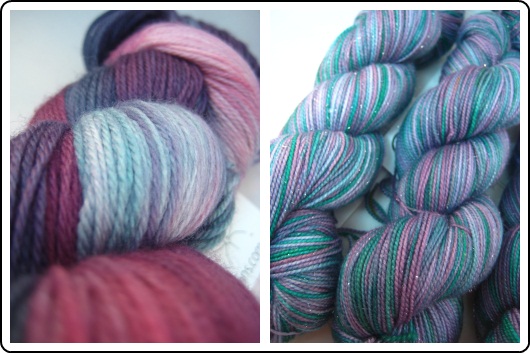 And I did some warm browns and jewel tones…  Oh!  Aren't these lovely?!?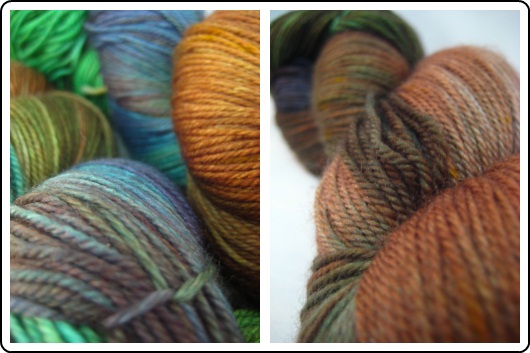 And then… and then…  I decided to play with the negative space a bit, and try lay down the softest, lightest, most barely-there layer of colour I could.  What do you think?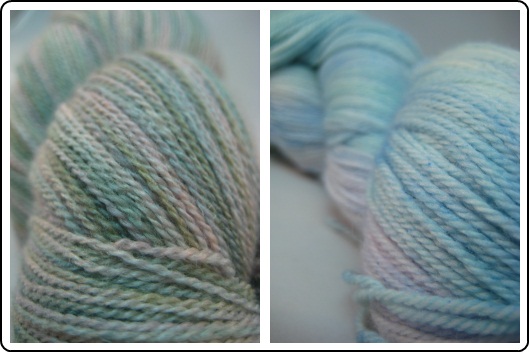 If you like them as much as I do, get over to the shop and nab them before they go!
---
And if some of these colourways look a bit too wild for you and you're not quite sure how you'd use them, then keep you eyes open for my new ebook, Launching Into Hand-Dyed. It's a 42-page guide designed to walk you through choosing and using even the most highly variegated colourways. I'll be launching it in the next week, so do look for it!