Did you hear that almighty THUD the other week?  That was me, hitting the floor when I discovered that… wait for it…  the Yarn Harlot, Stephanie Pearl-McPhee,  was knitting with SpaceCadet laceweight yarn.  Not just knitting with it, she found herself actually being called by the colour, and I honestly don't think a dyer could hope for any higher praise than that!
The second thud — you heard that one too, right?  That was me when all my laceweight sold out in what seemed like only minutes.  It was crazy to see the awesome power of the Yarn Harlot"s influence!  But also so cool because I love these laceweights and it was exciting to see them take center stage at last.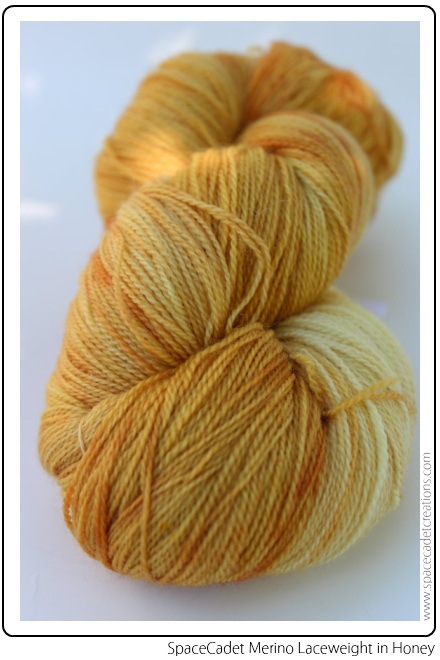 Stephanie chose to knit Omelet, a beautiful and intricate lace shawl.  It was a great choice for the yarn — and it's exactly what most people think of first when they pick up of skein of laceweight yarn.  But I also know that a lot of people end up putting that skein right back down again, because lace like that can be really intimidating.
So I wanted to show you a beautiful alternative: this is Mythos by Laura Nelkin and, knit in a laceweight yarn, it is the most perfect light summer cardigan to slip on whenever the evening brings the slightest chill.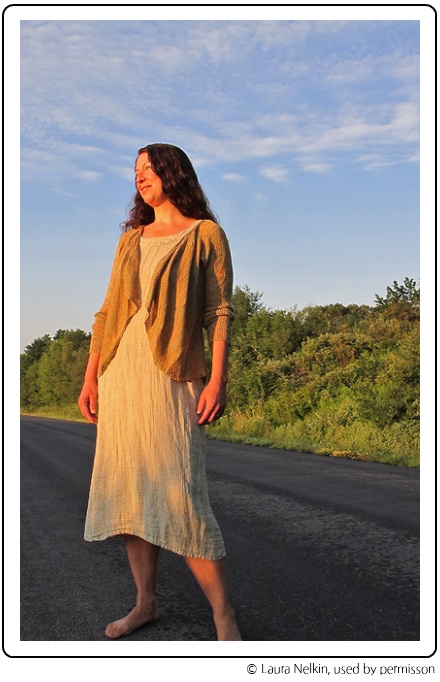 Mythos is one of the samples we take to our trunk shows and it's amazing how almost everyone falls in love with it on the spot.  It can be knit in either a fingering yarn or, as shown here, a laceweight yarn held double.  And with simple stitchwork and straightforward shaping, it's a really appealing way to use those gorgeous laceweights that sometimes seem so inaccessible.  What could be better for laid-back, lazy summer knitting?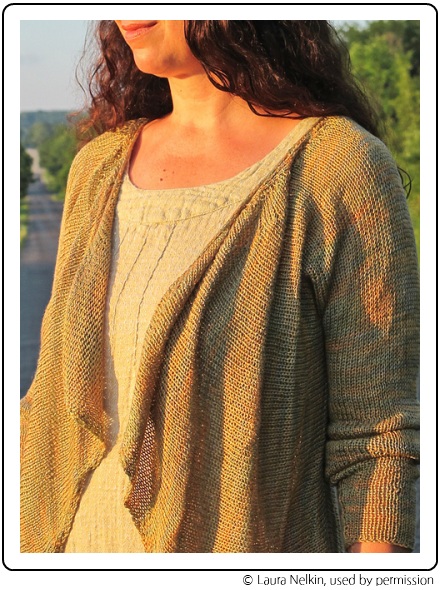 Shop Update!
I've been busy dyeing to get those laceweights back in the shop! So, here's the first batch — some of the 100% Merino that the Yarn Harlot has been knitting, and some of the gorgeous Silk and Merino Luna Laceweight — all in those rich, gently undulating colourways that are perfect for these delicate yarns.  Click here to see them!