You know that moment when you suddenly realise something that should have been blindingly obvious to you?  You roll your eyes, maybe slap your own forehead, right?  Yeah, I had one of those moments the other day.
A few weeks ago, I updated my wholesale information for local yarn shops that carry SpaceCadet yarn, and when I did the colourway images, I naturally grouped them by collection.  Collection?, you say.  Yeah, I know I do a lot of crazy, experimental dyeing — and that's what a lot of you love about SpaceCadet yarn — but I also develop and dye set collections of colourways.   They're colourways that go together, that mix-and-match, that will work beautifully in the same project.
I love these collections.  Love developing them, love how one colour leads me to the next, love looking at them all together when they're done.  And my head-slapping moment came when I realised…  I'd never shown them to you!
Here, let's fix that.  Now, the first one you've seen before — it's the Quilt Collection and I wrote a post showing you the picture that inspired it, but I didn't really show you the whole collection together…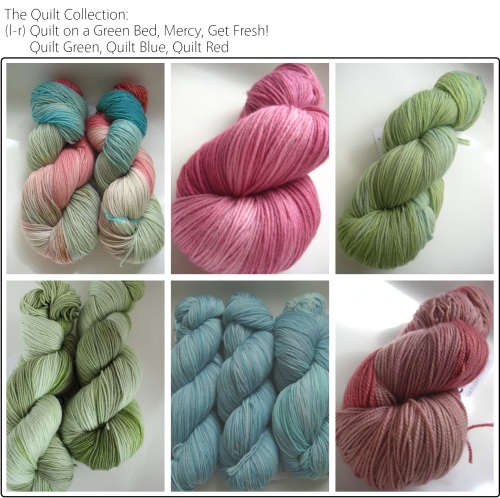 The thing I love about this collection is that the semi-solid blue, greens, pink, and red work together on their own, but when you add the varigated yarn, Quilt on a Green Bed, suddenly, they are all perfectly coordinated.  I see a cardigan knit in one of the semi-solid colours, with the details such as collar or cuffs knit in the variegated yarn.  You may see it done the other way around.  Either way, I love how they all come together.
Ok, so here's another collection, one I don't think I've shown you as a group before…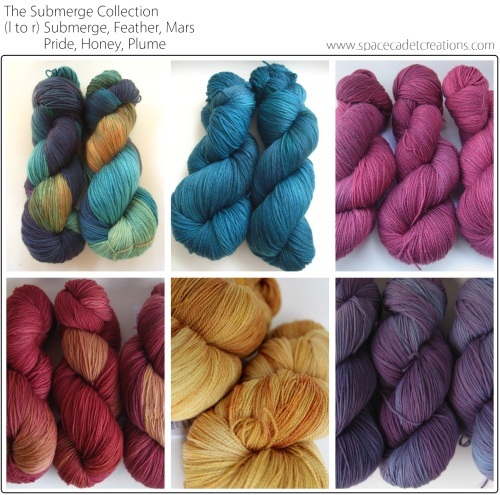 This one I love — it's so rich, so dark and yet colourful, playful.  And that Honey — oh, how it pops!  And again, all the semi-solids pull together with Submerge, the variegated yarn, for a completely coordinated look.  Can you see a project in there?  Is it one colour and gentle, or is it popping with wild colour?
And just quickly, another soft and springlike collection…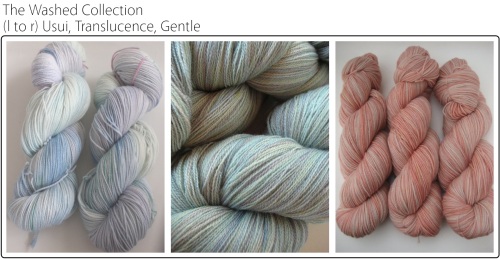 That middle colourway there, it's one of my favourites ever ever ever.  And from it, I pulled out Gentle, the pink on the right.  They're gorgeous together.
The last group of yarns isn't a collection, so I shouldn't really include it here, but it's in the wholesale information and I love these colourways so much, I can't help but show you!  They're colours that make you just want to dive headfirst into the computer screen, aren't they?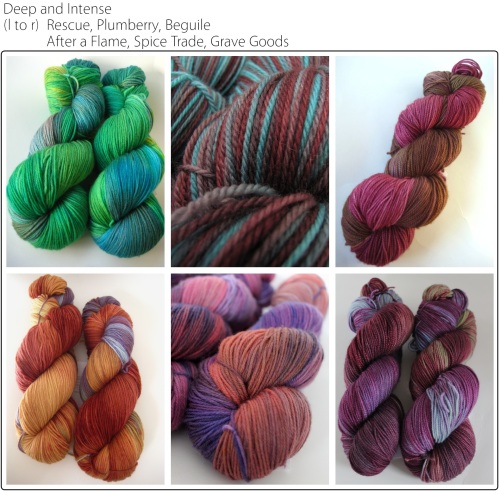 My goal in creating these collections is to make it so that you can look at the yarns and just see your project — see the colours working together in the patterns you've been thinking about starting.  I wanted to make it easier to jump into variegated yarns by creating other colours that work with them, so that you can choose whether those variegated yarns are going to dominate your project or just act as a highlight.
And then a few days ago, I suddenly realised I'd never shown them to you!  I've only ever put them in the shop — individually, even — and not really done anything to tie them together for you.  Headslap!
So now that you've seen them as they're meant to be seen, what do you think?  Can you see your project?  Tell me — because I'd love to know — would it be made of the wildly variegateds, or are you partial to the semi-solids?
---
Shop Update!
Speaking of going in the shop, I've just done a shop update. Great yarns with lovely cashmere, in some of the colourways straight from these collections.  Oh, and one eye-popping colourway that I may never be able to repeat again!