Usually when I do a Pattern Roll-Call, I like to feature several patterns by different designers.    But as I was sifting through all the mini-skein patterns on Ravelry, I came across a little treasure trove full of patterns that I just love so much that I had to dedicate a whole blog post to them.
It started with this sweet little Pinwheel Purse.  Isn't it lovely?  It's the same origami you did as a kid — but in knitting!  So cool.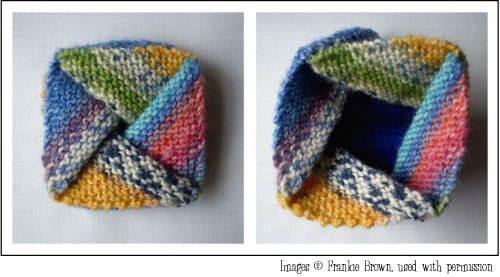 And so from there, I began looking through the rest of the designer's work, and found that her sense of colour and shape really spoke to me.  I love the gentle, organic changes of colours and yarns, the very simple shaping, the modular construction, and — maybe most of all — the almost complete lack of sewing up!
All of these patterns are by Frankie Brown.  And instead of charging for her patterns, Frankie offers them all as free downloads on Ravelry — with the request that knitters who enjoy her patterns make a donation to the Children's Liver Disease Foundation. So far, she's raised about £2,500 and hopes go on to raise £1,000 a year.  What a fantastic thing to do!
There's a lot of yarns that would work well with these patterns, but I love how well these patterns would suit mini-skeins of fabulous variegated and semi-solid yarns.  Can't you just see it?  All the colours coming together to compliment each other in some places and contrast one another in others.  Beautiful!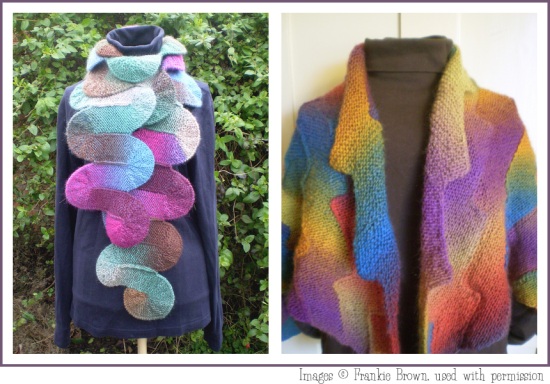 If you'd like some amazing mini-skeins to knit these patterns in, check out the SpaceCadet's new Mini-Skein Club. Each month you'll receive a surprise selection of gorgeous SpaceCadet yarns delivered to your door, so that you can try out all the SpaceCadet bases and feed your mini-skein project addiction!