August is not always the month for knitting, is it?  Both of my main WIPs (I'm current working on a Vitamin D and The Old Man and The Sea) are at that bulky stage where you have to carry a whole garment around if you want to grab a little knitting time.  And… I don't want to carry all that around.  It's mid-summer, I'm hot, and all I want to work on are quick projects that I can grab easily and go.   What's that?  You too?  Yeah, I figured maybe!
What I've been reaching for the most lately are my mini-skiens.  Little tiny bundles of fingering weight yarn seem just right for the season and, on hot days when my concentration is so short, I love moving through quick changes of colour and onto the next yarn.  I've been using them like crazy on my Zoom Loom — it's so addictive!  But more on that in a minute — in the meantime, I've also been searching out patterns that are perfect for Mini-Skeins, and I'm dying to share a couple of my favourites with you.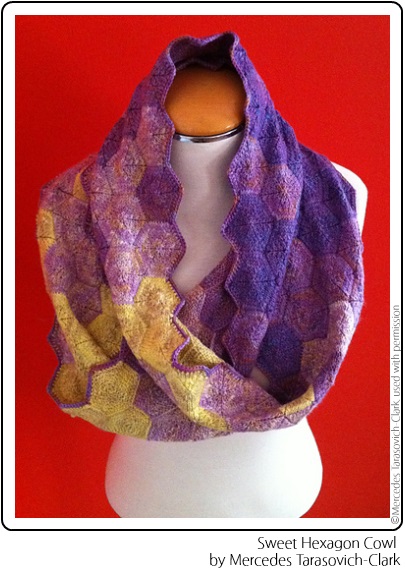 First off, be prepared to be knocked off your feet.  At least, I was as soon as I saw Mercedes Tarasovich-Clark's stunning Sweet Hexagon Cowl.  I don't know what it is about it  but I just swooned when I saw it.  And then I tweeted…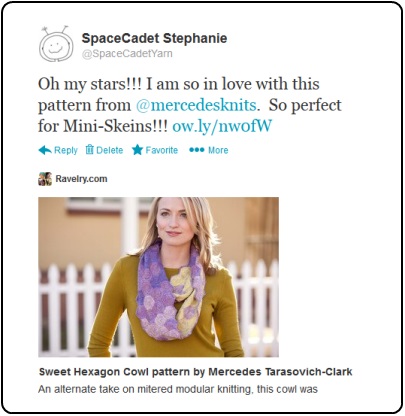 The whole thing is created from interlocking hexagons knitted in the round, and I think there is just so much scope for colourplay and creativity here.  You could work it in a soft palette that gently blends from one colour to another and back again.  Or you could go wild, choosing strong colours and placing each hexagon strategically to really play up the intriguing construction.
I kind of have a million possibilities in my head now.   …And, looking at my mini-skeins, at least five different colour palettes all mapped out.   Oooooh! So much fun!
Also, while we're on the subject of Mercedes… we hung out at the bar at TNNA and I'm now an even bigger fangirl than I was before because  (a) she had the most awesome earrings on, (b) she rocks her gray streak  — and I do love me some gray-worn-bold — and (c) she turned me onto Songza, which I'd never used before but it is magic.  Seriously, go get it.
I first came across Burano by Emily Ross when my friend and customer Amy knitted hers using SpaceCadet Mini-Skeins. Knit in garter stitch, it's got this fabulous multi-coloured border with stripes that you can modify and alter to be anything you want it to be.  Just a few colours?  Perfect.  Twenty colours?  Do it!  Strong contrasts or gentle changes…  this shawl can become pretty much whatever kind of colour combination you can come up with.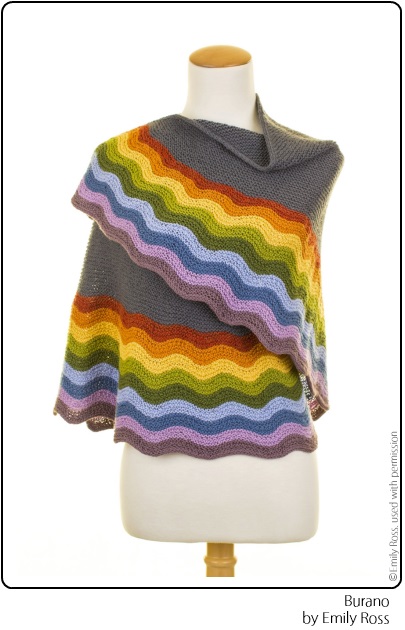 Here, it's shown in the bright bold colours that inspired the original design.  But check out Amy's version (click here to see it) — she chose a much softer palette and it completely changes the end result.  What a fun knit!  And, if you're as addicted to Mini-Skeins as I am, what a great pattern to use them in.
You may remember me saying that we discovered the Zoom Loom at TNNA.  And you probably saw all the pictures of my weaving that I tweeted/FB'd/IG'd.  Well, it's been a little over a month since TNNA and I haven't stopped weaving on it since. This thing is seriously addictive!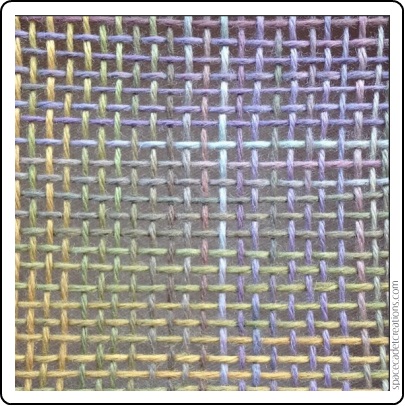 And it's easy.  And quick!  Did I mention easy?  I mean, c'mon, I'm the SpaceCadet(!) and on these hot days when I can't even think straight, the Zoom Loom is that perfect combination of mindless and intriguing.  I love taking a variegated yarn and watching how the colours play out as they morph over and across each other.  Each little woven square works up differently from the next…  each one a little adventure all of its own.
I've been enjoying it so much, I had to get a few for you guys too!  I've put them in the shop with two options:  you can pick the Zoom Loom on its own, or with your own little starter bundle of SpaceCadet Mini-Skeins so you have everything you need to get you going for some great summer yarny-goodness.   Click here to grab yours!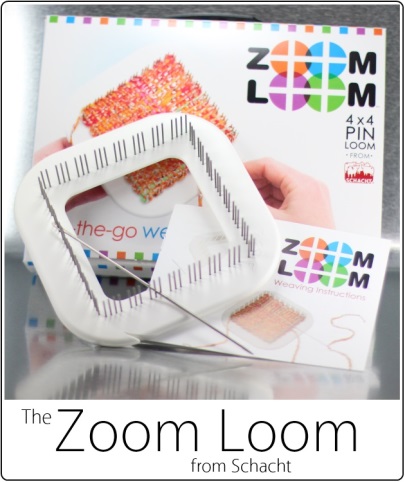 And if you're dying to cast on one of the patterns you've seen here, check out the SpaceCadet's Mini-Skein Club.  Each month you'll receive a fabulous bundle of hand-dyed fun: five 20g (approx) skeins of SpaceCadet fingering yarn in mix of variegated and semi-solid colourways.  The Mini-Skein Club is my chance to really experiment and play with colour, and your chance to try out the different SpaceCadet yarns.  Join anytime and stay in until you have enough mini-skeins for your project.  It's flexible and tons of fun.  Click here to find out more!