I spent much of yesterday surround by piles and piles of mini-skeins, as I put together the very first parcels for the members of the SpaceCadet's Mini-Skein Club (and, hey, if you're in the club, keep your eyes on the mailbox, because your yarn is on its way!).
While I was working, I kept thinking about all the fab mini-skein patterns I've seen lately, and just how varied they are.  I mean, the first patterns everyone names when I say "mini-skeins" are all blankets (the BeeKeeper's Quilt, the Sock Yarn Blanket, the Babette Blanket), but there are all kinds of possibilities!  Check these out…
 _____________________________________________
First, we have the amazing Mini Mania Scarf from Sarah Core of Exchanging Fire.  I love this scarf — love the incredible mix of colours, love the beautiful linen stitch, love the sheer size of it!  As the weather starts to get colder, can't you just see yourself all wrapped up in this?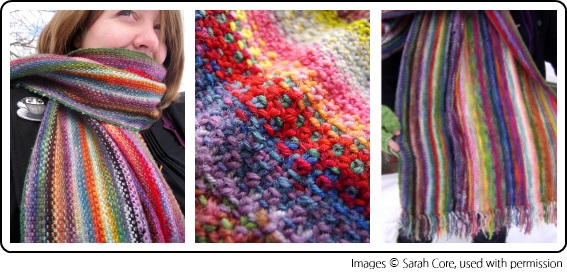 Ok, but a scarf is a little like a blanket, I hear you say.  So, alright,  let's move on to something that is definitely not like a blanket: the Mitered Baby Jacket by Phazelia.  The first thing I loved about this pattern was the way the colours blend into each other — and knitting this jacket with mini skeins offers so many colour possibilities! — but then there is the construction…  Knit at an angle to create interesting diagonal stripes, the great news is that only sewing up for this cardigan is on the sleeves!
And then, to fully complete the departure from blankets, we have Rachel Coopey's totally customisable Mixalot Socks.  You can knit any combination of the four charts, add plain stripes where-ever you like, and make the two socks match…  or not!  And, by knitting with mini skeins, the colour combinations can be as gentle or as wild as you please.  What a fun project!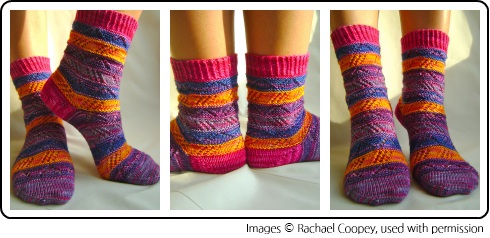 _____________________________________________
And if these patterns have got you feeling all inspired and itching to cast on, check out the SpaceCadet's Mini-Skein Club. Each month you'll receive a hand-picked collection of gorgeous SpaceCadet mini-skeins delivered right to your door.  It's a great way to try out all the SpaceCadet yarn bases  …and to feed your mini-skein project addiction!