Three Knitting Patterns that are Perfect for Mini-Skeins
Looking for knitting patterns for mini-skeins? Whether you've got a huge stash to use up or are ready to join our Mini-Skein Club and start your collection, here are three knitting patterns that take mini-skeins to the next level!

Slice of Sunshine by Lisa K. Ross
So bright, so happy, and designed for Mini-Skeins! If you're a member of the SpaceCadet's Mini-Skein Club and love the juicy, zingy colours we've been dyeing this summer, I can't think of a better way to show them off than in this utterly delightful design.
A stranded colorwork cowl, it uses exactly two bundles of Minis plus a full-sized skein for the contrast colour. Even better, it's 25% off through the end of today with the code SUNNY.
(And hey, if you're not a member of the Mini-Skein Club, what are you waiting for? Click here to learn all about it!)
---

Simmer Blink by Robynn Weldon
Nothing catches my eye faster than patterns that make clever use of colour and this one stopped me in my tracks!
I love the way the balance of brights to neutrals morphs slowly across the shawl so that one end looks completely different to the other (you can see it in this picture, but click through for a better idea). It's a fabulous way to work through your stash of SpaceCadet Mini-Skeins!
---
---

Proud Tee by Chelsea Lee-Keenan
A simple summer tee like this is always bound to be a wardrobe staple. And whether you knit it in rainbow solids or work it in a painterly gradient flow, the result will be intriguing to knit and a delight to wear.
Knit in the round from the bottom up, with German short rows to shape the shoulder, this design is perfect for SpaceCadet Mini-Skeins or fingering weight Gradient Explorers.
Images © the respective designers, used with permission
---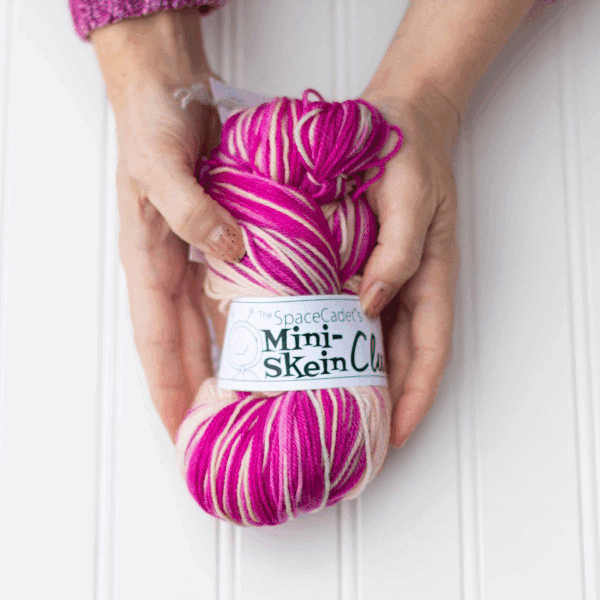 You're ready for a colour adventure… And there's nothing as exciting as your delivery of mini-skeins from the SpaceCadet's Mini-Skein Club!
Richly dyed in stunning hues, we design these delightful little yarn-gems to guide you on a colour journey that will inspire you to create uniquely eye-catching projects.  Each month, your parcel arrives bursting with glorious colour ready to be untwisted and explored!
The Multicolour Mix gives a range of hues in complex colourways to add interest to any project.  And the Ombre&Gradient Mix is dyed an amazing Never Ending Gradient in colours that flow from one month to the next… and onwards to the next!
The result is a guided journey through colour that is wildly exciting and so much fun to cast on!