The other day, I was going through photos from earlier this year and, as I scrolled from month to month, I kept coming across images of my assistant Jade's Northeasterly. The pattern is for a blanket but she decided to work it as wrap, using the Never-Ending Gradient of  Mini-Skein Club bundles.
And the pictures were kind of blowing me away…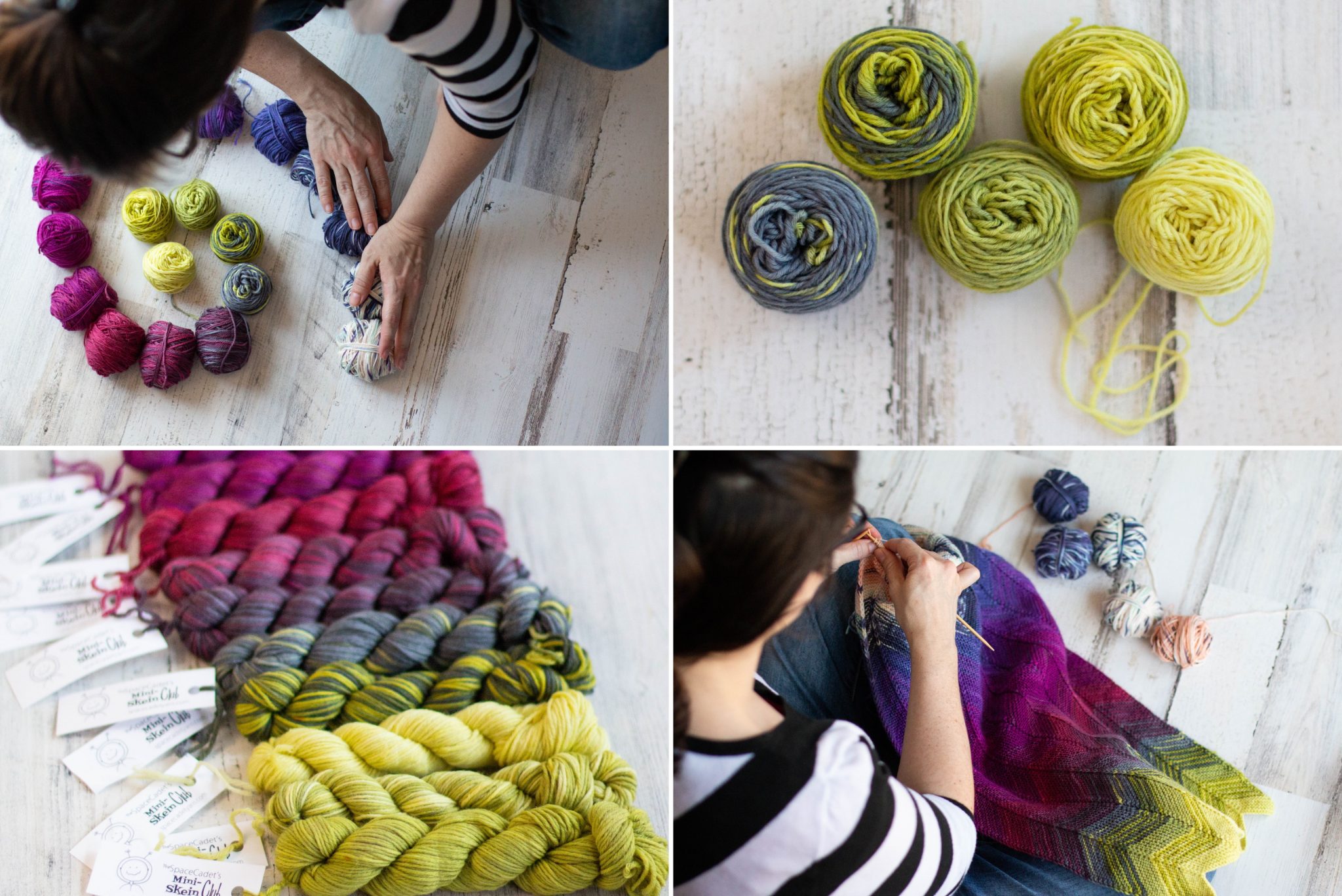 Mini-Skeins from the first few months of 2019
She cast on in January and has worked patiently through each month as they come along. After finishing each section, she'd bring it to the studio so we could take photos and document the process (that bit was so much fun!)
And even though we both knew (of course) that each month flowed into the next, there was something absolutely magical about seeing the whole year's gradient flow come together on her needles, right before our eyes…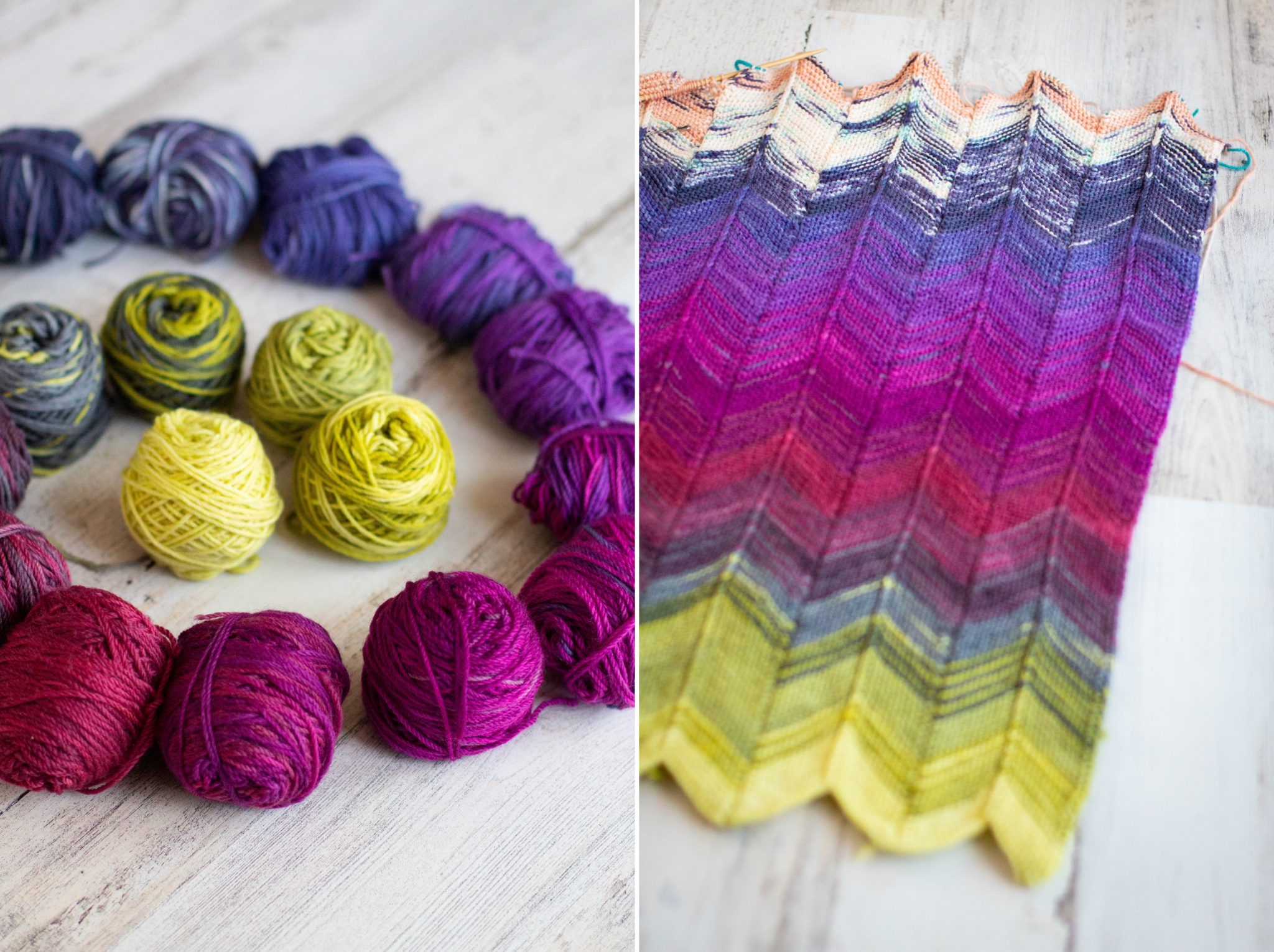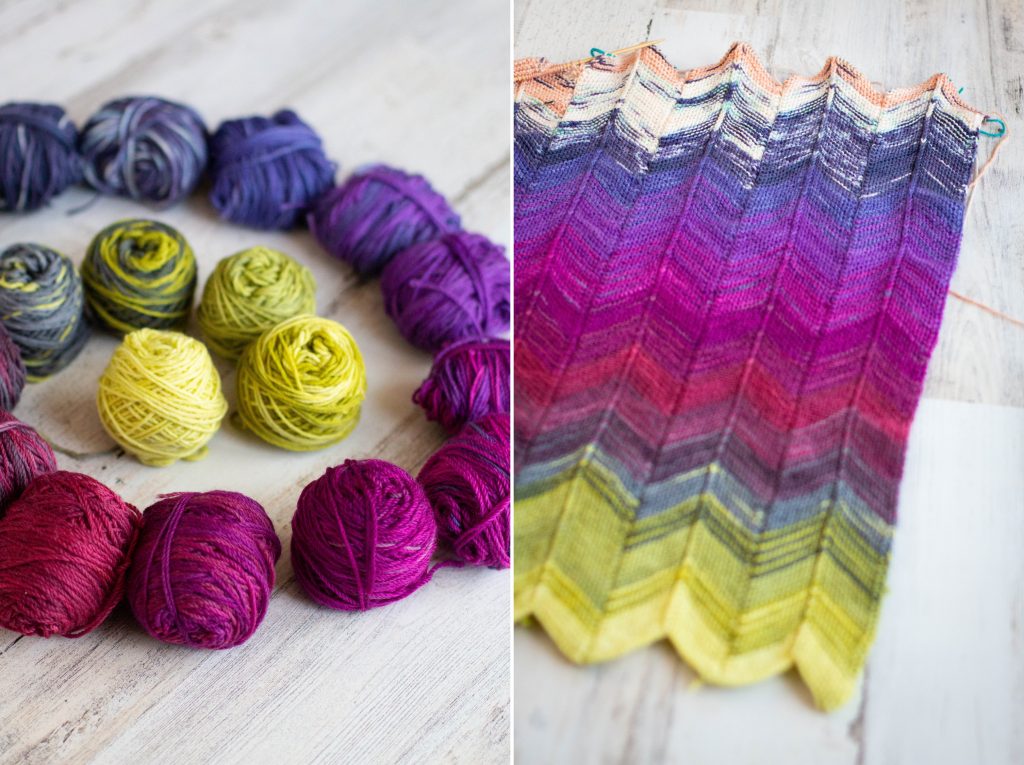 Mini-Skein Club colours from January to May 2019
Using Minis for a Year-Long Project
The fabulous thing about doing a project with a year's worth of the SpaceCadet's Mini-Skeins is that, even though it creates being a really epic finished object, it's not really ever that much effort to produce. Because it's broken up from one month to the next, with a slower pace and plenty of downtime between club parcels arriving, Jade said she felt fresh every time she picked up her needles and returned to work on it.
And something amazing: to produce this stunning project (which is now almost to big to photograph!), Jade didn't even use a full mini-skein for each colour. She was using the end-bits that we have leftover when we break the full-size skeins into mini-skeins. So that kind of begs the question… just how epic could a project be if each mini-skein is used in full?!?
Peach into Mint: the SpaceCadet's Mini-Skein Club colours May-June 2019
Come Join In!
And the reason that I'm sharing this with you is that Jade is currently working on her next Mini-Skein Club project. Like both her 2019 and 2018 projects, it's modular and simple to knit one month at a time something that will show off the Mini-Skein Club's colours to full advantage.
And my question to you is, would you like to join her? Whether you join the Club and work with each new bundle as they arrive in the year, or you work from stash, I know both she and I would love to see you cast on an epic project alongside her!
It can be a simple pattern or something more challenging, for the whole year or just for a part. And of course, it doesn't have to be the same pattern Jade chooses… whatever (knit or crochet) pattern tickles your fancy and that can be worked with your minis month by month will be perfect.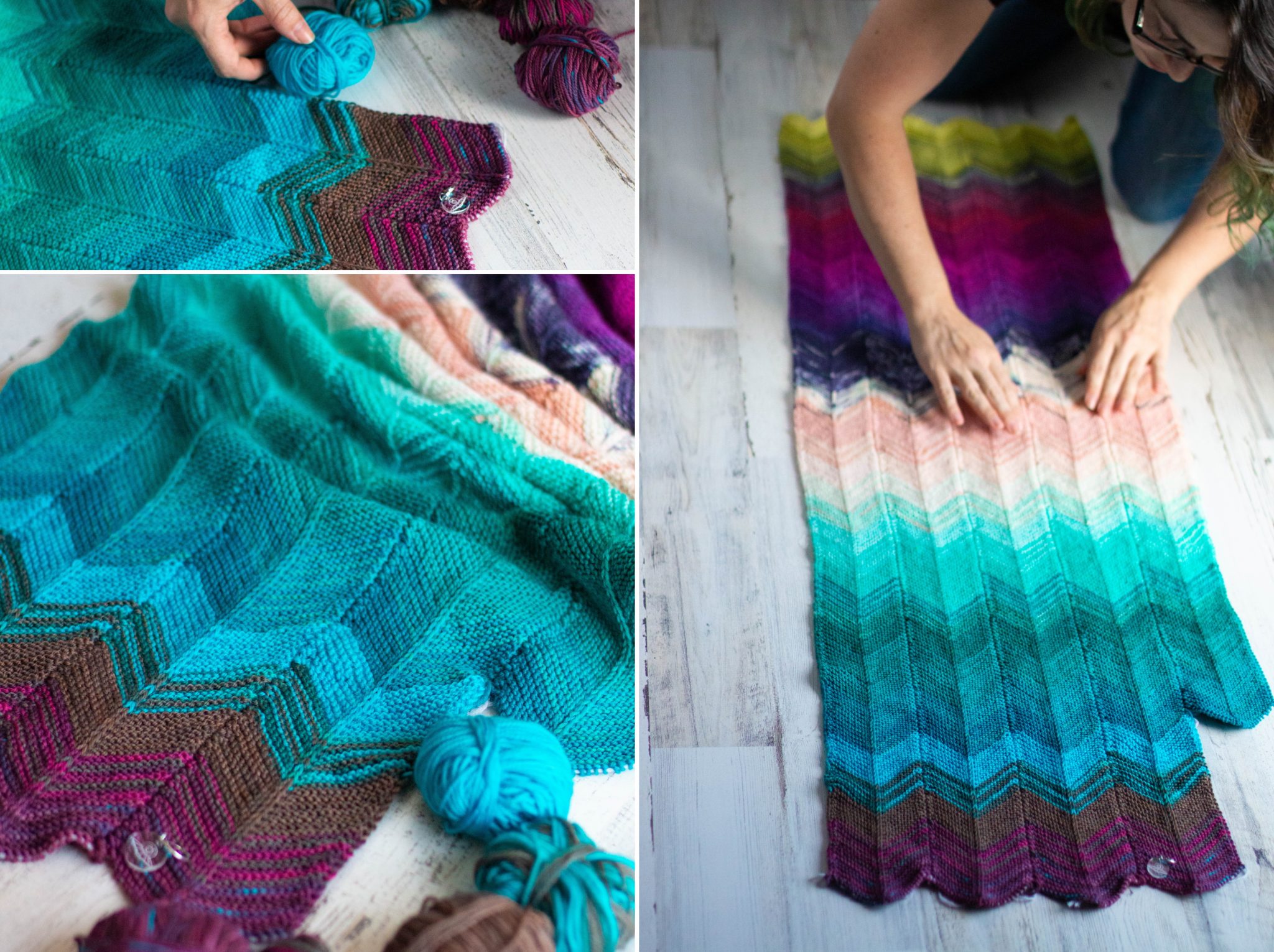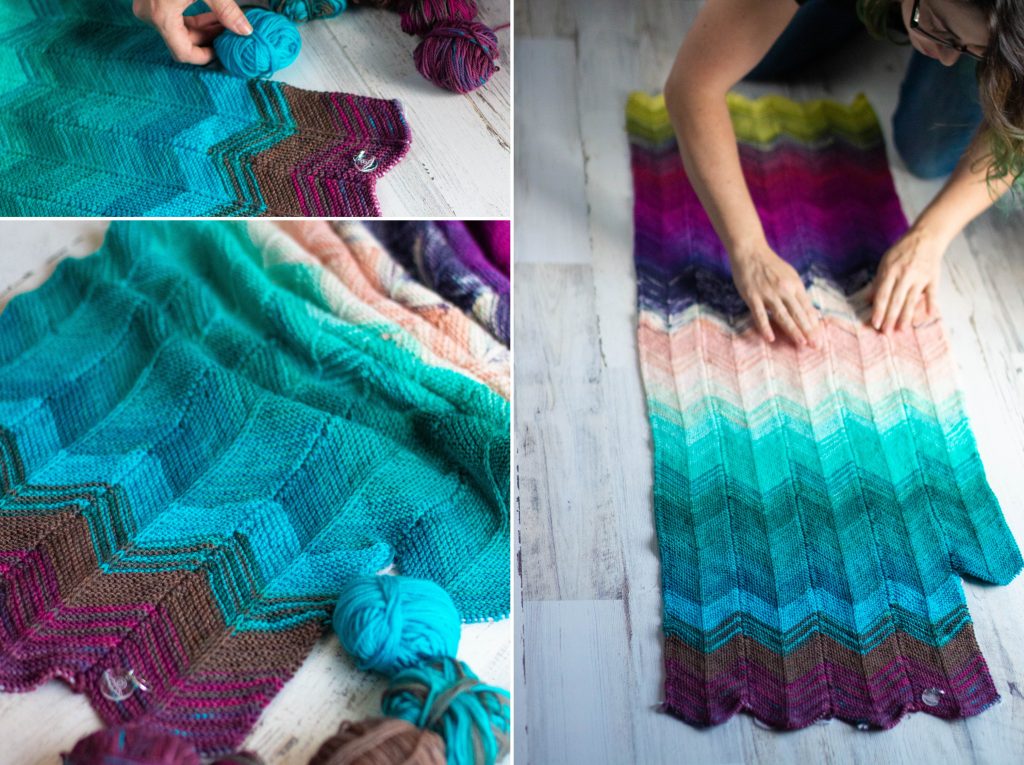 Transitioning through September's Mini-Skein colours
How to Get Started
If you don't already have a stash of the SpaceCadet's gradient minis, join the SpaceCadet's Mini-Skein Club! It's a ton of fun because every month you'll receive a sweet bundle of Mini-Skeins in Ombre&Gradient colours that flow from one month to the next. Click here to get all the details.
Then, if you're as excited as we are at the prospect of creating a something wonderful with your Mini-Skein Club yarns, make sure you're on our mailing list and then send us a quick email and say, "I'm in!" Don't worry, you're not committing to something big and scary — just to emails of encouragement from me and a casual camraderie of working on our Mini-Skein Club projects in community.
And if you'd prefer a project that uses just a few months' worth of minis instead of the whole year, that's fine too. The Never-Ending Gradient's colours are so ever-changing that each season takes on its own personality and makes it perfect for smaller projects. And you stay in the club only as long as you like, so it's entirely up to you!
Let's use the hashtag "spacecadetminiskeins" on Instagram to share photos. And if you've got project ideas, let me know, so I can share them in a future email.
And if you have a friend who might like to join in too, use the share buttons below so they can see for themselves what fun it's going to be!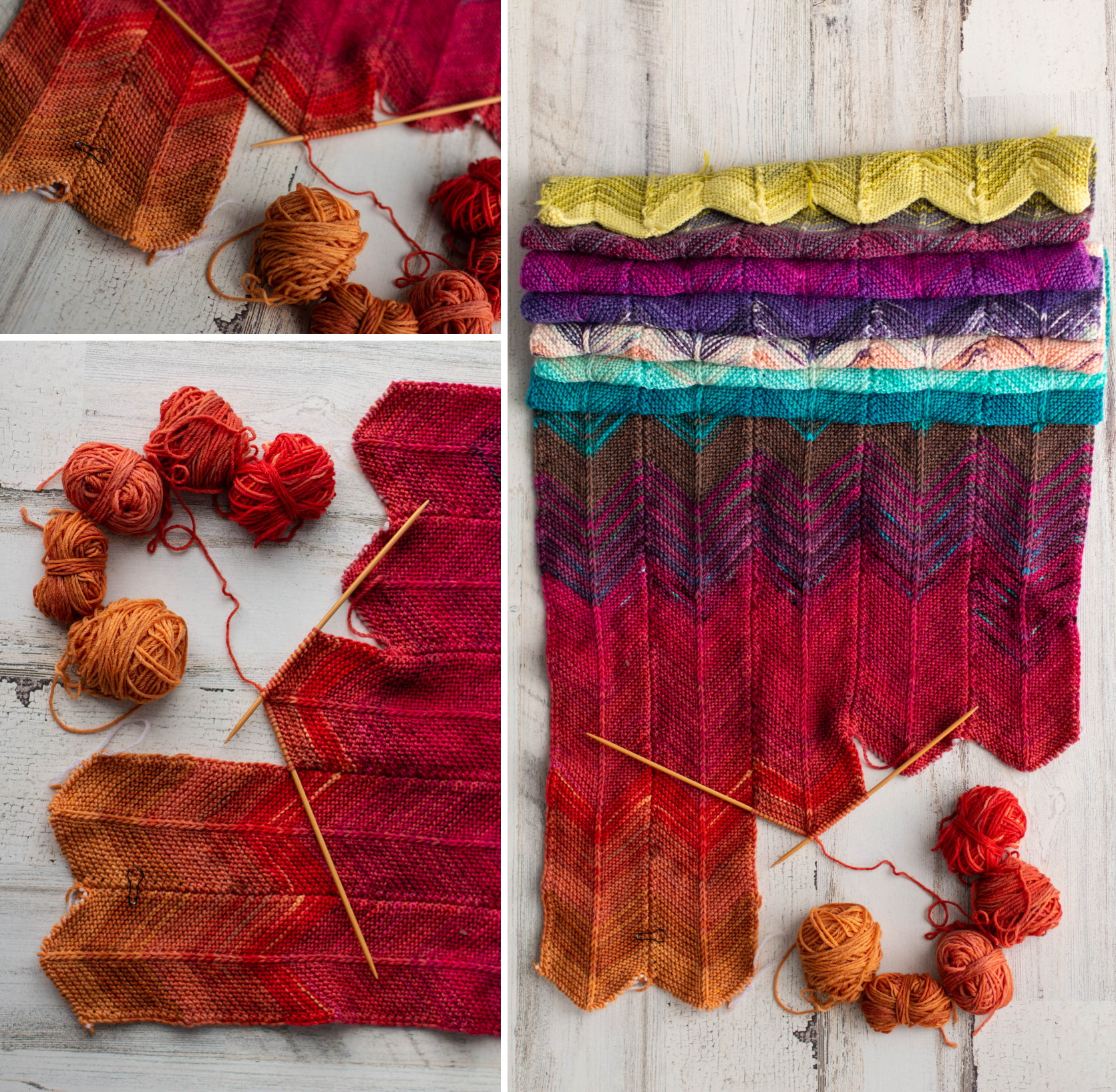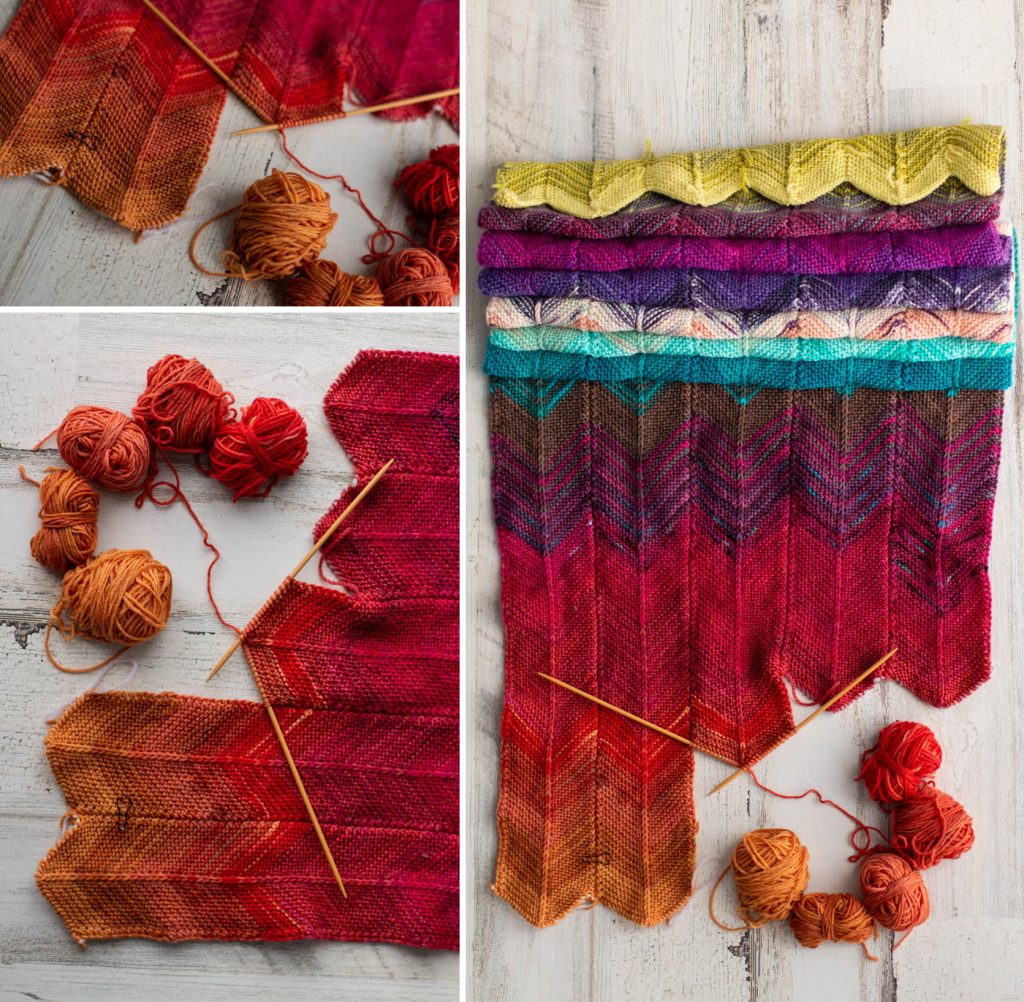 November's explosion of Mini-Skein colour
Ready to See How the Year-Long Mini-Skein Project Came Out?
I cannot tell you how stunning her finished project is!  Fortunately, I don't have to…  take a look for yourself!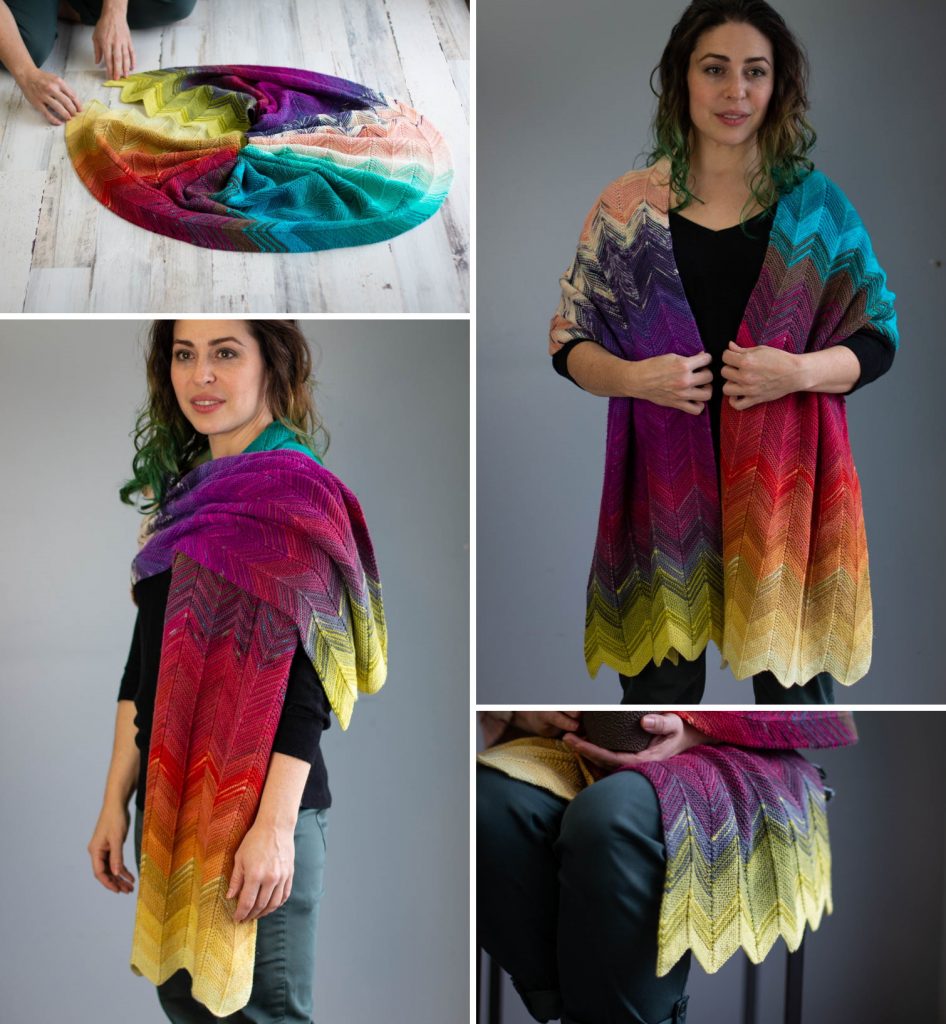 Even better, the Never Ending Gradient continues into the coming months!  We've been busy planning the Mini-Skein Club's new colour direction and I couldn't be more excited. Most of all, I hope you'll pick up your needles or your hook and join us as we create the next epic project!