I want you to imagine a scene… one in which two grown women are carefully laying skeins of yarn out on the floor, neatly positioning them side-by-side in a gentle arc and then — every now and again — stopping one another and letting out a little squeal and doing a happy dance all around the yarn. And then composing themselves and laying out more yarn, before getting all excited again and the whole process repeating itself.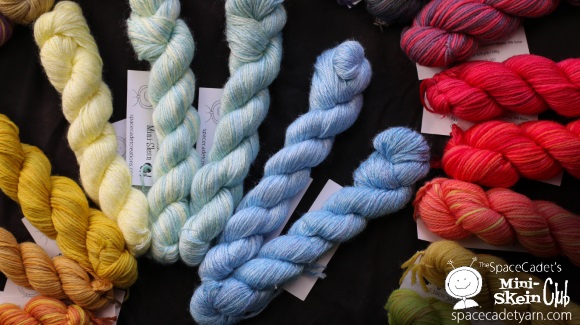 A little over a year ago, we came up with an idea that for the SpaceCadet Mini-Skein Club made us just crazy with excitement. Why not make each month's colours flow into the next month, so they all worked together into one amazing and never-ending gradient?!? It was such an incredible idea, and yet so simple, that we couldn't believe we hadn't done it before. We immediately started designing a series of colourways that would evolve and morph from one month to the next.
The Never-Ending Gradient(tm) launched in October 2014 (just a few months after we launched the Start Anywhere(tm) Gradient, another innovation where our Mini-Skein gradients circle back on themselves, meaning you can cast on anywhere in the set). When October rolled around this year, I realised that meant we'd been dyeing our Never-Ending Gradient(tm) for a full 12 months, and I hatched a plan to capture a photograph of the full year's worth of skeins out side-by-side.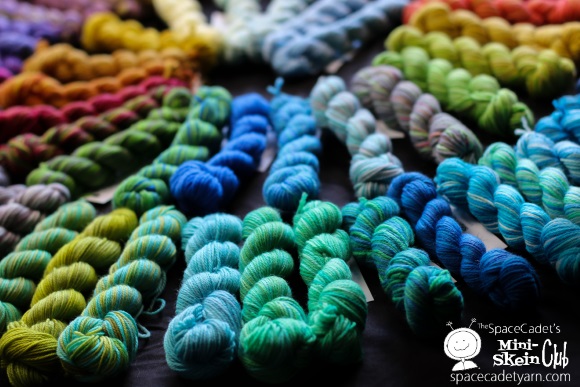 Believe it or not, we hadn't ever done that — laid out all the colours we'd been creating all this time. Sure, we'd look at a few months together here or there to get a sense of how they were flowing, but never the entire year… we'd never actually seen the full impact of all that careful planning and colourway creation! And so when my assistant and I finally did spread them all out in the studio and start putting them in order, I have to tell you, it made us kind of giddy.

You can see why, can't you? I mean, you get this, right?
Eventually we calmed down and stopped dancing (so much). We observed carefully the way the colour-flows worked through the whole year and, from that, came up with some very exciting directions to take the gradient in through 2016. And I took a lot of photos — a lot. Can you blame me?!?
I am super-proud to have pioneered the Never-Ending Gradient(tm) and just over the moon with the way the first year has turned out. If you have been in the Mini-Skein Club for a while, you have all this gorgeousness lurking in your stash! It can be hard to see when they're tied up in their little bundles, but lay them all out and I'll bet you start doing your happy dance too. And if you aren't a member of the Mini-Skein Club, click here to join and we'll send a bundle of these little beauties straight to your doorstep every month — it's like Christmas all year round!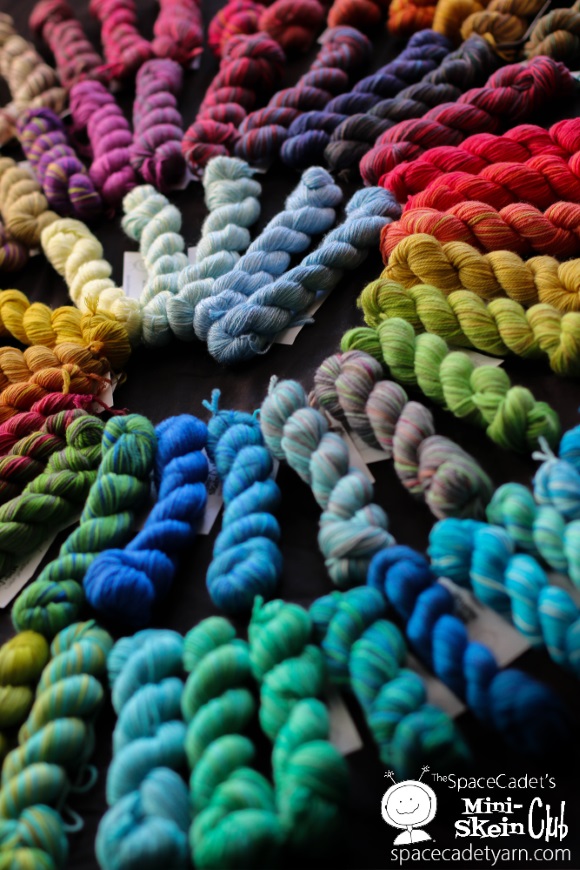 Three Super-Fast, Super-Easy Holiday Gifts
The SpaceMonster Mega Yarn Club
This club is all about our biggest, smooshiest, warmest yarns! Focusing on worsted and bulkies, members receive
a fantastic parcel delivered to their door every other month, containing a beautiful skein of SpaceCadet® yarn hand-dyed in an exclusive colourway designed to bring out the best in thicker yarns.
The SpaceCadet's Log exploring the inspiration for each colourway.
A fantastic SpaceMonsters gift tucked into every third parcel. We're known for the great gifts we include in our club parcels — and for this club, we're seriously upping the fab. What's not to love?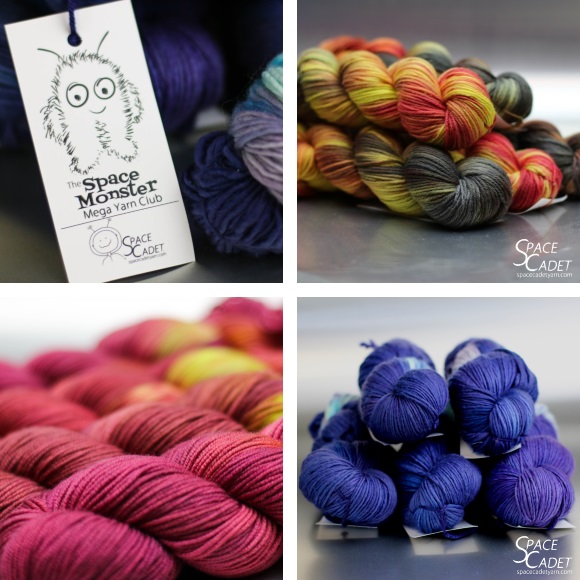 Give the SpaceMonster Club as a gift and we'll send your recipient an email notification (either straight away or on the date you choose) so they'll know they've got serious smooshy goodness on the way. But subscriptions are open only until Dec 20, so click here to reserve your subscription now!
Sidekick Boot Socks Kits and our Holiday Wind-Down KAL
Designed by Kate Atherley and featured in the latest issue of Knitty, the Sidekick Boot Socks feature will make for toasty warm toes all winter long. Using a great technique that makes wildly variegated yarn go all tweedy, these are a quick and fun knit that's perfect for escaping from the holiday madness. Our kits feature two SpaceCadet yarns in coordinating colourways and are ready to ship, and our KAL starts on Dec 26 — perfect for helping you wind down from the holidays. Click here to grab your kit while they're still in stock.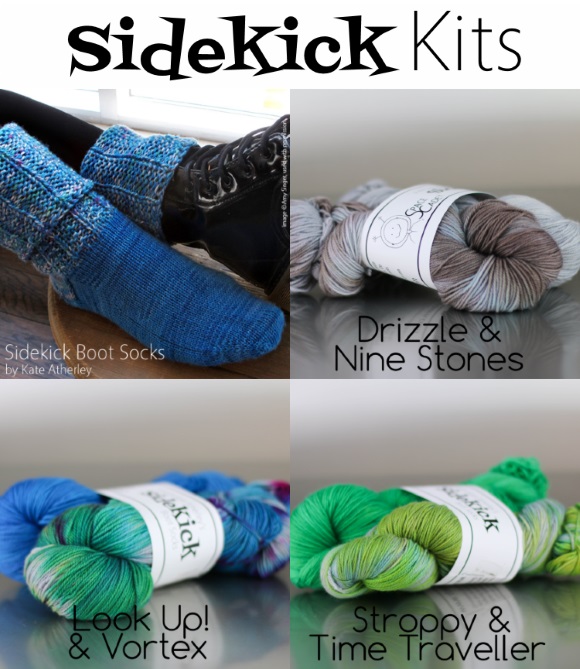 The SpaceCadet's Mini-Skein Club
You've already seen how amazing our Mini-Skeins are, so you know they'd make a fabulous holiday gift. A subscription lasts as long as you like — cancel whenever you have enough skeins for your project. With two subscription levels and two colour mixes to choose from (Multicolour or Ombre&Gradient) you can customise this gift so it's just right. Click here to start your subscription and, if it's a gift, please leave a note so we can send the recipient a notification and get their holidays started!