Every shop I went into this weekend is decked out for Valentine's Day: there are hearts and roses and teddy bears and chocolates and on and on…  Can I tell you it feels a little silly to me?  It really does — I haven't wanted much of any of this stuff since I was about fourteen years old.  …Ok, maybe the chocolate but not in that huge quantity, thank you very much.
For me, on Valentine's Day, I don't need anything big and showy.  In truth, it's just about what really matters: the strength of the emotion and the yarn.
The what?  The Valentine's Day yarn, of course.  There's always yarn on Valentine's Day, right?  There should be yarn on Valentine's Day!  I don't see how anyone could possibly devise a holiday that's about love and swooning and being swept off your feet and somehow not have yarn involved…  That doesn't make any kind of sense!
So to celebrate Valentine's Day the way it ought to be celebrated, we've put together three absolutely gorgeous Valentine's Day Mini-Skein Collections.  They are sweet and bite-sized, the perfect way to a knitter or crocheter's heart If you know someone who is might get muddled and give you a teddy bear with Mylar balloons, these Valentine's Day Mini-Skein Collections are a super-easy way to put them on the right track!
(…Maybe just send the link to this page? Sometimes subtlety can be over-rated).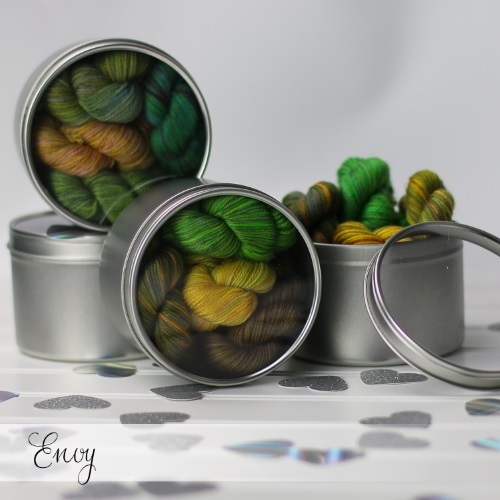 And if Valentine's Day fills your heart with anything but love, we created colourways to that have got you covered no matter how you feel about the holiday:
Love Is Forever: a romantic collections of pink, red, purple, and chocolate brown
Envy: a selection of jealous greens, yellows, golds, and browns
Bite Me!: a moody palette of  teals, blues, purples and earth-browns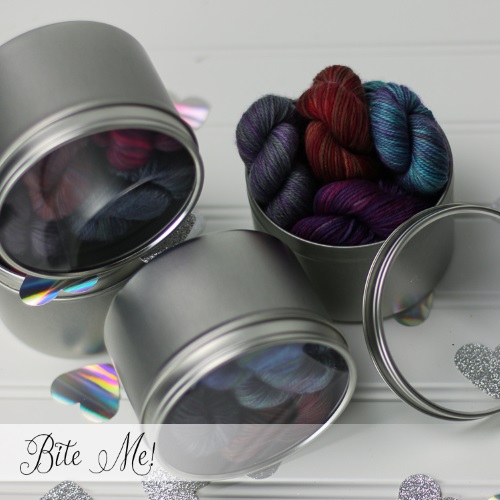 All The Details
Available in limited quantities and only until Feb 14th, but our last ordering day to ship for (domestic) Valentine's Day delivery is Wed Feb 8th (before 5pm est), so click here to order straight away!
Each Valentine's Day Mini-Skein Collection is comprised of four 20g (approx) mini-skeins in an assortment of SpaceCadet® fingering yarns in coordinating semi-solid and variegated colourways.  Each skein's yardage depends on the type of yarn — click here for yarn and yardage details.  Each set's colourways are one-of-a-kind and will differ slightly from those pictured here.