Here at the SpaceCadet studio, everyone is gearing up their holiday knitting: small projects that are quick to make, lots of fun, and the perfect gift for the knit-worthy amongst our love ones (…and, y'know, not everyone is all that knit-worthy. You know what I'm sayin'.)  So it's a really special thing, holiday gift making, and you want to choose just the right project combined with just the right yarn.  Time to go stash-diving!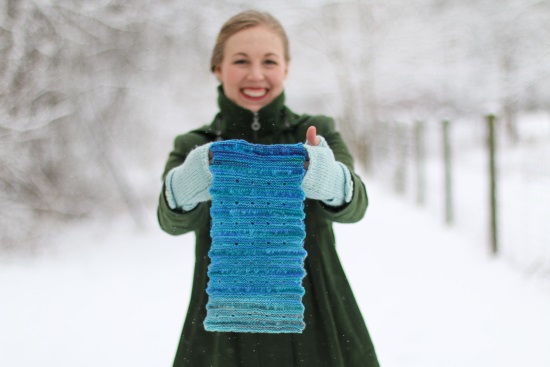 Our stash here in the studio is enormous — especially our pile of Mini-Skeins.  As we're putting together those lovely colourful bundles each month, we always make a few extra just in case and, after awhile, they start to add up.  So while we were all discussing our holiday projects, we dug through our Mini-Skein stash to choose colours.  But many of those skeins are loose — they never actually got put into a bundle — so we felt free to mix and match colours from different months however we thought best.  And the results were amazing!
Have you done that too — mixed up your Mini-Skeins from different months?  Or do you keep them all neatly in their bundles?  The more we played with the colours of those lovely little yarn crayons, the more we realised that we gotta get everybody trying this!  Seriously it is so much fun to mix up the months' colours, and the unexpected combinations are too good to pass up.  So what's the best way to get all our Mini-Skein Club members trying this out?  A super-quick, super-fun KAL, of course!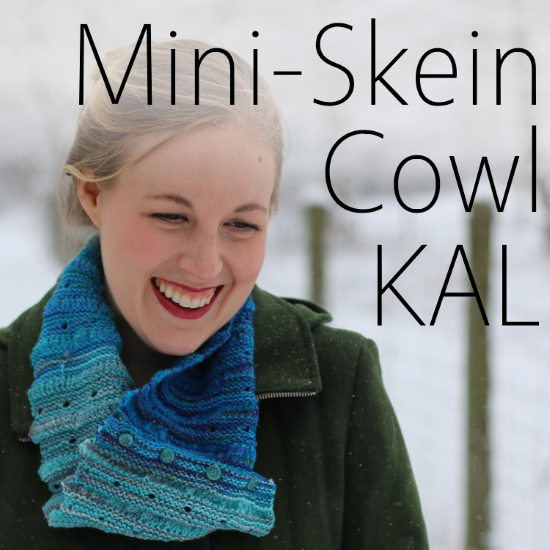 The  Mini-Skein Gathered Cowl KAL
Jade has designed the sweet Mini-Skein Gathered Cowl that makes a fabulous holiday gift for anyone on your list (or even… you?).  With interesting gathered stitchwork and adorable button detailing, the shorter version is knit with three SpaceCadet Mini-Skeins (and the longer version with as many as you like!), giving you endless colour options!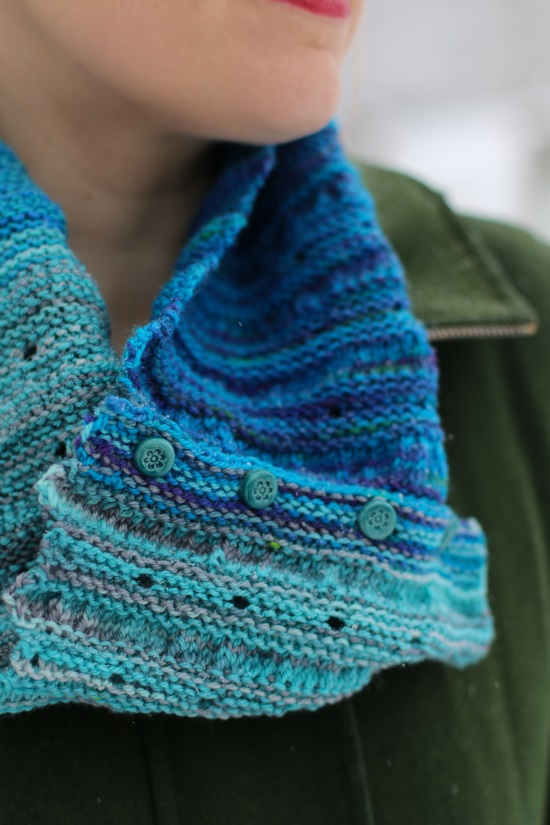 Pick three colours that coordinate gently for a cowl as eyecatching as the blue one above.    Or choose three that contrast boldly.  Or get really creative and choose three that both contrast and coordinate, like the pink-green-blue cowl below.  For that one, Jade chose three skeins from three different months that, while contrasting for sure, also all have a grey element, which lends an overall cohesiveness even as the colours change from skein to skein.  See what I mean?  Lots of possibilities!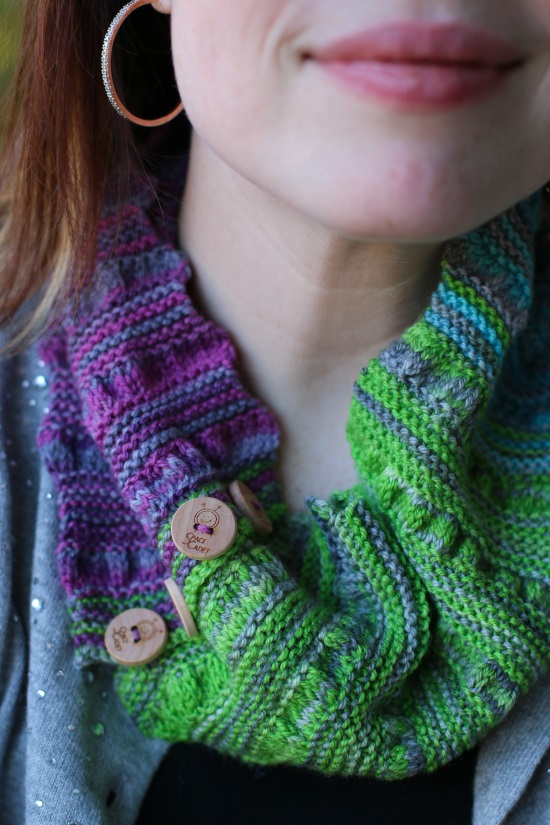 Cast-On: November 1!  And a Pattern Discount!
We're going to cast on our cowls on November 1 and we'd love for you to join us!  The Mini-Skein Gathered Cowl pattern releases on Saturday and you can get a copy by clicking here.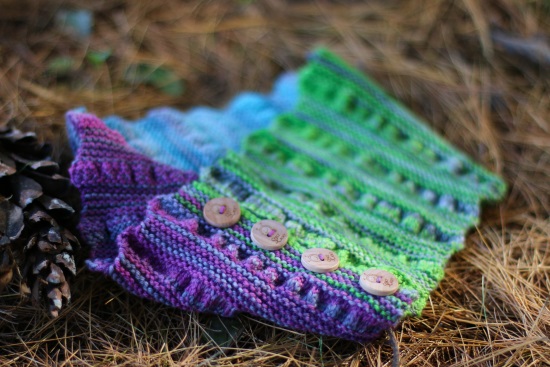 But wait… we've got two special treats up our sleeves!
If you're currently in the Mini-Skein Club (for the October parcel), we're giving you a copy of the pattern for free.  Watch your inbox over the next couple of days for your download code.
And if you're on our mailing list, you get a code for 33% off!  Look for that code in next week's newsletter.  (You are on the mailing list, right?  You and your whole knit/crochet group?  If not, click here and get on it stat!)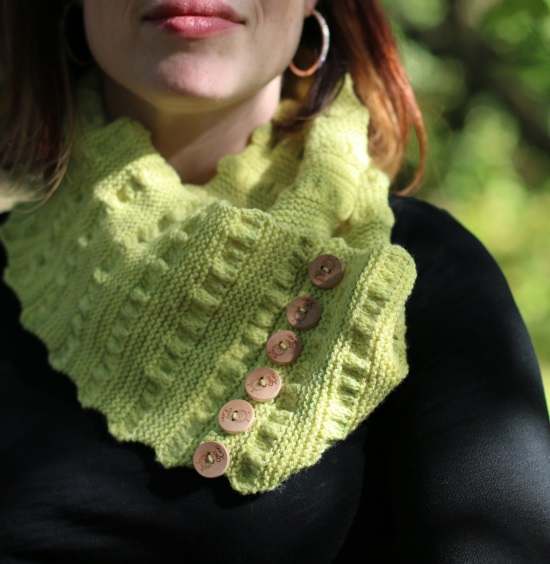 What If I Don't Have a Stash of Mini-Skeins?
It's hard to believe, I know, but there are some folks out there who don't have a stash-mountain of Mini-Skeins to choose from.  If that's you, don't worry — we've got you covered!  After we went through all the Minis in the studio to pick combinations for ourselves, we found we were having so much fun, we couldn't stop!  We laid a huge sheet out on the floor,  dumped all our Minis in the middle, and spent the whole afternoon mixing and matching to our hearts' content (it's something we call our "drinking game", but that's a whole 'nother story…).  The result is our Minis Triplets: little 3-skein kits that are perfect for the Mini-Skein Gathered Cowl!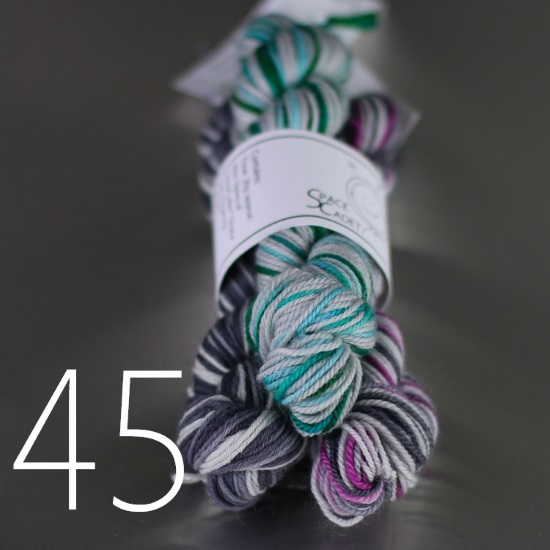 Each combination is unique, so if you see one you really love, you've got to grab it fast!  And we'll be shipping the first wave out early next week, so you'll have yours in plenty of time for cast-on day.  Click here to see all the colour combos we came up with!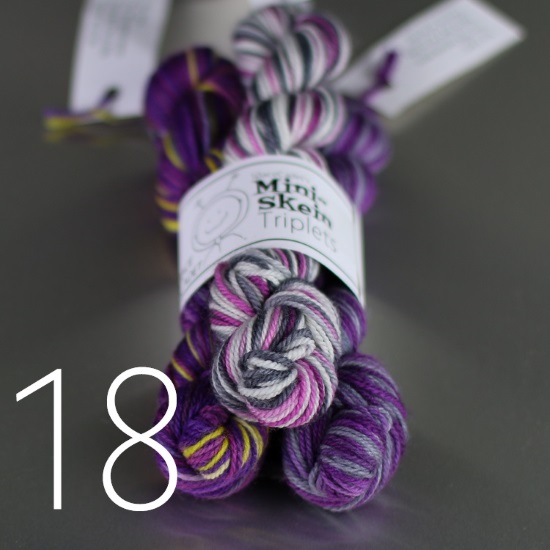 Your Turn: Raid Your Stash & Join Us!
So whaddya say?  Are you ready to cast on some holiday knitting and bust your stash at the same time?  We'd love to have you join us!  Click here and tell us you're in — and show off your fabulous colour combination too!