After the all the excitement and fun of the holidays, the first week back to January's cold reality can come like a slap in the face.  No more tree, no lights, no parties to go to…  just the darkest days of winter stretching out for months ahead.  So what is there to look forward to in the first week back at work?  How about a beautiful new pattern from Jenise Reid in an exclusive SpaceCadet colourway…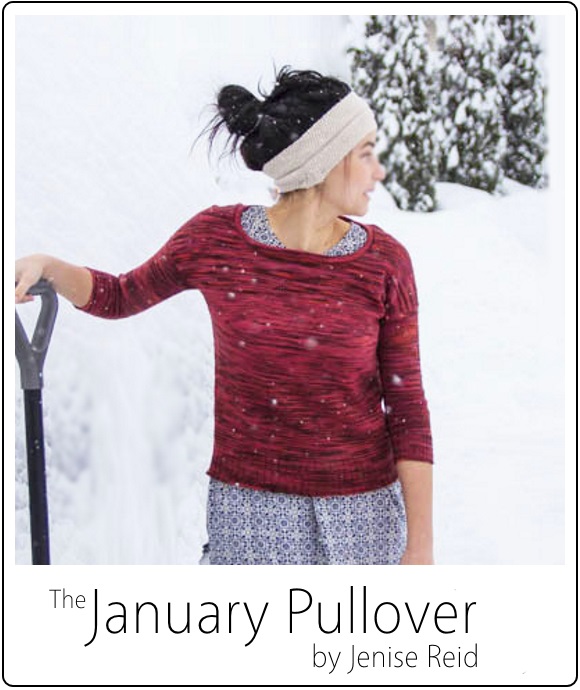 Conveying a simple and casual look, but with well thought-out details, the January Pullover is designed to create a great fit.  I'll let Jenise explain…
For me, January has always been the month when you can be confident that there will be snow on the ground, and the snow will be there the whole month. (all of February too) It is cold here! So, my January sweater is one that is suitable for wearing indoors. Shorter sleeves so they don't get in my way when I am doing stuff, and a cozy but not too warm fingering weight merino.
Simple, casual, drop shoulders, right? Not really… a cleanly fit drop shouldered sweater is not a box with sleeves! To fit the body perfectly, you need some curves and slopes and angles. Oh, and if you want the loose body to hang smoothly, you might also need some short rows over the bust. But fear not, all the details are written into the pattern for you and it will be quite simple to knit up a sweater that fits as beautifully as a store-bought one or better.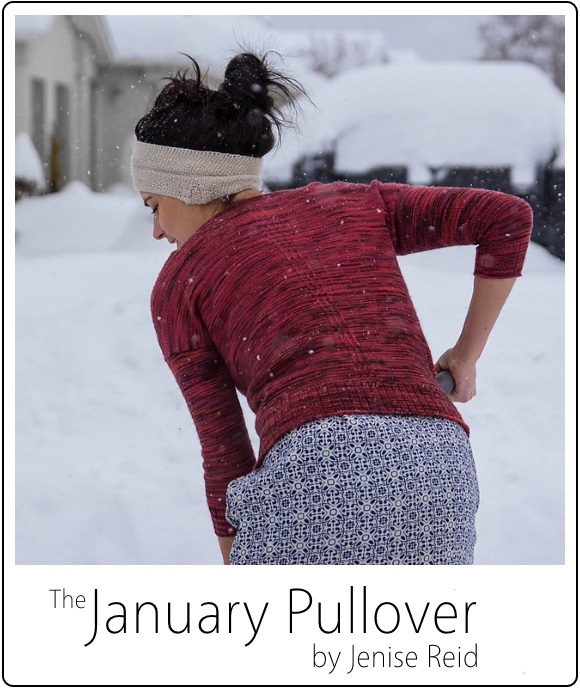 (See the little stripes running down the back?  I love those!)
When Jenise and I first discussed this sweater, I was delighted when she asked if I'd create a brand-new colourway for it.  She sent me some images of the colours she had in mind, and I set to work at the dyepots.  She was aiming for rich russets, browns, and burnt siennas, the perfect warm shades for cold winter days.  Dyed on Oriana, our beautifully draping eight-ply fingering yarn, the result is Caelum (pronounced "see-lum"), which I named after a small constellation visible in the dark January sky.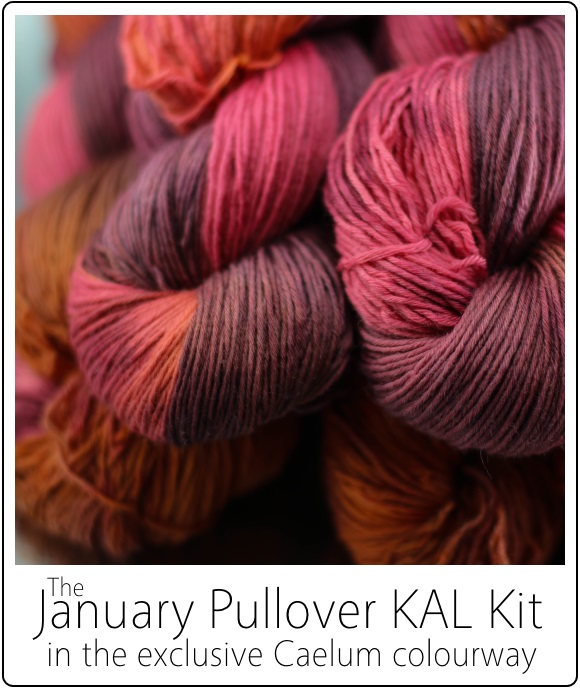 The January Pullover KAL
And to celebrate the January Pullover's launch, Jenise is turning it into a fantastic KAL!  If you enjoyed her Sari Cardi KAL back in July, you know what a good time you're in for.  There's great community in the Feminine By Design group, fun prizes, and personal help from Jenise all along the way.
And with a colourway as beautiful as Caelum, we just had to do kits!  Custom yarn and beautiful pattern in one neat parcel, it's everything you need to cast on and knit your own January Pullover just as beautiful as Jenise's!  Click here to grab your kit.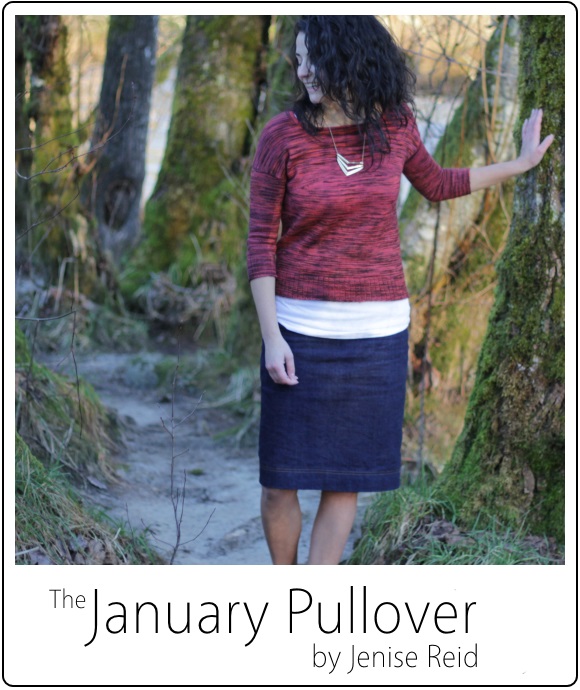 All the Details
The Yarn
Oriana is an sock twist fingering yarn with 8 plies that give extra strength and durability.
Fiber Content: 90% Superwash Merino, 10% Nylon; 8-ply
Weight: Fingering;  Each skein is approximately 3.5oz/100g, and the yarn contains approximately 420 yards per 100g
The Colourway

Caelum, pronounced "see-lum", is a small constellation visible in the dark January sky.  Dyed in rich russets and browns and burnt siennas, our kit-exclusive colourway is designed to be wonderfully warm for cold winter days.
The Kits
Each kit includes four or five skeins of Oriana in the custom colourway, Caelum, and a download code for a FREE copy of the January Pullover pattern (the code arrives in the parcel with your yarn).
Sizing Info
The pattern is sized to fit busts 26-30 (30-34, 34-38, 38-42, 42-46, 46-50) inches, using 4 (4, 4, 4, 5, 5) skeins.
The KAL

"Cast on Day" is Feb 23, to allow time for the yarn kits to be dyed and shipped. The KAL wraps up on April 30th. And there are great prizes too, which will be randomly awarded throughout the KAL.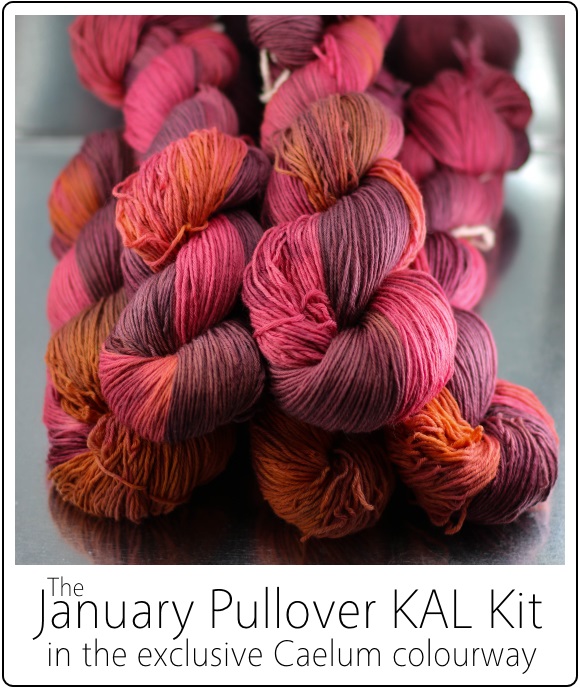 Are you as excited as I am?!?  I know that the first week back after the holidays can feel dark and dreary…  but with a simple design as beautiful as the January Pullover to cast on, suddenly everything seems so much brighter — a wonderful welcome to the new year!