The December SpaceMonster parcels went out last week and, before I show you Jade's fantastic pattern picks, I just have to share with you the gorgeous colourway that inspired her and and the fabulous gift that accompanied it.
**Spoiler Alert!** If you're a SpaceMonster Club member and you haven't seen your parcel yet, look away now if you don't want to spoiler the surprise! (And if you're not a SpaceMonster, there's only 3 days left to join — click here!)
This is In These Dark Woods, inspired by a darkening wood at nightfall, bathed in the rich and mysterious colours of the dying light, and changing constantly before your very eyes.  I dyed them using a freeform technique that allows the yarn to absorb the dye however it pleases, soaking up one colour here and other colour there, and gives a result that is as exciting as it is unpredictable. No two skeins are alike and, while they are all similar, the goal with a colourway like this is not for them to match exactly but to simply go together, each one's differences enhancing the skeins around it.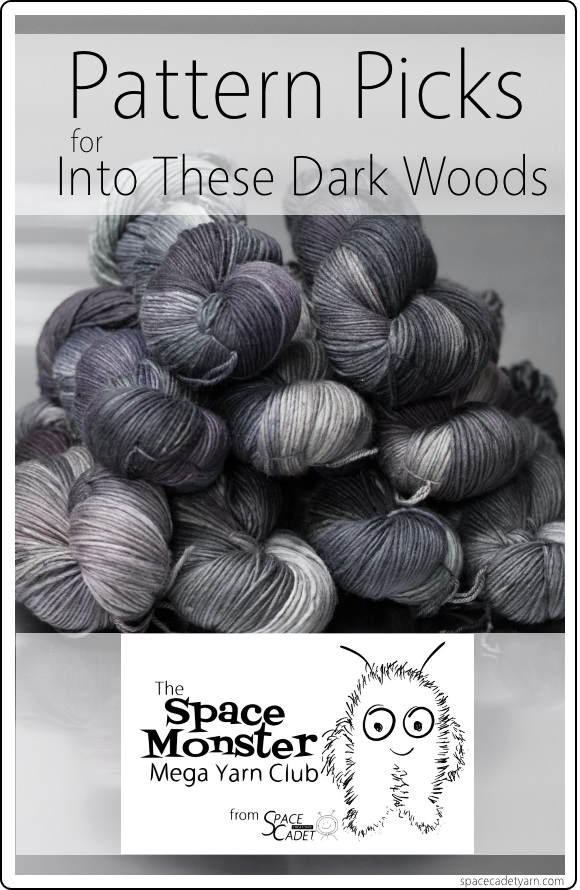 But just as much as the yarn, we were super excited to send out the gift that went in this month's parcel.  It was a gorgeous wooden SpaceMonster box, handmade for us by Craig at Turns2Art, and absolutely perfect for holding all those notions and tools that always end up everywhere.  And Doug, one of our SpaceMonster members, documented the process as he opened his box and revealed his skein of In These Dark Woods…

But when you're holding an amazing skein like this in your hands, it can be hard to decide what to make with it.  So I asked my assistant Jade to choose a few patterns for this colourway, and she's come up with some fantastic suggestions.  Over to Jade…
Pattern Picks for In These Dark Woods
As soon as I saw this yarn, I knew it was going to be special.  And the more I worked with it, the more I loved it – each skein was different but equally stunning.  As I twisted and tagged them, I kept thinking 'oh, now, this one's my favorite' and 'this would be perfect for …'.  So many patterns popped into my head that it was hard to pick just three!  (Check out our Pinterest boards to see the rest.)
Nola Cloche by Hilary Smith Callis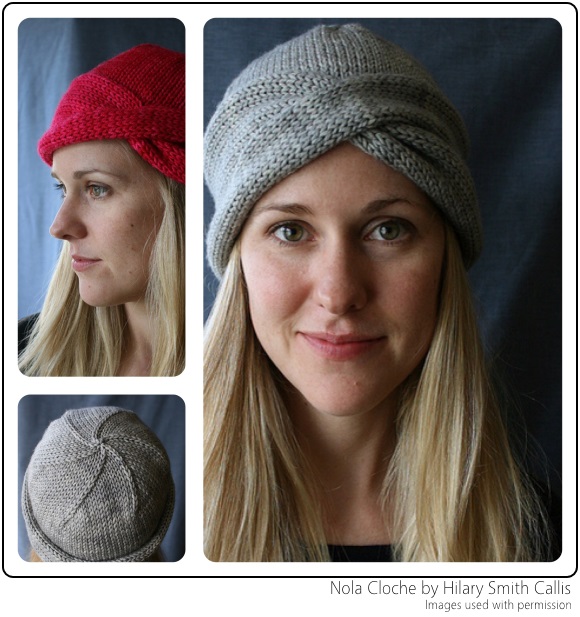 If you're like me and need to cast on *right now*, go ahead!  This little cloche is instant gratification, and can be made with just one skein of Capella.  The smooth stockinette will emphasize the rich variegation of In These Dark Woods and the simple, yet striking, cable twist adds interest and a bit of panache… Perfect for adding a pop of color to dull wintry days.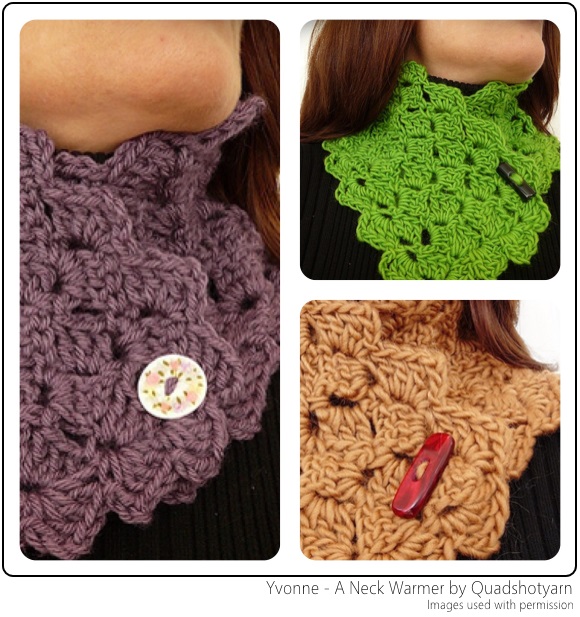 For those of you that prefer crochet, we've got you covered!  This month's SpaceMonster yarn is perfect for you – Capella crochets up beautifully, and the textured stitch pattern of this neck warmer will make the colors ebb and flow into jewel-like pools and pops.  It will work with one skein, but to make it extra squashy and decadent, try using two and holding the yarn double!
Gale by Alicia Plummer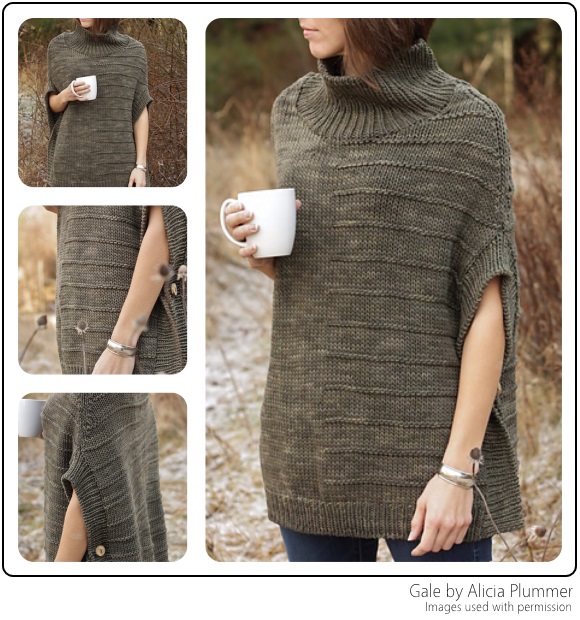 And if you love In These Dark Woods as much as I do and just want to wrap yourself up in it, try this stunning winter poncho.  It's pure comfort knitting – simple, with a straightforward construction, but enough texture to keep things interesting – and just the thing to keep you warm as Winter gets going.  Since it takes 5-6 skeins, it's also the perfect way to showcase all the variation in this colourway.  Each skein will make the others pop, or you could alternate them for a blended, more nuanced look.
(I've got to tell you, it was really hard to pack the skeins into their little treasure boxes and send them off… I really wanted to keep them all for myself!  Maybe we could count that a fourth, unofficial pattern pick?  All The Skeins, made into a giant smooshy afghan!)  
The SpaceMonster Club Closes on Sunday
As you can see, the SpaceMonster Mega Yarn Club is an  awesome club.  Focusing on smooshy worsted and bulky yarns (and great gifts), it's a fantastic adventure for these cold winter days — or the perfect holiday gift! The SpaceMonster Club closes on Sunday Dec 21, so click here now for all the details and get in before it's gone!