This weekend, I'll be doing a trunk show at KNOTS in Chardon Ohio and, along with a huge pile of yarn, Mini-Skeins, and Ombre Kits, I'll also be taking a stash of some really amazing one-of-a-kind colourways.  They are the result of several weeks of pure colour-play, experimenting with the dyes and seeing what happens when I just follow where the colour takes me.  Some are moody, some are intense, some are wild — all  of them are stunning.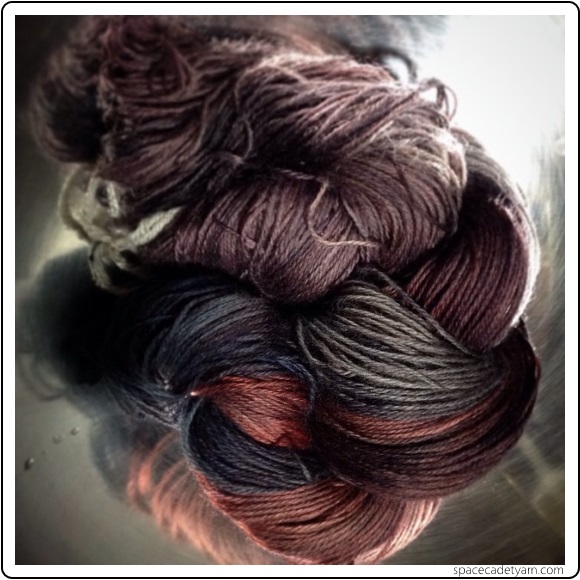 But when I take yarns like this to shows — yarns that resulted organically rather than by careful design — I always find a few customers who pick them up and are completely stumped.  They turn the yarn over in their hands and, especially if it's highly variegated, look at it in frustration and say, "But what would I make with it?"
The key to using a wildly multicoloured skein is to find a pattern that manipulates the yarn to use those colour shifts to their best advantage.  Sometimes a colourway is so beautiful that straight stockinette can do that, but more often, a pattern that uses slipped stitches, dropped stitches, or other techniques that move the colour vertically as well as horizontally will create amazing results.  And multicolour yarns also really shine paired with a semi-solid yarn in a pattern that alternates between the two.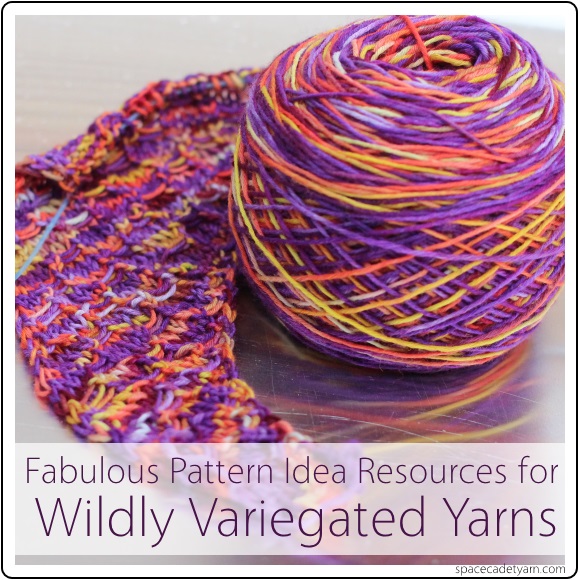 We are such a fans of variegated yarns here at SpaceCadet, and of all the possibilities they hold (so many awesome possibilities!), that we decided to create two wonderful resources for our customers who need inspiration for those amazing multicoloured yarns they've just fallen in love with.
The SpaceCadet Variegated Yarn Project Ideas Board on Pinterest
We've curated a wonderful collection of variegate pattern ideas to wander through.  The idea here is not so much to choose a pattern (although you might find the perfect one — just click on the pattern's image to find it on Ravelry) as to immerse yourself in possibilities.  Scroll through interesting stitch patterns, new techniques, and innovative ideas that you can try with that beautiful new colourway you've bought.  Here, why not grab a nice cup of tea and click here to wander through it yourself?
The Variegated Yarn Pattern Suggestions Thread on Ravelry
What's better than a Pinterest board full of stunning project images?  A collection of pattern ideas that YOU can help create!  Our Variegated Yarn Pattern Suggestions thread on Ravelry is put together by our fans and customers — people who love SpaceCadet yarn and know what works beautifully with it.
The ideas our group shares are fantastic and the rules are simple: (1) every pattern suggestion has to include an image and (2) chatting is encouraged but when you post a reply to the thread, you have to include a new pattern and image as well.  The result?  A fun, interactive lookbook of variegated project ideas.  Click here and come join in!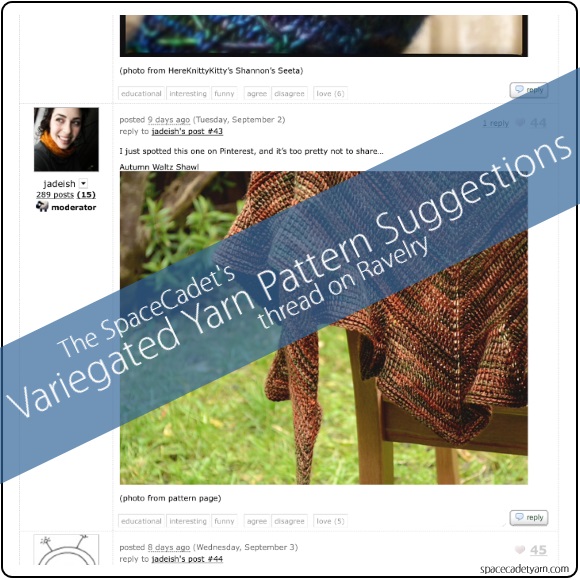 ---
Last Few Days to Order a Mauna Kea Kit!
Don't forget this weekend is your last chance to order a Mauna Kea Kit and get in on the KnitTogether fun!  Worked in either stripes or a gradient fade, Mauna Kea features raglan shaping, 3/4 sleeves, and incredibly flattering rib detailing down each side.
The KnitTogether starts Oct 31st, and orders close on Monday Sept 15.  Click here to grab your kit!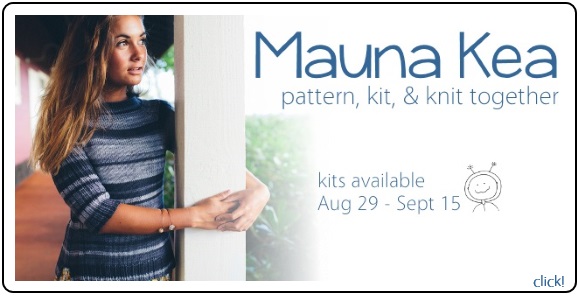 ---