I have been working like a mad woman — there have been trunk shows, and more coming up (see below for details), I've been dyeing for the next Yarn Alliance parcel and for some great new shops, and getting ready for Rhinebeck…  Oh, and building a new online shop.  Let it never be underestimated how much work goes into a new shop!
Y'know, I could say that again.  Neverrrrrr underestimate.  Never never never never…
But there's good stuff in all that work too.  One of the most fun: I've gotten to explore some fun new photography techniques to take some luscious new colourway pictures.  What do you think to these?!?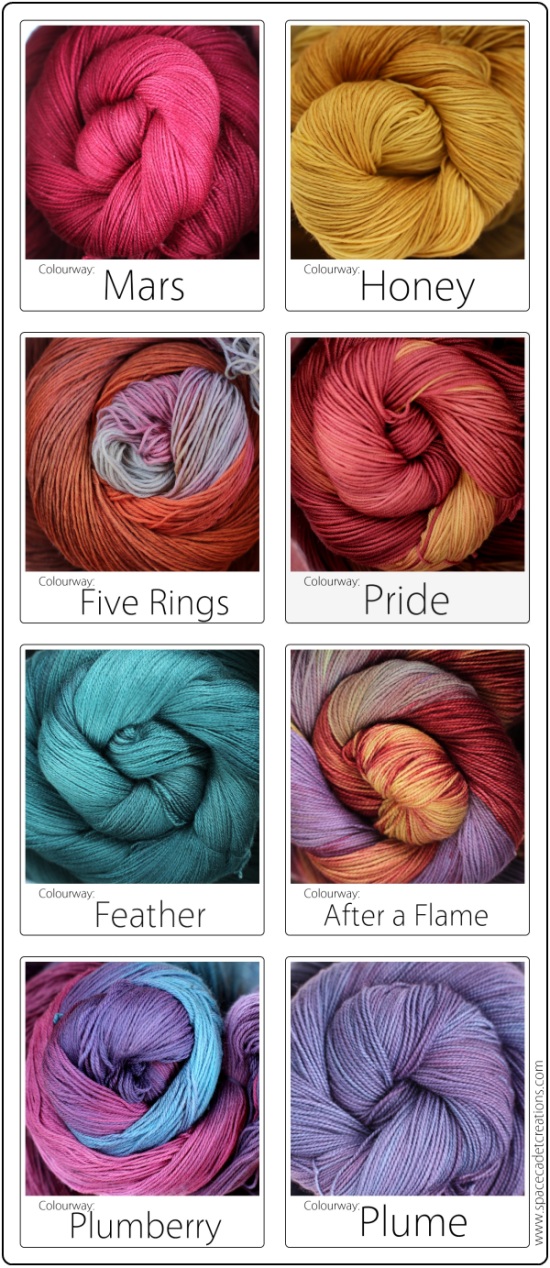 A-a-a-and, if you know my colourways, and you've looked closely at that photo, you'll have spotted that there's a new one in there.  It's called Five Rings, and I created it for the latest bundle of yarns for the SpaceCadet's Mini-Skein Club.  The seed of inspiration was planted when Mindy at Clotheshorse magazine sent me one of their mood boards and asked me to dye a colour to go with it.  And I just couldn't stop!  From that colour, I just kept mixing dyes until I'd created a whole new collection of gorgeous sun-baked spice colours, tempered with the cool of a silver-grey.  And Five Rings is the one that ties all the colourways together.
This is one of the mini-skein bundles that went out to the Club members (clockwise from top left, they are: Five Rings, Burnt Clay, Mars, Drizzle, and Sun-Baked).  Would you be understanding if I told you that I very very nearly didn't send out the parcels this month?  That I very nearly kept all the skeins for meeeeeeee?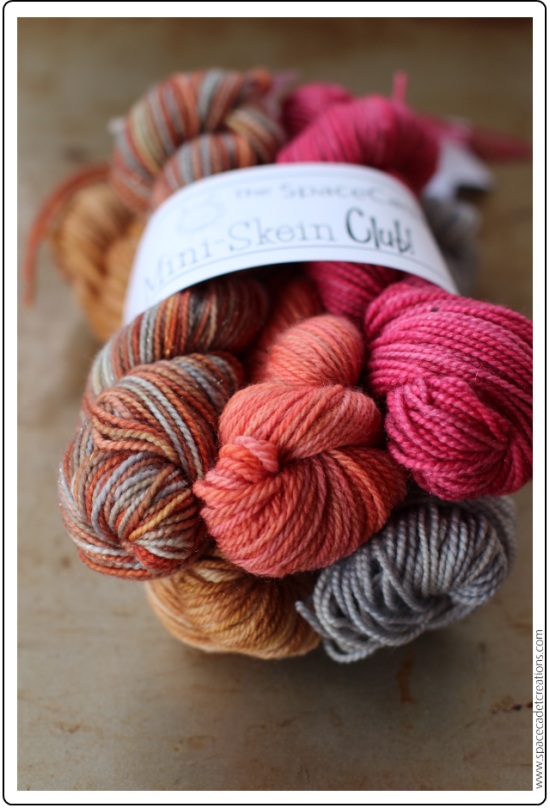 Well, after all the bundles went out, I went into the studio and quickly dyed a whole bunch more, in at least five different yarn types.  Look for them  as soon as they are dry!
Mark Your Calendars!
If you live in the Baltimore/DC area, you do not want to miss the PLY party (Peace, Love, and Yarn) at Lovelyarns on Sept 9.  It's a hand-dyed extravaganza with fresh yarns from a ton of indie dyers.  Make sure you're there!
Just one week later, on Sept 15, we'll be doing a trunk show at the fabulous KNOTS (Knitting On The Square) in Chardon Ohio.  I was up there earlier in the summer for a fabulous class with Brenda Dayne, and I can't wait to go back!  Will you be coming?
And…  Oh oh oh!  Mark your calendars and set an alarm, because the InterStellar Yarn Alliance will open for subscriptions from Sept 1 to Sept 16!  The Yarn Alliance is the SpaceCadet's fabulous yarn club, full of gorgeous yarn, exclusive colourways, and fantastic goodies.  Spaces are limited, so click here to check it out!