It is officially one of the most exciting days of the year!  So exciting that I left my knit group early — bolted right outta there — to get the website updated for the stroke of midnight.  So, what is it that's got me so excited?
The InterStellar Yarn Alliance is open for subscriptions!!!

I love everything about today.  Everything!  I love the weeks leading up to it when I can feel the buzz in the air, and everyone is asking what day subscriptions will go live.  I get so excited as the new memberships come rolling in, and even more excited to see the current members renew. The tweets and the emails and the chatter on facebook…  Ohhhh, it's all so much fun!!!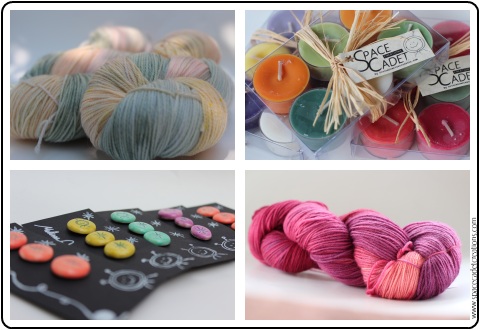 And you know why I love it so much?  Because I get to dream up the most fabulous (and exclusive!) colourways for you guys, and share my inspirations in the dyer's notes.  Oh, and I love putting together cool extra gifts for you!  Most of all, I love getting to know all the members, and seeing all the different projects you guys create with your yarn.   The InterStellar Yarn Alliance has got to be one of the best parts of my job!
And when I hear that the members love it too, it puts me over the moon…
All The Details
Members of the InterStellar Yarn Alliance receive fabulous parcels delivered to their door every other month, containing:
SpaceCadet ® Creations yarn (light to medium weight) in an exclusive Yarn Alliance colourway (guaranteed not to be offered on the SpaceCadet website for at least 6 months)
A great Yarn Alliance gift tucked into every parcel!
The SpaceCadet's Log exploring the inspiration for each colourway.
The InterStellar Yarn Alliance newsletter with periodic special offers exclusively for members.
A 15% off coupon every six months
Subscriptions are for either 6 months (3 parcels) for $125, or for 12 months (6 parcels) for $235.
Want to join the fun?
C'mon! We'd love to have you! Click here to learn more.