Sometimes I find it hard to wait. When I think of an exciting new idea, I want to dive into it right NOW (hence my stash of 15 million started-but-never-finished knitting projects).  When my friend Mel (of the With Mel podcast, formerly Singlehanded Knits) showed me her design ideas for the gorgeous Mauna Kea, I was dying to share it with you guys, but the timing wasn't right.  Do you have any idea how hard it was to keep quiet about such a stunning pattern?!?  It was SO hard!
But some things are worth waiting for.  Take a look at this…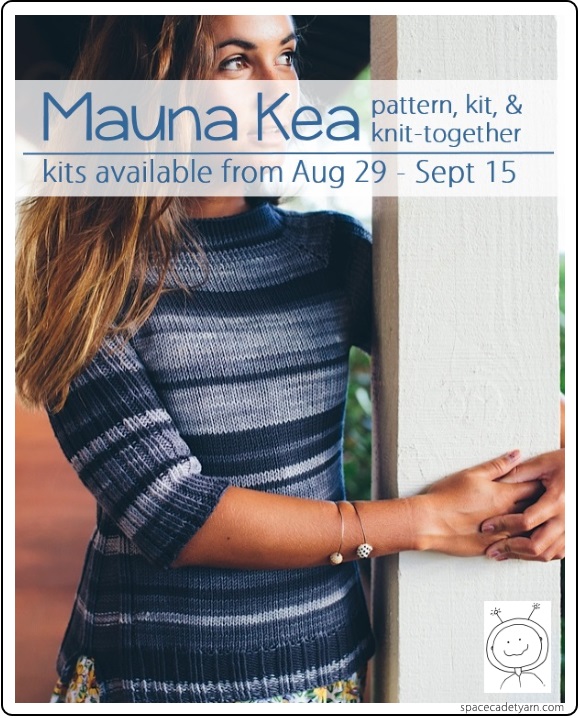 Knit top down with raglan shaping, Mauna Kea features laid-back styling and ribbed 3/4 sleeves. But my favourite thing is the shape, created by some incredibly flattering rib detailing down each side.
Choose to make it in stripes using a SpaceCadet Ombre Kit (as shown here) for a sublime monochrome effect.  Or pick a Gradient Kit for eye-catching stripes with real impact!  And if stripes aren't your thing?  Skip them, and use any of the Ombre & Gradient Kits in order to create a sweater with colours that gently morph from top to bottom.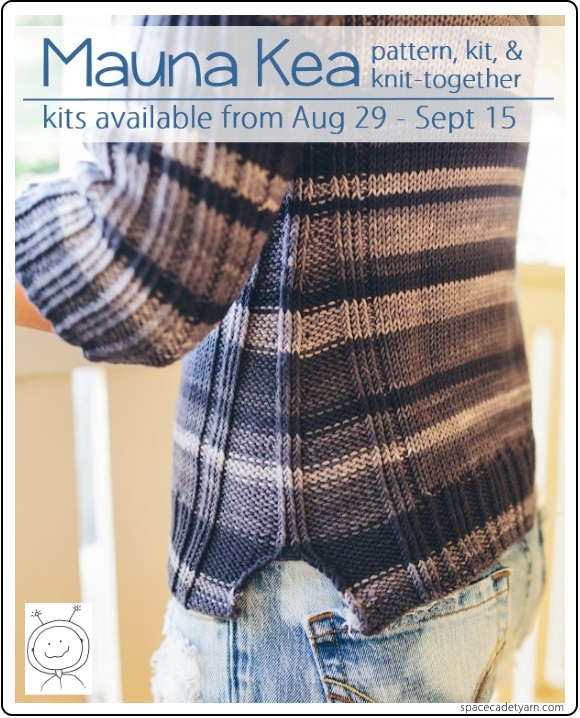 The Mauna Kea Knit-Together!

What's even better than a fabulous new pattern?  A Mauna Kea Knit-Together!  Join Mel for a lively and fun knit-together from Oct 31 to Dec 5.  There will be a support forum on Ravelry, video help for knitters, and lots of great camaraderie!
Important: The Mauna Kea Kits listed here are available for pre-order and will be dyed once the orders close on Sept 15.  Delivery will be in mid-October, in plenty of time for the Knit-Together cast on day.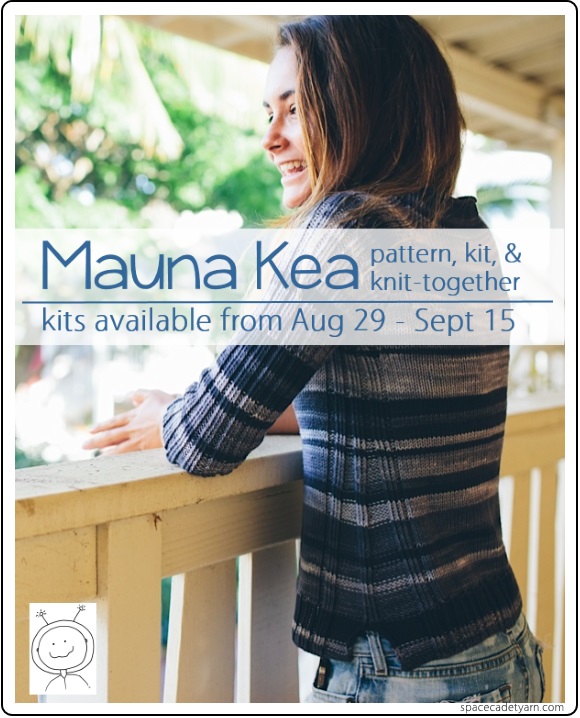 You can see why I was struggling to keep it a secret, right?  It's one of those designs that make you just itch to get started!
Kits are available until Sept 15th only — click here to order yours!
---
 All the Important Details
The Yarn
Lyra is a beautifully spoingy yarn that's a joy to use, with a cabled 8-ply construction gives it strength and durability.
Fiber Content:100% Superwash Merino; 8-ply
Weight: Each skein is approximately 3.5oz/100g, and the yarn contains approximately 270 yards per 100g
The Kits
Each kit includes five skeins of Lyra and a download code for a FREE copy of the Mauna Kea pattern (the code arrives in the parcel with your yarn).
A lively knit together begins on Halloween for Mauna Kea, with a support forum and video helps for knitters!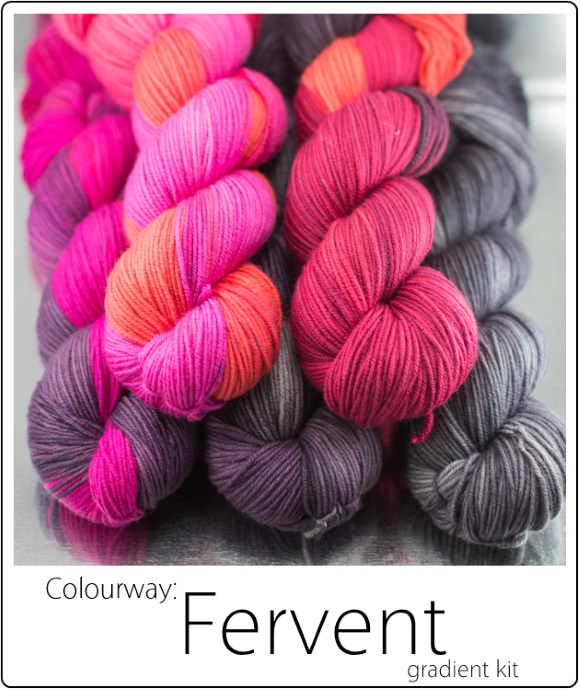 The Colourways
There are five colourways available:
Dark Skies Ombre

— grays to create the perfect monochrome effect

South China Seas Ombre

— sublime blues for the ultimate in laid-back casual

Gobsmack Ombre

— from deep purple to the softest lilac

Fervent Start-Anywhere Gradient

— this gradient morphs from deep gray > rich eggplant > stunning fuscia > bright orange > brick red > back to gray. Designed so you can Start Anywhere, it works perfectly as either a gradient or for stripes.

Zing Gradient Ombre

— this gradient morphs from dark gray > vibrant purple > cobalt blue > zesty lime > back to gray. Designed so you can Start Anywhere, it works perfectly as either a gradient or for stripes.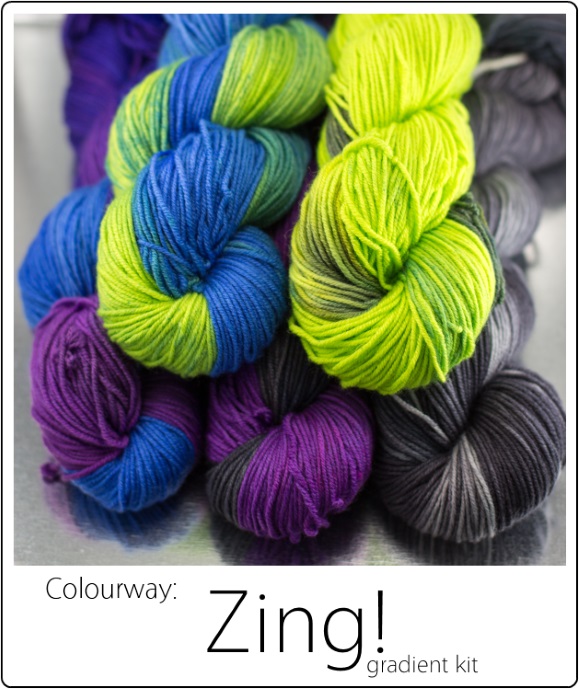 Sizing

For striping sweaters:
For sizes S/M/L: use 1 kit
For sizes XL/XXL: use 2 kits (due to the way the stripes use the colours)

For ombre/gradient fading sweaters:
For all sizes: use 1 kit
Delivery
Kits will be dyed after the ordering period closes on Sept 15 and parcels will be sent out mid-October, in plenty of time for the Knit-Together cast on date of Oct 31.