Are you ready to squeeee with me?  I'm over the moon to introduce you to the SpaceCadet's newest yarn…  You are in for a treat!
Introducing Maia, with Shine and Drape to Die For!
Named after the fourth brightest star in the Pleiades, Maia is a very special yarn.  Spun with 80% bamboo, it has a simply amazing sheen that takes on colour with an incredible icy luster.  That shine you see in the pictures?  It's no trick of the camera — Maia really is that luminescent!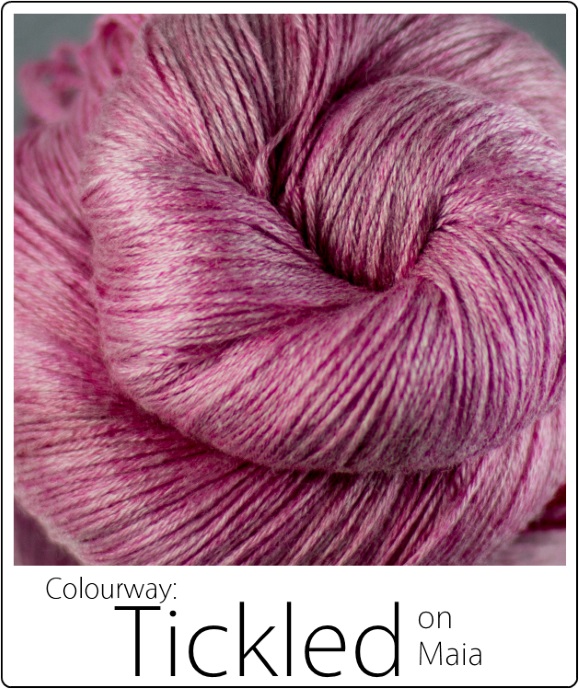 And the way Maia drapes?  It's just stunning.  This yarn is wonderfully soft* and light to the touch but, do you know, it hangs as though it were almost heavy.  The effect is just beautiful.
Perfect for light late-summer knits, its lustrous sheen and icy colours carry through to elegant shawls for winter festivities.  Maia is the yarn to choose for your most stunning and eye-catching creations.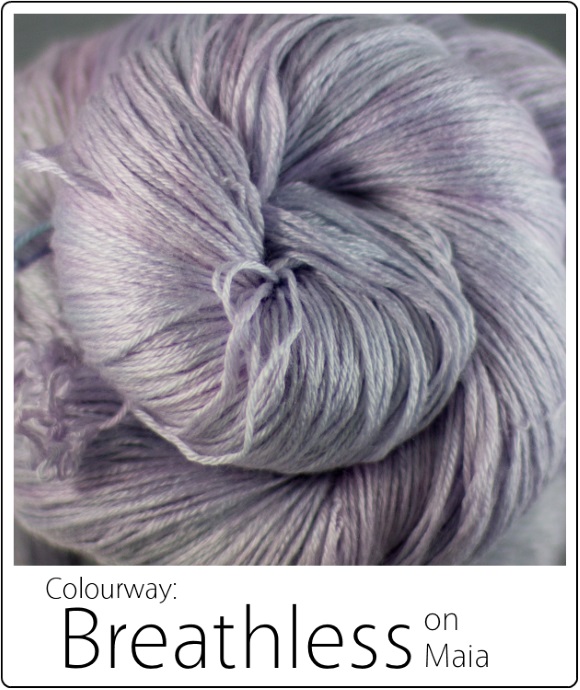 The Details: Maia
Fiber Content: 80% Bamboo, 20% Superwash Merino; 4-ply
Weight: Fingering;  Each skein is approximately 3.5oz/100g, and the yarn contains approximately 400 yards per 100g
How does this yarn take colour? Because bamboo does not take on the colour from acid dyes, colourways in Maia are much, much softer than our other fingering yarns, and the sheen gives them a wonderful "iced" look that adds to its unique look.
Currently in stock in Breathless, Cove, Crush, Dark Skies, Feather, Headstrong, Honey, Mars, Oxblood, Sage, and Tickled.  It is also available to order for custom dyeing in any of our other SpaceCadet Colourways.
Click here to see Maia in the SpaceCadet shop!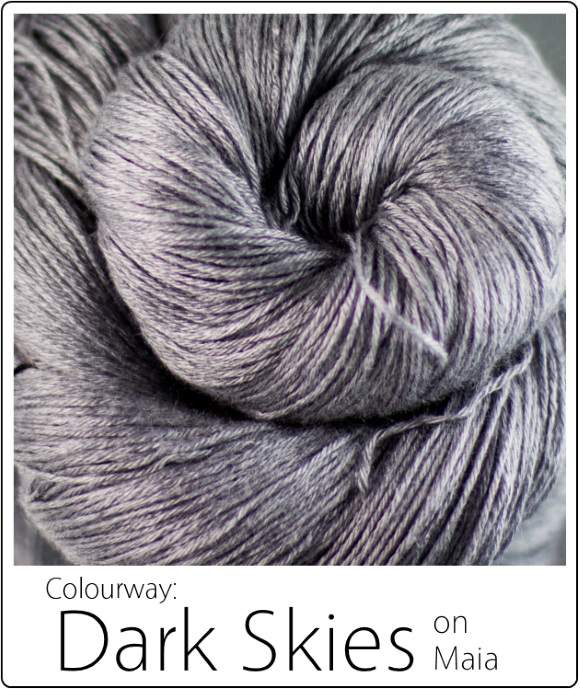 ---
The Fascia Shawl, designed for Maia
When I sent two skeins of Maia to designer Amy Maceyko, she shot back, "OMG the drape!"  And I knew immediately that she was going to use it to design something wonderfully flowing and elegant.
And didn't she just?  This is the Fascia Shawl — a design created to show off the beauty of Maia, but with little details that are simply delicious.  Oh do you see that lovely edging?  So beautiful!

*with a yarn as lustrous as Maia, you might think it wouldn't be very nice to handle, but look at that last image just above — do you see the fuzzy halo on the edge of the shawl?  For all its icy sheen, Maia really is deliciously soft!
Click here to see Maia in the SpaceCadet shop.