One of the things that I find so seductive about hand-dyed yarn is way it is just so full of possibilities.  Every knitter or crocheter looks at a skein and sees a completely different destiny for it — and no two people are ever going to create the exact same thing.  Even if they were to use the same yarn and the same pattern, their gauges will be slightly varied and so the colours will arrange themselves in different ways across the stitches…   With hand-dyed yarn, there is always that element of what-if, a kind of energy wrapped up in the colour and fiber and twist.  I find that so intriguing!
And so I get crazy excited to discover what SpaceCadet customers make with our yarn.  I loooove seeing finished your objects in the SpaceCadet group on Ravelry, or posted on Facebook, Twitter, and Instagram (make sure you tag me, ok? @spacecadetyarn or #spacecadetyarn).
You know how I much I love hunting out interesting ways to use SpaceCadet Mini-Skeins, right? (If you don't, just check out the Mini-Skein Ideas board on Pinterest — some really amazing possibilities there)  Well, I've just got to share this one with you, because sometimes it's the littlest thing that makes a project really come to life.
Using Mini-Skeins on Mini-Skeins
Now first, if you don't know Martina Behm's Hitchhiker pattern, let me show you: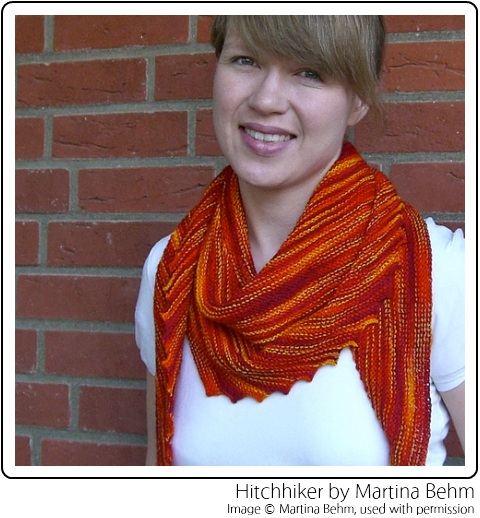 It's a simple garter stitch shawl — easy to knit but intriguing because of its diagonal construction and fun sawtoothed edging.  So far, so good.
But now check out this little modification that Megan/Arthjarna made to her Hitchhiker — and what a massive impact it has on the finished product!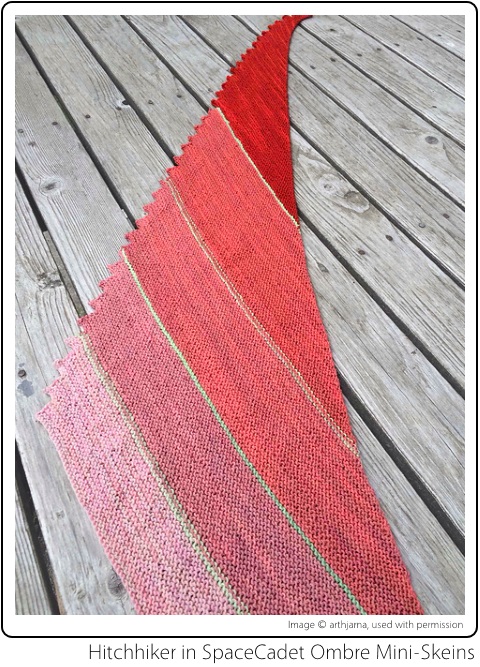 Megan used SpaceCadet Ombre Mini-Skeins so her Hitchhiker shifts from the intense rust of Headstrong at one end to a gorgeous shades of terracotta at the other.  But here's the thing that I think is pure genius…  instead of having the colours blend into each other, Megan went bold and chose a contrasting Mini-Skein in a gorgeous chartreuse to highlight each colour shift.
She actually added a second Mini-Skein element to her Mini-Skein project.  How awesome is that?!?
---
---
Using the Start-Anywhere Gradient Mix
You remember last month I created Space-Cadet's Start-Anywhere Gradient Mini-Skein Mix?  Here's how it works: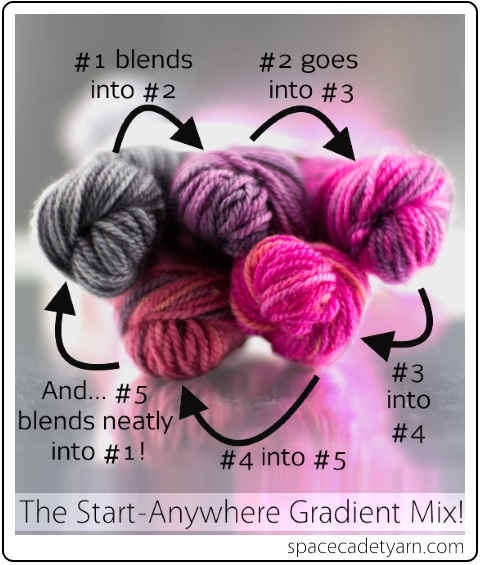 And I just have to share with you this gorgeous project, knit by my assistant Jade/jadeish.  It's the Quaker Yarn Stretcher Boomerang by Susan Ashcroft and it's got a very similar diagonal construction, but this time with the added texture of alternating knit and purl ridges.
What I love about about this is how the individual Mini-Skeins work together.  Look closely…  Do you see the gray flecks in the burnt-orange along the edge?  Those are there so that skein can blend back into the gray of the first skein if you wanted to start at another point in the Mini-Skein bundle.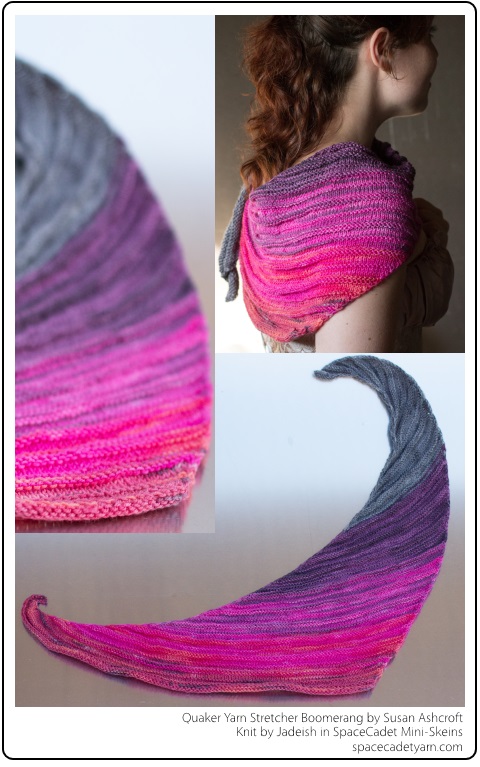 But in this shawl, what it actually does is tie the whole thing together, by picking up the colour of the gray at the other end of the shawl, and making the whole piece come together.  Even though the first and the last Mini-Skein aren't physically joined, there's still a connection in the colour, and that brings the whole shawl full circle.
See what I mean?  So many possibilities in each skein of yarn!  So come on and show me — what will you make with yours?  I'm dying to see!
---