Sometimes less is more, sometimes simple is best.  And so often I forget about that and all caught up in fancy and complicated and intricate and time-consuming…  And then someone pulls out their project and I go over to smoosh it and I realise it's garter stitch.  Garter stitch!  So simple, so easy, and — I forget this every time — so lovely and smooshy.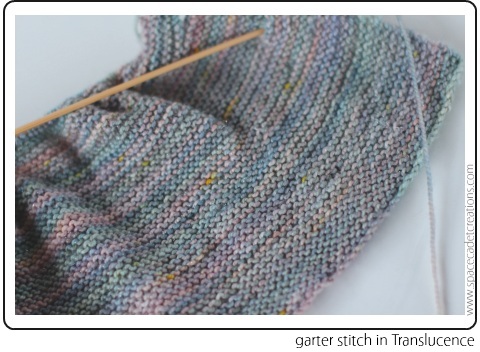 I love the feel of garter stitch fabric between my fingers.  It feels thick and firm and, when I squeeze it, it resists, pushes back, holds its ground.  Soft, delicate, drapey fabrics are all well and good, but there's something about garter stitch…  It holds a special place in my heart.
And it's easy!  And versatile!  And because it tends to hide every other row, it does really interesting things to hand-dyed and variegated yarns.  And did I mention easy?  At the end of long project slogging away at some complicated lacework, coming back to garter stitch feels like going home to an old friend.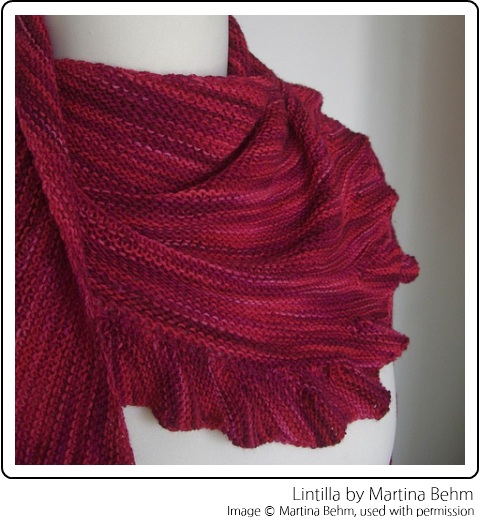 We have three samples that we take to shows that never fail to get people's pulses racing.   "What is this pattern?", they ask. "Where can I get it?"  They're all three are by Martina Behm, they're all eye-catching, and every one of them is simple, straightforward, and garter-stitch.  It's no wonder everyone makes a beeline for them!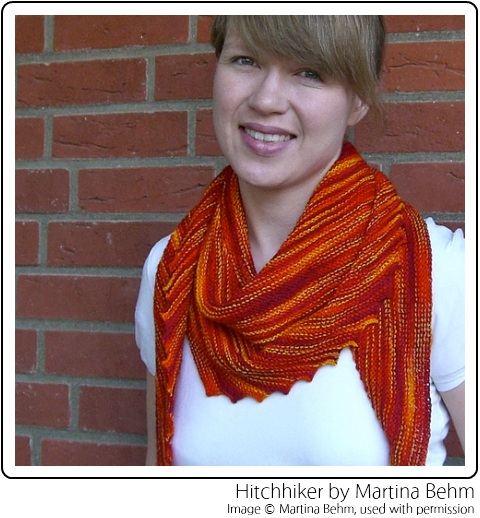 They are Lintalla, with its lovely frilled edge; Trillian, with an intriguing eyelet edging; and Hitchhiker which, if you finish it, will actually teach you the answer to the ultimate question of life (…the universe and everything).   And even though they're all garter stitch, the construction itself is intriguing: you cast on just a few stitches at one corner, and then grow the shawl by knitting longer and longer rows until it forms an asymmetrical triangle.  How cool is that?!?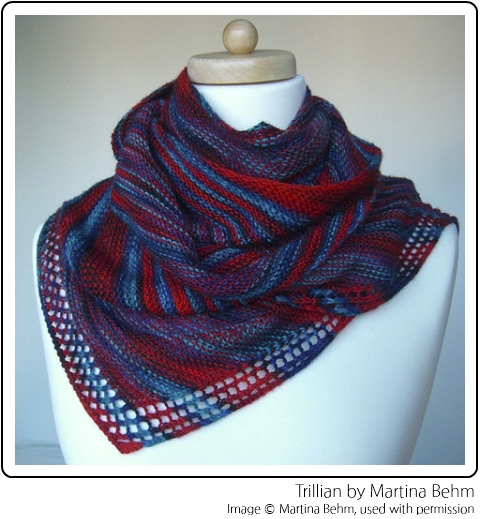 But as much as I love those three, Martina's newest design has got me positively swooning.  This one has all the hallmarks of her other shawls — a corner start, asymmetrical shaping, and lovely garter stitch — but Leftie is…  wait for it…  designed to feature mini-skeins!  Mini-Skeins!!!

The mini-skeins are worked as stripes that travel diagonally across the shawl to create a lovely border of little leaves along one side.  Use only a few colours for a subdued shawl or grab as many mini-skeins as you can to create a riot of colour.  Leftie will look gorgeous either way.
---
And if you need a little colour inspiration, how about a supply of mini-skeins delivered right to your door?  Join SpaceCadet's Mini-Skein Club and every month you'll receive a beautiful bundle (or two!) of five 20g skeins made from a mix of the SpaceCadet's fingering yarns.  Play with the colours, try out the yarns, and stay in only until you have enough mini-skeins for your project size.  Click here to read more!