I had a little dilemma last week: it was knit night, but both of my current WIPs* were at either the point of dividing for the sleeves (that'd be my Vitamin D) or joining in the sleeves (that was my The Old Man and The Sea).  I knew I wouldn't really enjoy trying to do either whilst carrying on the kind of lively conversations we always have at knit night, so I needed to cast on something that was simple and would be fun to work on while nattering the evening away.
I wandered through Ravelry a bit (…a bit? Is it even possible to wander through Ravelry's pattern library just a bit?), and asked for suggestions on Twitter.  And though I found so many gorgeous patterns, nothing was jumping out at me as the perfect knit night cast-on.  Maybe, I thought with a shrug, maybe I'll just have to deal with it and do the sleeves at knit night.
And then, as I turned to go up the stairs, I suddenly spotted the extra bundles of our first ever Ombre Mini-Skein Club parcels and instantly knew what I needed to do.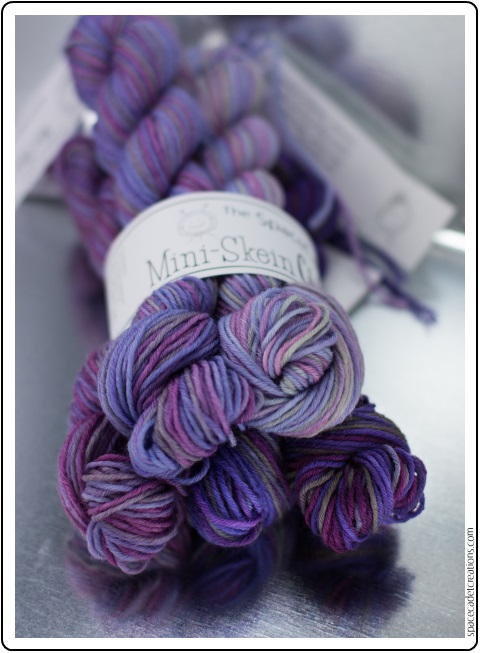 Aren't they gorgeous?  The colourway is Tranquility**, which is a mix of deep purples, red purples, and a very intriguing splash of gray-purple.  I've loved this colourway since the moment I pulled it out of the dyepot and, yet, I'd never grabbed a skein for myself.  But I suddenly thought, now that all the Mini-Skein Club parcels had gone out…  why not?
I have to tell you, I think they might be even more adorable once they're wound into teeny tiny balls.  Don't you agree?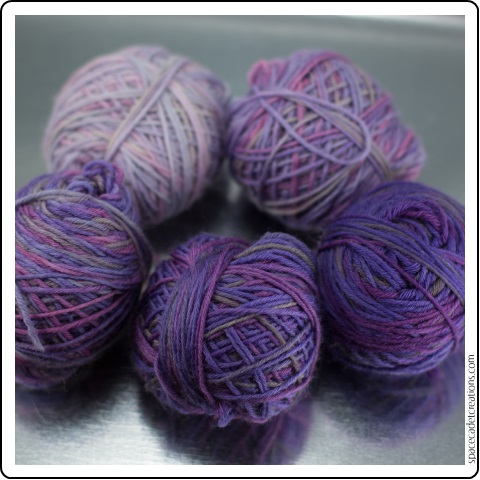 I needed another skein for the main colour, and chose Sliver, an incredibly gentle and ethereal gray that looks stunning against the dark purples and then almost disappears into the lightest purples.  I know I could have picked something contrasting for more impact (Sage? or maybe even Fizz?), but I really liked that subtle synchronicity that Sliver brought to the Mini-Skeins.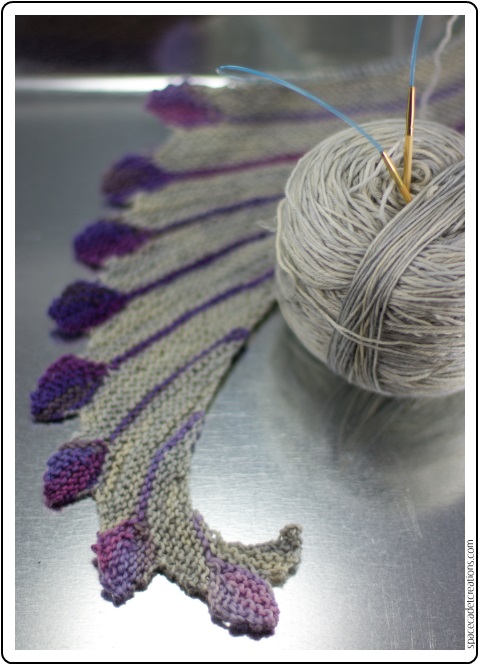 And so I cast on…  Leftie by Martina Behm — the perfect simple and fun knit night project!  So straight-forward and so addictive…  Just increasing along one side, adding leaves on the other, and counting quick progress stripe by stripe.
And I went off to knit night a very happy girl indeed!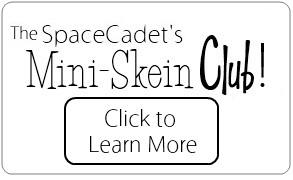 ---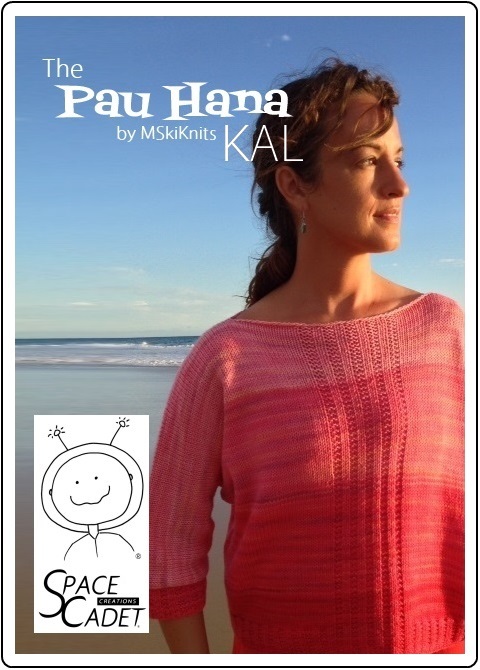 We are getting super excited for the Pau Hana KAL starting on October 17!  A gorgeous new design by Mel of Singlehanded Knits, Pau Hana uses the SpaceCadet's Ombre & Gradient Kits to create a casual, laid-back sweater that's perfect for chilling out when the work day is done.   And the KAL is a fab opportunity to knit it in camaraderie and support of a whole community of great knitters!  Want to join us?  Click here for all the details!
---
*in case WIP is new to you, it means "work in progress" …and I usually have a lot more WIPs than FOs ("finished object"). It's just how I roll.
**There's also a colourway called Tranquility Blue.  It's much the same as Tranquility but, y'know…  more blue.  I was just playing with different colourways one day, and came up with them and liked them both so much I decided to dye more of each.  But then I got confused somewhere along the line and called them both Tranquility.  Oops.  So I added "Blue" to one of them.  It's confusing, I know.  But better than if I hadn't added "Blue" and just let you all join me in my confusion.  Right?   …Right?