I had a fabulous blog post planned for you, full of great colourway combinations for maximum impact in some of this season's hottest knitting patterns…  but, oh!, I'm just too knackered.  I don't know what it is, but all week, I've felt like I could just fall asleep where I stand.  I've gotten a lot of dyeing done — there is always wonderful, colourful dyeing to be done — but everything else has just fallen away.
I find I always need a few days to recover after doing shows — they're so exciting and there are so many people to talk to, that they actually use up a lot more energy than I expect.   Two weeks ago, I traveled to MDSW, which is such a fibery adventure, but simultaneously both energising and energy-draining.  And then immediately turned around and did the SpaceCadet's Grand Tour of Cleveland, back-to-back trunk shows.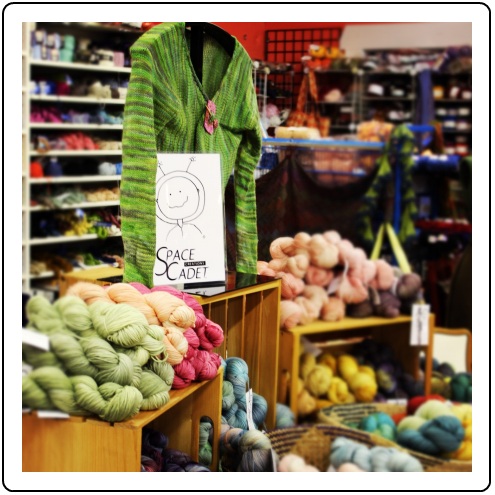 And they blew me away.  They were so much fun!  Can I tell you, if you're in Cleveland, go to River Color Studios in Lakewood or Soft n Sassy in Broadview Heights.  Both of them are gorgeous, mouth-watering yarn shops.  And both of them run by really lovely, warm people who made me feel right at home (Erika and her team at River Color: Rachael, Gretchen, Laura, Gail; Cheryl and her team at Soft n Sassy: Linda and Evelyn).
And at both of them, I met some of the nicest people I've ever got the chance to meet.  They said lovely things about my yarn, which always makes me feel amazing.   It was great weekend.
And it wasn't just the trunk shows that made the weekend memorable.  There was also lunch at a bakery decorated with… wait for it… flowers made from coffee filters.  How cool is that?!?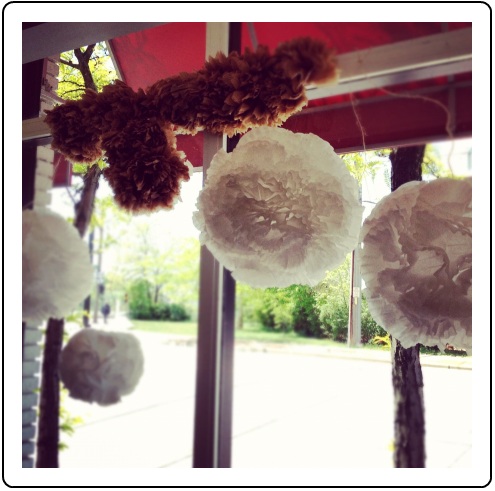 There was the oldest microwave I've ever seen.  For a long time, I thought it was a television in the corner of the office, before I realised what it was.  Look at the size of it!  Look at the dials!   And… it still works just fine.  Crickey!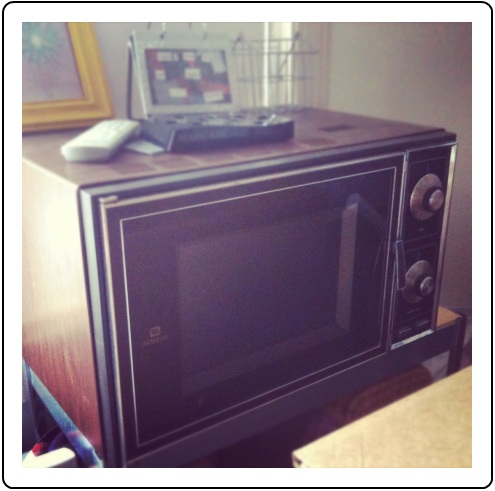 Oh, yeah, and there was a Yarn Harlot too.  People, there was the Yarn Harlot!  She was absolutely lovely, and very very funny.  And she bought a skein of SpaceCadet yarn!  That blew me away totally.
Ohhh… and there was yarn.  Lots of lovely, lovely yarn…
And after all that, I'm completely knackered.  Cream-crackered.  And so you don't get the blog post I was planning.  But I'm not going to leave you high and dry…  you do get two things that are well worth having.  One is some lovely Friday eye-candy in those photos up above.
And the other?  I just mustered the energy to do you a wee shop update.  Go on, take a look!