Summer is a lazy time — long days, blue skies, and sunlight dappled through the trees.   Maybe some cold drinks and, if you're very lucky, a hammock.  Boy oh boy, I need to grab me some of that!
But, I have felt anything but lazy!  While summer is going great guns* outside, I am busy preparing for the cooler months that will follow.  I have several hundred pounds of yarn to dye, some great LYSs to send orders to, and some fabulous yarn festivals to prep for (including….  Rhinebeck!!!! Squee with me!!!).
Yep, it's a busy time here.  But as well as all that, there are a few other exciting things that I'm working on, and I am dying to share them with you.  So, before I go back into the studio, let me just give you a sneak peek…
A Brand New SpaceCadet Shop!
I have been dreaming about this for nearly two years now and I can't believe it's almost here!  My Big Summer Project is to put together a brand new SpaceCadet shop — one that I can totally customise to make it super-easy for you to search for the yarn you know you want  …or browse for the one that you never knew you needed so much!  Easy and adventurous — isn't that the way that yarn shopping should be?
As soon as the new shop is ready, I'll make sure you know about it (believe me, I'll be singing it on the rooftops!).  In the meantime, it's still very much a Work In Progress but here's a quick look: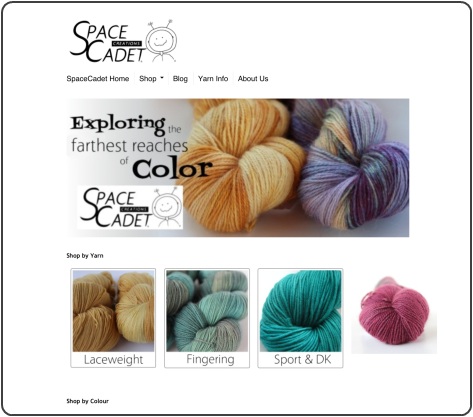 (Please, do a little happy dance with me, will you?)
Fabulous New Yarns!
Ok, this just has me giddy with excitement!  As I started laying out the new shop, I realised what I really, really wanted to go along with it is a truly great fleet of yarns.  So we've spent these last few months auditioning new yarns: dyeing them up, trying them out, (and, of course snorgling them!).  And, after a really difficult elimination process, we've finally decided which we liked best.
The result is a fleet of yarns that is going to make your fingers itch to cast on!  Folks, we're going from seven yarns to 18.  There will be some beautiful heavier yarns —  sport, DK, worsted, and bulky — and a fantastic line up of lighter yarns, including four laceweights and no less than eight fingering yarns!  Wanna see them?  Welllll…  they're not dry enough to photograph yet, but the tags might give you a little clue.  Here, have a quick look…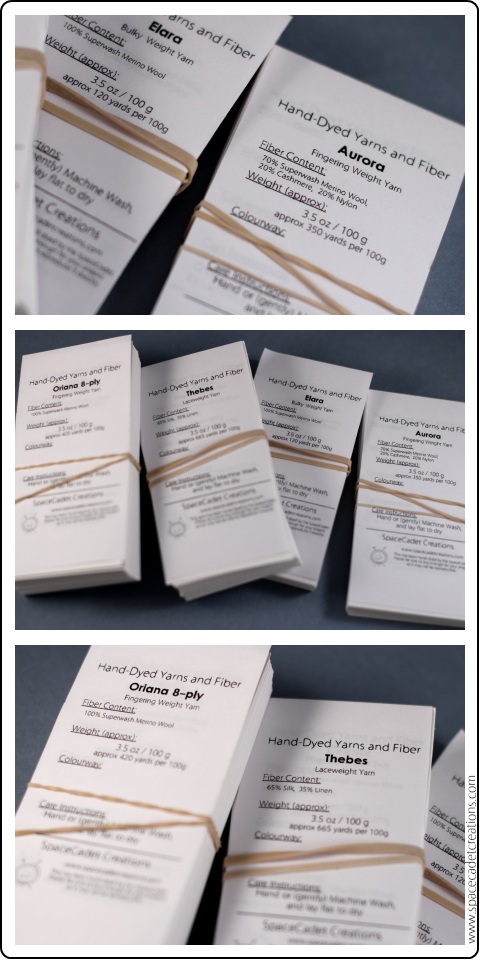 (Intrigued…?  Stay tuned, they'll be available very soon!)
The Yarn Harlot's Omlet Could Be Yours!
Ok, this last one has nothing to do with my special summer projects, but I just have to share it with you!  As you might know, the Yarn Harlot, Stephanie Pearl-McPhee, picked up a skein of SpaceCadet laceweight yarn from one of my trunk shows in Cleveland and has been knitting it in a beautiful pattern called Omelet.  She finished it this week and I have to admit, when she posted the photos on her blog, I was blown away.  It's a stunning shawl.
And it could be yours!  Yep, that's right — the Yarn Harlot has knit the most intricate, ethereal, gorgeous piece of lacework that nobody should ever dream of giving away and… she's auctioning it off to the highest bidder!  It's all to raise funds as she takes part in the 14th Annual Friends For Life Bike Rally in support of Toronto People With AIDS Foundation.  Through the amazing generosity of knitters, she has already raised thousands of dollars — but she's doing this one last push before the bike rally begins this weekend.
If you'd like a chance to win the Omelet shawl knit by the Yarn Harlot, click here to find out how to bid for it.  As for me, I am so just thrilled that she's chosen to make such a beautiful project out of a skein of SpaceCadet yarn (which I honestly thought she was buying just to be polite!).  …And then is using it for such a good cause.
---
*Do people say "going great guns" over here?  Is that a phrase you use in the States?  If not, it means everything's going along just fine.